Openbaar en gratis webinar over AI en de rechtsstaat
Datum

maandag 1 maart 2021

Tijd

Bezoekadres

Online

Zaal

Online
De opkomst van artificiële intelligentie (AI) maakt overheden en enkele grote techbedrijven nóg machtiger dan zij nu al zijn. Is onze constitutie daar klaar voor? Kan zij de rechtsstaat ook in de toekomst blijven borgen? Die vragen staan centraal tijdens het interactieve webinar op maandag 1 maart 2021 om 19.00 uur. Spreker is Reijer Passchier, universitair docent (OU/UL). Tom Herrenberg, universitair docent (OU), leidt het webinar in.
Onderscheidend is dat dit webinar daarbij niet zozeer focust op mensenrechten, maar op de constitutionele borging van rechtsstatelijke structuren. Denk daarbij aan de trias politica, checks and balances, legaliteit en soevereiniteit. Is die borging AI-ready? En zo niet, wat valt daar aan te doen?
Dit webinar gaat aldus in op enkele van de meest urgente maatschappelijke uitdagingen van onze tijd. Dat maakt dit webinar relevant voor iedere student, wetenschapper, beleidsmaker of burger die wil meedenken over en/of bijdragen aan het behoud van de rechtsstaat en zijn fundamentele waarden.
Wie kan deelnemen?
Bij dit (gratis) webinar is iedereen welkom. Enige kennis van het recht is handig, maar niet vereist. Ter voorbereiding zou je eventueel het eerste hoofdstuk van Reijers boek 'AI en de rechtsstaat' (Boom, 2021) kunnen lezen.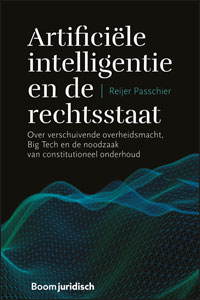 Aanmeldinformatie
Het webinar start op maandag 1 maart om 19.00 uur en is te volgen via een livestream van de Open Universiteit. Tijdens de sessie kun je vragen stellen via de chatfunctie. Je kunt je aanmelden voor het webinar door het aanmeldformulier in te vullen. Op 1 maart ontvang je een link om deel te nemen. Aanmelden is mogelijk tot en met zondag 28 februari. De duur van het webinar is circa 60 minuten.
Over Reijer Passchier
Reijer Passchier is verbonden aan de Open Universiteit en de Universiteit Leiden. Onlangs verscheen zijn boek Artificiële intelligentie en de rechtsstaat. Over verschuivende overheidsmacht, Big Tech en de noodzaak van constitutioneel onderhoud bij Boom in Den Haag. Met een voorpublicatie uit dit boek won Reijer de Meijersprijs en de Van Wersch Springplankprijs voor het beste juridische artikel van 2020.