Studievoorlichting
Career Café Rechtsgeleerdheid
Datum

donderdag 6 april 2023

Tijd

Bezoekadres

KOG
Global Lounge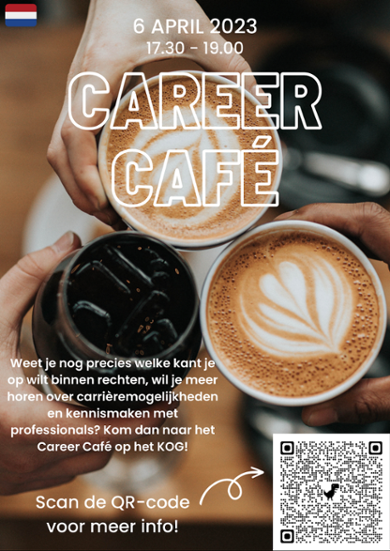 Deze workshop is onderdeel van het Leiden University Career Event.
Dé kans om alumni met uiteenlopende werkervaring de oren van het hoofd te vragen!
Weet jij nog niet precies welke kant je op wilt binnen rechten, wil je meer horen over carrièremogelijkheden en wil je in een informele setting kennismaken met professionals? Kom dan op donderdagavond 6 april naar het Career Café in de Global Lounge. Daar zullen oud-studenten van de Leidse rechtenfaculteit uit diverse branches en in verschillende functies met studenten in gesprek gaan! In drie rondes spreek je in een klein groepje steeds met een andere alumnus. Elke ronde duurt ongeveer 15 minuten, daarna kun je gezellig informeel verder borrelen.
Dus wil je je oriënteren op het leven na de studie, meld je snel aan.
Het Career Café is speciaal voor studenten die..
.. Nog niet precies weten wat ze willen doen;
.. Meer willen horen over carrièremogelijkheden;
.. Nieuwsgierig zijn naar hoe het is om voor een commercieel bedrijf te werken;
.. Of juist nieuwsgierig zijn naar hoe het is om als rechter of advocaat te werken.
Wie zijn de sprekers?
● Inge Bellaart is sinds 1989 rechter bij de rechtbank Den Haag. Zij heeft daar ervaring opgedaan als handelsrechter en familierechter, nu is ze kantonrechter. Behalve het gewone rechterswerk heeft ze altijd veel aan het selecteren en opleiden van rechters gedaan. Ze is lid geweest van de landelijke selectiecommissie, van de rechtbank-sollicitatiecommissie en heeft gewerkt als een gerechtsbrede opleidingscoördinator. Momenteel is zij opleider en lid van de landelijke commissie die beoordeelt of rechters in opleiding aan de normen voldoen.
● Remco van der Horst is al vele jaren als zelfstandige actief in de duurzame energiesector, van start-ups tot multinationals. Begin maart is hij gestart als partnership director bij GIGA Storage. Na het afronden van zijn studie Civiel recht ging hij eerst een paar jaar aan de slag als advocaat. Hierna bekleedde hij verschillende functies bij onder andere Atos, Schiphol Group en het Ministerie van Financiën, totdat hij startte als zelfstandige in 2007.
● Jan Maarten Slagter startte na zijn studie rechten zijn loopbaan als advocaat in Amsterdam, maar koos er na een kleine vijf jaar voor zijn jongensdroom te volgen en journalist te worden. Hij werkte negen jaar voor Het Financieele Dagblad, onder meer als correspondent in Londen. Van 2007 tot 2014 was het directeur van de Vereniging van Effectenbezitters. Na twee jaar als programmadirecteur bij Nyenrode is hij nu vanaf 2017 ceo van het Internationaal Bureau voor Fiscale Documentatie. Hij schreef twee journalistieke boeken en heeft een tweewekelijkse column over financiën en economie in de Financiële Telegraaf.
● Laurence van Gelderen is begonnen als bedrijfsjurist bij KPN, daarna secretaris van de RvC. Vervolgens heeft ze de switch gemaakt naar de Human Resource Management (HRM). Eerst heeft ze bijna 6 jaar gewerkt bij de Nederlandse Orde van Advocaten als Manager HRM en Interne Zaken, vervolgens werkte ze bijna 10 jaar bij de Hartstichting als Manager HR & MT-lid. Onlangs is zij gestart bij VNO-NCW als Hoofd Human Capital Support.
● Jacqueline de Jongh-Molenaar is advocaat sinds 1985 (master Strafrecht), terwijl haar eerste studiekeuze Psychiatrie was. De keuze voor advocaat blijkt een juiste, want na 38 jaar vindt ze dit nog steeds een prachtig beroep. Naast haar werk in de advocatuur is ze als vrijwilliger werkzaam voor diverse Stichtingen, adviseert ze bij het echtscheidingsspreekuur van Maatschappelijk Werk en schrijft ze recensies voor een online magazine.