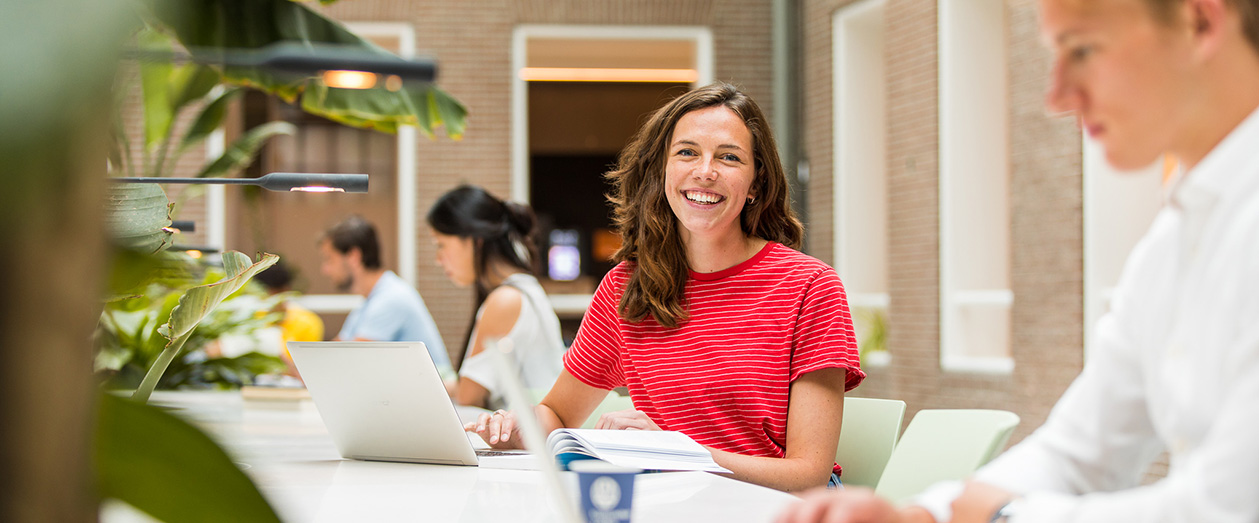 Studievoorlichting
Online Masterweek
Datum

maandag 8 maart 2021 - vrijdag 12 maart 2021

Bezoekadres

Verschillende locaties in Leiden en Den Haag

Ontdek welke master bij jou past
Ben jij op zoek naar een geschikte masteropleiding om je verder te specialiseren en om je voor te bereiden op een succesvolle carrière? Ben jij al specifiek geïnteresseerd in een master aan de Universiteit Leiden? Of weet je niet welke master bij je past? Neem dan deel aan de Online Masterweek van 8 tot en met 12 maart en ontdek welke master het beste bij jou past! We zijn klaar voor jouw toekomst!
Meld je aan voor de Online Masterweek
Meer informatie over de Online Masterweek volgt eind januari 2021. Vooraanmelden voor de Online Masterweek 2021 is al mogelijk. Laat je gegevens achter en wij sturen je een herinnering op het moment dat je je daadwerkelijk voor dit event kunt registreren.
Hou mij op de hoogte
Wat kun je verwachten?
Tijdens de Online Masterweek kun je van elke masteropleiding een programmapresentaties volgen. Daarnaast bieden we ook informatiesessies aan over praktische zaken zoals huisvesting, visa, toelating en aanmelding, en natuurlijk over het studentenleven!
Elke live presentatie duurt 40 minuten. De laatste 1o minuten van elke presentatie is er de mogelijkheid om vragen te stellen.
Een programma overzicht voor dit event volgt begin februari 2021.
Virtuele Opleidingsstands
Vragen voor en na een presentatie? Bij de virtuele opleidingsstands op de online informatiemarkt staan professoren en studentambassadeurs klaar om je te helpen.
Online Informatiemarkt
Naast virtuele opleidingsstands vind je op de informatiemarkt ook stands die niet direct gerelateerd zijn aan opleidingen. Het Leiden University Sport Center en de Academy of Creative and Performing Arts zijn hier bijvoorbeeld ook aanwezig. Verder vind je hier stands over praktische zaken zoals huisvesting, visa en toelating en aanmelding.
Openingstijden informatiemarkt:
De openingstijden voor dit event volgen begin februari 2021.
Onze virtuele rondleidingen nemen je mee door de steden Leiden en Den Haag en leiden je rond op de verschillende faculteiten. Daarnaast staan onze studenten voor je klaar zodat je ze alles kunt vragen over het studentenleven en hoe het is om te studeren aan de Universiteit Leiden.
Behoefte aan ervaringen uit eerste hand? Maar natuurlijk! Ga naar de chatroom en chat direct met een student van een master programma naar keuze!
In het 'Now Live' gedeelte van de Online Masterweek kun je bekijken welke presentaties er live gaande zijn. Misschien start er net een opleidingspresentatie waar je nog niet aan had gedacht. Het leven zit vol verrassingen!
Vragen?
Heb je vragen over de Online Masterweek? Neem dan contact op met de Studielijn. We beantwoorden graag je vragen!
Studielijn
Universiteit Leiden
071 527 11 11
studielijn@leidenuniv.nl