Facility
New smoking area signs
Leiden University considers a healthy working environment as important. A smoking ban therefore applies in all university buildings, except in the designated smoking areas outside the buildings. Smoking at other locations is not allowed.
At the faculty of Science, smoking areas were marked by ash piles. Starting from 9 July the smoking areas can be identified by orange ash tiles.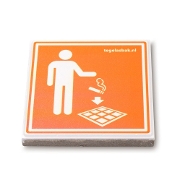 Locations
The smoking areas around at the faculty of Science are situated at the following points:
Smoking shelters at the Gorlaeus Lecture halls building, Van Steenis and Sylvius
Near the entrances of the Van Steenis, the Snellius, the Sylvius and the Gorlaeus Lecture halls building
Oort building: at the beginning of the walkway
Huygens building: near the main entrance, for the bridge to the LMUY and at the supplier entrance
LMUY: in front of the entrance at the bicycle racks and in the courtyard
Gorlaeus Building: in the courtyard
If you have questions about the smoking policy, please contact the Servicedesk.