Healthy University Week: ta-da and to do
During Healthy University Week, from 26 to 30 October, staff could choose from 63 workshops, talks and other online healthy university activities. We asked workshop facilitators, speakers and a participant for their tips. Like: look at what you've done (ta-da) instead of what you still have to do (to do).
Altogether 2,250 people signed up for the 63 activities. The most popular were the sport classes in the morning and the digital lunch sessions. But the workshops did well too: nearly all of them were full.
That resulted in a good selection of tips. The photos are of the hiphop workshop and office workout.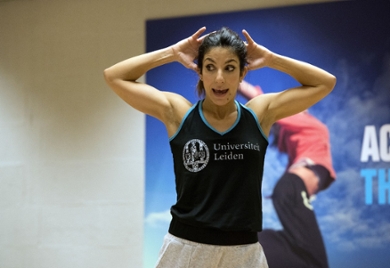 How do you set clear boundaries between work and personal life?
In her HU Talk, Helen Pluut, (Leiden Law School and Chair of Young Academy Leiden) called on the audience to make a healthy lifestyle a priority. This includes setting strict boundaries between your work and your personal life. 'This benefits your health, happiness and productivity. Once the boundaries between work and personal life become blurred, its sleep, exercise, a healthy diet and relaxation that pay the price.'
A healthy and sustainable diet
Celebrity chef Pierre (whirl)Wind gave a lunchtime lecture on a healthy and sustainable diet. Marieke Epping from Strategic Communication and Marketing had the following to say: 'The hyperactive Wind created utter chaos and had us in hysterics. But he had some great tips too. Did you know that you can cook banana skins and mix them with your fruit shake in the blender? Lots of fibre and no waste. Wind also advised the passive cooking method. Bring veg, eggs, pasta (or banana skin) to the boil in cold water, and then turn off the burner: in eight minutes your pasta or veg will be cooked and you'll have the perfect hard-boiled egg, but for half of the energy! Other tips: a mini barbecue over a tealight, grind your own sunflower oil and make apple spaghetti. One last tip: Wind's cookbook: De ecokeuken van Wind.'
Cool, calm and collected
What can you do about workplace stress. Nathan Albury (HRM). 'It's no secret that the workload at the University has drastically increased. It's even a policy priority to reduce this in Leiden. What can you do yourself?' Nathan is a fan of one-liners: Switch off in your free time' and 'Say no or not now. More tips and tricks.
Careers in your 20s and 30s
Nienke Wijnants: 'When forging your career path you need to take a critical look at the difference between shoulds and wants. Why are certain goals on your list? Are these goals that you have chosen yourself, goals that match your talents and inner motivation, or are they goals that – sometimes very subtly or unconsciously – you have been talked or forced into by friends, family, the media or society? We often think that we something is a want but on closer inspection it turns out to be a should. Keep asking yourself this!'
Kaltura coffee breaks
Mieke Cabout (HRM): 'What I miss at the moment is the daily contact with colleagues. Research has shown that social support is an important weapon against stress.' The Kaltura coffee breaks that Cabout organised were a fun way to chat to colleagues, familiar or otherwise, over a cuppa. Her tip: 'Think about how you can offer corona-proof help to others. A small gesture does a lot.'
How do you relax if your work is never done?
Kiki Vreeling adviseert: advises: 'Change your perspective. Look at what you've done. Make a ta-da list with everything that you've done and achieved that day, however small. Phone calls, mails, presentations: everything goes on the ta-da list. Take a look and be proud of what you've achieved.'
Corona kilos and stress ciggies.
How do you maintain a healthy lifestyle? The tip from Veronica Janssens (Psychology) following her HU Talk is short and sweet: 'Make your goals small, link them to a habit and celebrate your successes.'
Stress, vitality and the afternoon dip.
Angela Champness gave three workshops, on stress reduction, vitality in the workplace and how to avoid the afternoon dip. Her top tip: watch your sugar intake. 'The World Health Organisation advises keeping your intake of free sugars below 10% of your energy. Free sugar is sugar that is added to food by the food industry or has been industrially processed. A piece of fruit doesn't count as free sugar, but a glass of juice from concentrate does.' Sugar is often added to products that you would never have expected, such as mayonnaise and half of all canned or jarred vegetables. A person with a daily consumption of 2000 kcal can consume 25 to 50 grammes of sugar per day. 'Better still,' says Angela, 'is to stick to a max of 5% free sugar. This reduces the risk of obesity and diabetes 2 and of cavities in your teeth. Less sugar again mainly reduces the risk of cavities but doesn't affect your weight.'
Text: Corine Hendriks
Photos: SCM