New Director of Operations Niels Laurens: 'I am grateful there are people who chose to do archaeology as their profession.'
Niels Laurens recently started as the new Director of Operations at the Faculty of Archaeology as well as the Faculty of Governance and Global Affairs. We sat down with him for an interview on his background, his drive, and his take on archaeology. 'My main drive is to enable researchers and lecturers to spend as much time as possible doing what they love and do best.'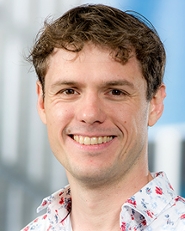 Interdisciplinary
Originally from Rotterdam, Niels studied Physics in Leiden. 'I am interested in how things work, in the broadest sense. Mainly it's the interdisciplinary part of physics that I liked a lot; biophysics, biology, biochemistry and the interactions between these fields. For example, I studied the interaction between DNA and protein from a physics point of view.'
However, aside from science itself, Niels also liked the organisational part behind science. 'As a PhD candidate in Physics, I got involved in the university's co-participation. I served as a member in committees, as well as the Work Council (OR).' Niels quickly realised that he enjoyed having an advisory role and being involved in establishing an organisation's direction.
Making a difference
After taking a short detour in R&D, Niels accepted a job at the Vrije Universiteit as manager of the Physics department. 'I enjoy being a manager, especially in academia, a field that's close to my heart. In science and in universities, you can really make a difference. We have the ability to help the world move forward. That is something I find very important.'
And now, Niels Laurens brings his experience and enthusiasm to the Faculty of Archaeology. 'My main drive is to make researchers and lecturers have as much time as possible to let them do what they know and love. For this we, as a support staff, need to support the people in the primary process as best we can.'
On the other hand, Niels notes that to support does not necessarily mean to serve. There are rules, regulations, and processes to ensure that things go as required. These are not meant to make life more difficult. We are limited on time and resources, so sometimes some time will pass before we can help you'
Similarities
Niels has been active at the Faculty for roughly a month. 'While preparing my application, I noticed similarities between the scientists at Physics, especially when it came to their drive and curiosity. I can already feel the passion for what we're doing at this Faculty.' He looks forward to making the connection with the research itself. 'I'd like to ask people what they are working on. I am a layman in archaeology, but I hope I can use my background and training as a researcher to connect with things like ancient DNA and to get to know and understand more of the current research in the Faculty.'
Perspective
So, what is Niels' take on archaeology? 'I never considered this programme for myself, but I have always been fascinated by people reconstructing how people lived in the past. Whenever I go on holiday, I always try to visit at least one archaeological museum or site.' One of his most amazing experiences was his visit to Pompeii. 'You really feel like a city is built up around you. Being in a place like that helps me put everyday life in perspective.'
He smiles, remembering another archaeological object that struck a powerful chord. 'I saw this clay tablet letter that was simply a complaint about the quality of purchased ceramics. Finds like this help you reflect on who you are and what your place in time is. I am grateful to the people who chose to do archaeology as their profession to help us understand the past.'
Niels Laurens' office days for the Faculty of Archaeology are Monday and Friday.