Student-initiative COOP empowers students to discuss difficult topics respectfully
Students are ever more cautious to express their view on controversial debates. The new student-led D&I initiative at the Faculty of Humanities, COOP, is ready to step in. They organise sessions to guide students on speaking up and respecting the views of others at university.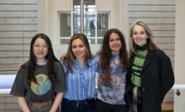 A student-led D&I initiative
While there have been university-led initiatives to tackle this issue, such as the Challenge Expected research project, some students feel that there is a chance to go a step further — which is how COOP came to be.
Talisha Schilder (MA International Relations), Barbara Troost (BA English Literature), Lara Mongiardi (MA International Relations) and Yilin Li (MA Philopsophy) have brought the project to life to ensure the classroom is an open place for all. The initiative aims to offer students a toolkit empowering them to address difficult topics in a way that is considerate to everyone. 'We want to move from COnflicting OPinions, where students might avoid the discussion, to COOPeration, where ideas are exchanged and challenged in a respectful manner.'
'Disagreements and contrasting opinions will always arise'
Throughout May 2022, COOP will organise a series of events focused on dealing with conflicting opinions in a respectful manner. Students can attend the whole sequence of events or pick and choose which one(s) best suits their needs. The sessions will be headed by speakers from academic and professional settings alike, building on theoretical and hands-on expertise to guide students. 'By joining these sessions, students will gain tactics to help them keep their cool during conversations where differences of opinion are bound to emerge', the organisers say. 'We will also go into the root of the issue: understanding why and how specific words can have a 'trigger' effect. And in close co-operation with the POPcorner, we will organise a panel discussion about the faculty's Code of Conduct.'
'Whatever the topic may be, disagreements and contrasting opinions will always arise at university. In putting together these practical workshops, we want to demonstrate that this does not need to be a problem', they explain. 'Exploring why a student or staff member takes a particular stance on a matter provides opportunities to learn – but only when these viewpoints are questioned respectfully. Equipping students with these tips and tricks will ensure Leiden University continues to be at the cutting edge of research and that students, regardless of the academic pathway they follow, feel welcome to have their voice heard.'
Do you have any questions of remarks? Feel free to contact COOP anytime at coop@hum.leidenuniv.nl.