Mathematics student Lars Pos wins Robbert Dijkgraaf Essay Prize: 'Discoveries find their application in the most unexpected places'
With his essay 'Why science?', mathematics prodigy Lars Pos (18) won the Robbert Dijkgraaf Essay Prize. Within the theme 'The fascinating workings of science', the bachelor student wrote a plea for the societal value of fundamental scientific research. 'Because you don't know beforehand where we can apply it in the future, we have to keep doing it.'
A 700-word essay on the fascinating workings of science. For Lars, it sounded like a fun challenge in which he could express his love for mathematics and fundamental research. 'I saw the call for essays and had an idea right away. So I thought: why not go for it?'
After a few weeks, Lars was told that his essay was among the top three. 'When I was invited to the Gala of Science in Amsterdam, I had high hopes. Then came the realisation that I might even win.' Which is exactly what happened. 'It is very rewarding to know that the jury appreciated the essay.'
Fundamental science not useful?
His essay begins with the Nobel Prize winners in physics who are researching photons, or light particles. 'Which is all fun and games, but the sceptic may feel that the Nobel prize money could have been better spent,' he writes. 'Who are these scientists, and do they still have any connection with reality? Fundamental sciences face this kind of criticism more often. That also includes mathematics, the field I hold dear.'
In the following paragraphs, he argues that fundamental science does have significant importance. Number theory, for instance, has become an important part of our society. Just think of the digital encryption that allows us to send messages securely.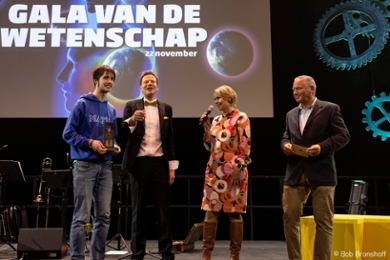 Cola and graph theory
And the same is the case in other fields. 'Think of cola, which was initially marketed as a medicine but is now actually advised against by doctors,' his essay reads. 'Or take graph theory, which began as a question about a walking route that visits every bridge in Koningsbergen only once, but currently underpins public transport timetables and Google's search algorithm.'
'The special thing about fundamental science is that it often seems to have no general benefit to society at first,' Lars says. 'Yet it finds its application in unexpected places every time. Because you don't know that beforehand, it justifies why we have to keep doing fundamental research.'
Mathematics in his spare time
Lars has had a passion for science, and mainly mathematics, for as long as he can remember. 'I've always found it incredibly interesting, but from high school onwards I've also been doing it in my spare time. I just really like figuring out logic and solving puzzles.'
Lars participated in the Dutch Mathematics Olympiad and he even represented the Netherlands at the international Olympiad last year. He already took subjects from his university bachelor's degree during high school. These were two second-year subjects and a first-year subject: algebra 1, topology and algebra 3. Now I do all the first- and second-year subjects together.'
He also wants to share the fact that maths is fun with the rest of the world. That is why he has a TikTok account full of mathematical facts. 'Very few people are enthusiastic about maths. That is because you don't learn the best things in secondary school. I want to show how fun and interesting mathematics can be.'
The Robbert Dijkgraaf Essay Prize is an annual competition by New Scientist and the AD in which they call on staff, students and alumni of Belgian and Dutch educational institutions to write an essay within a given theme. The prize was awarded for the 11th time at the Gala van de Wetenschap in November 2022. Besides a nice prize, the winning essay also appears in the New Scientist and the AD.
Read Lars Pos's full essay on the AD website (in Dutch).
Text: Inge van Dijck
Picture: © Bob Bronshoff