New portal helps students choose from 200 minors at 3 universities
As from April 2023 all students at Leiden University, Delft University of Technology and Erasmus University Rotterdam will start using the eduXchange portal to register for a minor. A unique aspect of this is that all minors can be found in a single, convenient online catalogue in which keywords can be used to search the entire range of courses offered by the three universities.
Marja Verstelle, Education project manager of the Leiden-Delft-Erasmus Universities, is the coordinator of this eduXchange pilot and explains what is important. 'The universities want to encourage students to do a minor at the other universities within the alliance in order to produce more broadly educated academics. That multidisciplinary perspective is important for today's important societal issues.'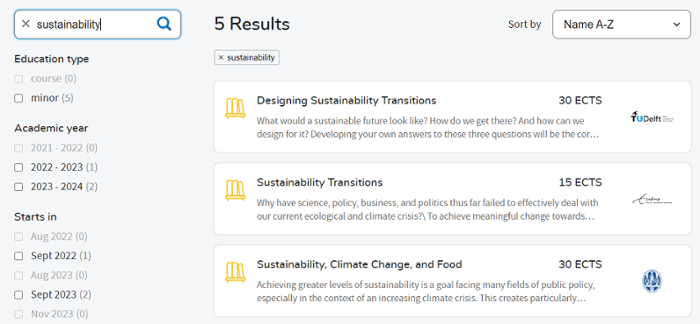 Students have a wealth of choice given that the eduXchange portal provides access to more than 200 minors. This includes both the regular range of minors offered by the three universities and the joint minors offered by Leiden-Delft-Erasmus. Students register for a minor using their eduID which they can generate in just a couple of seconds via the eduXchange site.
The portal is not only an improvement for students. It is also handy for the student affairs departments that information only needs to be updated at a single location and that only limited administrative activities are required. The information available in eduXchange is taken from existing study guides while, in the future, exchanges of student data between the universities will predominantly take place automatically.
Students can start registering for the selection as from 3 April. EduXchange is therefore replacing the old way of registering for minors. At the 8th of May when students can register for non-selection minors.
Vice-rector Rob Mudde of TU Delft called eduXchange a game changer for students. 'Students now have easy access to the range of minors offered by the three LDE universities. And because the LDE universities are located close to one another it is realistic to expect that students will use the portal much more frequently than is currently the case.'
'Attending a minor at a different university, together with students from wide-ranging degree programmes is invaluable for your later career.'
Rector Magnificus Hester Bijl of Leiden University. 'Students will now find it very easy to enrich their studies with minors from the other universities in the province of Zuid-Holland. Attending a minor at a different university, together with students from wide-ranging degree programmes is invaluable for your later career.'
In Rotterdam Rector Magnificus Annelien Bredenoord also believes there are only benefits to the portal. 'In order for students to be able to truly have an impact in society in their later lives, they must be able to develop their knowledge and skills outside your own specialist field as well. LDE offers opportunities to do this and eduXchange makes it much easier to make the most of them.'
EduXchange is a pilot in cooperation with SURF, the national ICT partnership for higher education and EWUU, the alliance of the universities of Utrecht, Wageningen and Eindhoven and is funded by the national 'ICT Acceleration Plan'.