Alumna Nadia Kadhim: From children's rights to Forbes 30 under 30
Alumna Nadia Kadhim started in 2017 as a corporate lawyer implementing the General Data Protection Regulation (GDPR) at one of the companies where she volunteered. By late 2022 she had received both a Most Inspiring Women in Cyber Award and was on the Forbes 30 under 30 list with her legal start-up Naq. 'Dare to take the non-traditional path. As a lawyer on the Zuidas [the Amsterdam business district] you'll soon be replaced by AI.'
Why did you choose Leiden University, what did you study, and what did you think of your degree?
I wasn't sure if I wanted to study law – it was a choice between psychology and law. In the summer just before I had to make the final decision, I watched a documentary about Guantanamo Bay. The injustice of that whole situation and the people being detained there touched me so deeply that I immediately chose law. I opted for human rights in Leiden because of the faculty's good reputation in the field of human rights. During my bachelor's, I started focusing on children's rights which might be explained by my own childhood – I was placed in care by the Dutch Child Protection Agency when I was 14. Just before I started my bachelor's thesis, I was offered an internship with UNICEF in Geneva for four months. After returning from Geneva, I pursued my passion by doing a master's degree in Public International Law.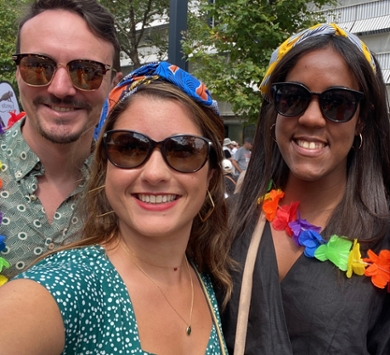 You soon switched from children's rights to becoming (co)founder of a startup – how did that happen?
During my studies, I did a lot of voluntary work, all in the interest of or related to child protection. After completing my master's degree, I was asked by one of those organisations, the Centre for Public Innovation where I was working as a volunteer trainer, to work for them as a paid trainer. When they found out I was a law graduate, they asked me to implement the GDPR as a corporate lawyer. At the time, 2017, the GDPR was about to take effect and all companies and organisations were facing the requirements which were new to them at the time. The organisation I worked for was quite small, it consisted of around 25 to 30 people. The implementation of the GDPR in particular took up a lot of time and money and really became a long-term project. The current co-founder Chris (Clinton, ed.) was working at NATO in The Hague at the time and already had an idea for something to offer in the context of cybersecurity for small businesses. With my experience with the GDPR, we joined an accelerator programme together as part-time participants alongside our regular jobs. In January 2021, we started full-time with our company Naq.
What was it like setting up a business?
It's a bit like being in a pressure cooker. You learn many aspects of setting up and running a business in a short time. It also taught me a lot about myself. What I perhaps was rather naïve about was the investment process surrounding Legaltech startups – huge amounts of money are needed to develop the products. In our case, for example, we had an app that helps companies automatically implement the GDPR. Investors come with demands and you have to take that into account. Besides that, as the founder of a start-up, you don't have the same guidelines that you have as a student or lawyer. I could work over 1,000 hours and even then, the work's never done.
If you're 'on' all the time, how do you switch 'off'?
On weekends, I regularly sing jazz, R&B, soul, pop in pubs or cocktail bars - all accompanied by my regular guitarist. But after a long day's work, I switch off by watching repeat episodes of Friends.
Did you expect you would be in the Forbes 30 under 30?
I didn't expect it, but it was a goal for me to measure my success against. I wanted to get into the 30 under 30. Once I achieved that, I was allowed to move on to something new. I also didn't actually know I had even been nominated – my co-founder had done that.
What is your spot on the horizon?
We're currently working on partnerships – large companies that want to refer their customers to us or offer white labelling, reselling our platform. We already have quite a few customers. For instance, I'm really proud that we have Hiscox as a partner – it's a major insurance company and market leader in cyber insurance. Once all that's in place, Chris and I want to sell Naq. After that, I'd prefer to return to children's rights where my passion still lies. I'd like to keep doing meaningful work.
Your law degree will certainly help if you want to return to children's rights. But did your background in law also help with your startup?
It's helped enormously! When establishing a startup, you have to deal with contracts and non-disclosure agreements. You have far more knowledge about how to deal with these kind of matters. Some people say you should never be your own advisor, but with a startup you often can't afford an external lawyer. So it helps if you understand everything yourself. It also helped me in acquiring investors and customers. Of course, I had no entrepreneurial experience and was very young, but those few years working as a GDPR lawyer certainly helped in coming across convincingly at such meetings.
What's your advice for current students?
That you always have a choice – nothing is set in stone. And remember, the status and development of technology is moving even faster than any development in law. Today's students can take advantage of that. There's great freedom to develop new products and be ahead of your time – all the more so in the legal world where everything is still processed almost manually and on paper, just think of all those big law books. The work of a lawyer is still all about gathering and applying knowledge. Just look at the advent of ChatGPT, which can very easily replace this kind of work. So it's clear that especially within the legal field, many changes are needed. Artificial Intelligence is also already increasingly being used to automate contracts, for example. So dare to take the non-traditional path! Look at me, I won a Most Inspiring Women in Cyber 2022 award, as well as being included on the Forbes list 30 under 30 with my international law degree. Believe me, as a lawyer working on the Zuidas, you'll soon be replaced by AI.