Welcome to Leiden University
Corona measures
Monitor the corona updates for the latest news on the academic year.
Get vaccinated: no appointment needed!
To ensure you are as protected as possible when starting your introduction activities and studies, get vaccinated as soon as possible. You don't need an appointment. Read more
You are about to start your studies at Leiden University. Make sure you are well prepared and get your studies off to a good start. Find out what you need to know and arrange by clicking on your faculty or study programme tab.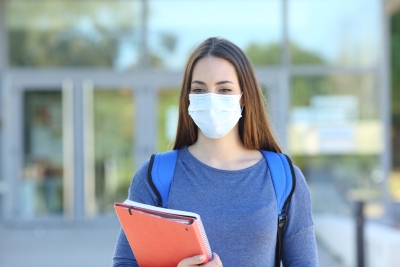 COVID-19 (coronavirus) updates
If it is up to us, we would like to you to be close to your professors and fellow students. But of course we take the developments with the coronavirus into account, and we adhere to the guidelines of the Dutch government and Leiden University. This site keeps you up to date:
Your time as a student at Leiden University will soon begin. Read here what you need to do to find your way quickly and prepare optimally.
What to arrange before your studies begin
Get to know your fellow students, discover The Hague
The Hague Orientation Programme (HOP week) gives all first year students of Leiden University in the Hague the chance to get to know one another, the university and the city. This year's programme will be a hybrid one: partly online and partly offline. We strongly encourage you to attend the HOP Week from 23-27 August 2021.
Registration beforehand is mandatory. You can register here: hopweek.org.
Study association SPIL will organise the Freshmen Weekend from 9-11 August 2021 in Boxtel (Brabant) in the Netherlands. The participant fee will be around €35,-. You can a register here!
CIROS, the community of IRO students, will organise a sparkling programme full of activities during the IROC month in September. Information about the activities will be available on their website.
Plan your classes
IRO Orientation Day
You are expected to attend the IRO Orientation Day on Monday 30 August 2021, which starts on 14:00. You will meet your professors, instructors and study advisers. After a plenary session you will meet your peer mentor and your peer group for specific information about the systems you will be using, your u-mail, arrangements of books and your schedule. If your presence is hindered due to Covid 19 travel restrictions, you will be able to follow the sessions on Monday 30 August online.
Your first lecture will be Introduction to International Relations in the week of 6 September 2021. Like most of your classes, this lecture will be held in the Wijnhaven building.
Please consult your Prospectus for the most recent information.
Officially, the academic year starts in September and ends in August. The academic year is divided into two semesters. Each semester has two blocks. Each block has 8 weeks and the last week of each block is exam* week:
Semester 1

Block 1: 6 September-29 October (exam week: 25-29 October)
Block 2: 1 November-24 December (exam week: 20-24 December)
Semester 2

Block 3: 7 February-1 April (exam week: 28 March-1 April)
Block 4: 4 April–27 May (exam week: 23-27 May)
There are no holidays inbetween blocks. The university is closed during the Christmas break from 25 December till 1 January. January is a lecture free period and there are no classes, just re-takes from blocks 1 and 2. In the case that you do not have to re-sit any exams (because you passed them the first time), then this would mean that you would have a lecture free and exam free period in January (semester 1), whereas in the second semester your summer break would start at the beginning of June.
If you want to plan ahead in further detail and familiarise yourself with holidays, compulsory closures, etcetera, please consult the academic calendar.
* There are two exam possibilities for each course per academic year. During exam week you get your first chance to take the exam. If you do not pass the exam(s) then you can re-take the exam during the re-take periods. The re-take period for semester 1 courses is mid-January. The re-take period for semester 2 courses is mid-June. Exact dates will be announced once the academic year begins.
Further information about course and exam registration:
Make sure you know where you have to be and when on your first day.
Most of your lectures will be held at the Wijnhaven campus, Leiden University's largest educational facility in The Hague. Want to know where to find it and what it looks like?
› 360 tour of the Wijnhaven campus (YouTube)
Books
A reading list per course is listed in the Prospectus. Make sure you have the required textbooks before the start of the academic year. Members of the study association SPIL can purchase textbooks discount by mid–August. You are free to purchase your books through other channels (second year IRO students, (online) book shops), but please make sure you buy the correct edition of your books to avoid confusion. Take into account that it may take some time before you will receive your books.
Readers
As with books, the required readers for each course are listed in the Prospectus. Readers are ordered via readeronline. We advise you to order as soon as you activate your ULCN account, because it will take at least 2 to 3 days before you actually get them.
Syllabi
Syllabi will be published by your instructors on the Brightspace page of their respective course. Once you are registered for a course in uSis, you are automatically registered for the Brightspace page of that course where you will find your syllabus and other important information.
Please be advised that you
have to register in advance for the courses and exams you want/need to take and that
there are strict deadlines for course and exam enrollment.
Please note: During the first semester (block 1 and 2) the Student Services Centre (SSC) will register you for courses. But not for exams, for which you always have to register yourself. After block 1 and 2, you will also need to take care of course enrollment yourself.
Registration for an exam is only possible during the registration period, which runs from 100 calendar days to 10 calendar days before the exam in question. For example, if the exam is on 22 September, you must have registered in uSis by 23:59 hrs on 11 September. You can register for the exam as soon as you start a course; we strongly advise you incorporate this into your routine.
Make sure to familiarise yourself with the guidelines on this page:
In brief, Leiden University's Binding Study Advice (BSA) entails that during your first year you will need to obtain a certain number of study credits in order to be able to continue studying in the programme. Furthermore, after two years of studying, you are required to have completed the entire first year, as well as a substantial number of second year courses. Please make sure to familiarise yourself with these requirements, in order to avoid disappointment later on.
Most students bring their preferred notebooks, laptops and other devices to take notes during the classes. The University does not require or prefer certain brands or models. The university has facilities to charge your devices; please make sure you have the right adapter for the Dutch electricity system.
Note that in your first year, the courses Statistics I and Statistics II are part of the core curriculum and you are supposed to work with SPSS Statistics software. Students can access SPSS via the university computers. Students can purchase a version for their own computers via SURFspot (with a student discount). See for more information the courses Statistics I and Statistics II in the Prospectus. Please inform yourself about the minimum system requirements for this software.
Support and advice
As a student at Leiden University, you are provided with good study guidance. This guidance is given by your Academic Skills workgroup instructors, study advisers, and peer mentors.
All first year students are placed in a mentor group with a peer mentor, a second or third IRO student, who can help you adjust to study life in the Hague and questions about practical matters in the first semester (such as where can I find my schedule, do I register for classes and exams, find the access to my Umail and Brightspace).
During the first and second semester of your first year you will have weekly workgroups. During these workgroups you will practice academic skills that are essential to social scientific study and research: These skills will form the foundation of your study throughout the bachelor in Political Science - International Relations and Organisations.
The instructor of the Academic Skills workgroup will help you to acquire important academic skills (from searching for and correctly referring to literature, to writing an academic essay).
Your study adviser is there to help you with other study related questions (study planning, study delay, study challenges, rules and regulations or personal circumstances, career planning and preparation). The study advisers will keep track of your study results during the first academic year, also because of the Binding Study Advice (BSA).
The study advisers offer an interactive mentoring session each block. During these interactive sessions they will provide tools to manage your study and develop your personal skills and academic career. Current IRO students will contribute to the sessions and share their experience with the programme. You will find further details about the mentoring programme in the Prospectus. The dates can be found in your student schedule in uSis.
During your time as a student you will probably face a variety of challenges. Both in terms of studying and personal development, you might need a little help from time to time. Find out how you can boost your wellbeing and who you can turn to for support. Read more about wellbeing
Leiden University offers support to students with a disability. Learn more about the facilities and arrangements:
Get to know key facilities
Here, on the student website, you can find a wide range of practical information about your studies. By selecting your programme when logging in, you can view information that is relevant to you. Find out how to get the most out of the student website
Changes due to corona measures
Also take a look at the Studying in times of corona website. Here you can find up-to-date information about online study and other matters that might be slightly different at the moment.
Your student card is your proof of registration as a student of Leiden University.
All the details of your studies are recorded in uSis. From your first registration as a student until your graduation.
Brightspace is Leiden University's online learning environment.
As a student of Leiden University you will be issued with a university email address: uMail. All correspondence from the university will be sent to this address. You can set up your uMail account so that all mails will be forwarded to your own email address.
The indispensable app for Leiden University students. Here you can find all your personal study information in one place. Log in once and access your schedule, results, available computers and university news anytime and anyplace.
Get more out of your student days
SPIL
SPIL is the study association for Political Science students at Leiden University. SPIL was founded in 1981 and has since grown to be one of the university's largest study associations, with more than a thousand members. For a nominal annual membership fee, SPIL offers its members a wide range of benefits.
CIROS
CIROS was founded in March 2018 as a student initiative aimed at fostering social cohesion within the IRO student community through a range of academic and non-academic events. Since then, CIROS has grown to become a registered Student Association within Leiden University, with 10 committees, several clubs, as well as several ongoing projects. We are composed of students from over 25 different nationalities.
As a student of Leiden University, you have access to a wide range of affordable sports via the University Sport Centre (USC) in Leiden and The Hague.
Participate
The Programme Committees advise the Institute and faculty councils about everything that concerns education. Furthermore, these committees actively contribute to quality assurance of the Institute's bachelor's and master's programmes. Both staff and students are represented in the Programme Committees. Student members are elected annually (in October, just after the start of the programme) for a one-year term.
The Programme Board organises the Insitute of Political Science's educational programmes. It also advises and consults other university agencies about the content and set-up of programmes. The Programme Board consists of the Institute's scientific director(s), the programme director(s) and a student. The student member, usually a second or third-year bachelor student, is appointed for a one-year term, after an open application procedure.
The University Council is a democratically elected participation body in which students and staff of the University are represented. The Council follows the decisions of the Executive Board critically, issues solicited or unsolicited advice and has a say in important decisions by the Board. This often concerns topics that directly affect students and employees, such as quality of education, new buildings or sustainability.
After the University Council, the Faculty Council is the second highest staff and student body at the University. It acts as an intermediary between the various departments of a faculty. The Faculty Council has the right to approve and advise on various matters concerning the faculty. It also represents students and staff and is a sounding board for the Faculty Board.