Leiden Classics: De man achter de pedel
Bijna overal ter wereld is de pedel een 'master of ceremonies' die alleen bij bijzondere gelegenheden ten tonele verschijnt. In Leiden doet de pedel veel meer. Willem van Beelen is al ruim 25 jaar pedel. Hij is onmisbaar bij promoties en oraties, regisseert plechtigheden en is een meester in het bedwingen van zenuwen.
Op 1 maart 2014 vierde Willem van Beelen zijn 25-jarig jubileum als pedel. 'Hora est!' Al duizenden keren heeft hij het gedaan: 'de tijd is op' verkondigen in het Latijn en rinkelen met zijn staf om zo de spreektijd van een promovendus te beëindigen. Het blijft voor de Leidse pedel Van Beelen een gewichtig ritueel. 'Het is belangrijk dat een universiteit ceremonies heeft en periodes als een promotie-onderzoek waardig afsluit.' En dat geldt niet alleen voor studenten en medewerkers, meent hij. 'Voor de buitenwereld is de universiteit een wazige wereld. Vaste symbolen en ceremonies geven houvast en zijn een symbool voor continuïteit.'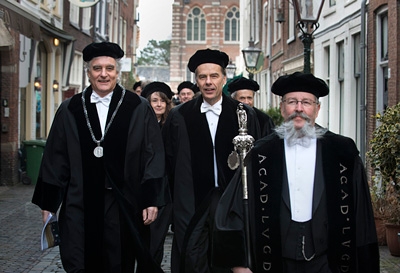 Toen hij in de jaren '80 aantrad bij de universiteit, hechtten promovendi minder aan rituelen en gingen ze dikwijls niet in rokkostuum gekleed. Maar de laatste jaren, zo constateert hij, hechten promovendi en hun vrienden en familie meer dan ooit aan tradities. 'Misschien heeft het met de crisis te maken. Mensen zijn serieuzer en onzekerder wat hierna komt. Dan willen ze op zo'n moment benadrukken dat ze iets belangrijks hebben afgerond.'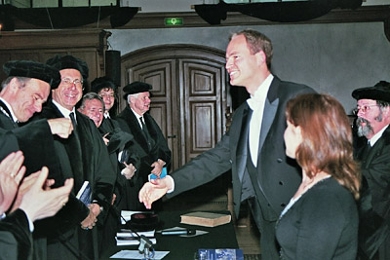 Van Beelen oogt indrukwekkend in zijn zwarte toga, hoofddeksel, staf met zilveren wapenbeeldjes én zijn persoonlijke handelsmerk, een lange grijze baard. 'Die baard had ik', zo geeft hij toe, 'wellicht niet gehad als ik een ander beroep had.' Maar als geen ander heeft Van Beelen gevoel voor decorum. 'In een stoet met hoogleraren wil je niet helemaal uit de toon vallen. Zo'n baard suggereert toch een beetje eminence grise.'
Nelson Mandela, voormalig president van Zuid-Afrika, bij de aanvaarding van het eredoctoraat in 1999. Rechts op de foto Willem van Beelen.
De Universiteit Leiden heeft sinds het ontstaan in 1575 al een pedel in dienst. Bijna overal ter wereld is de pedel een 'master of ceremonies' die alleen bij bijzondere gelegenheden ten tonele verschijnt zoals de dies of bij hoog bezoek. Maar in Nederland heeft de pedel ook een functie bij promoties en oraties. Van Beelen doet veel meer dan alleen de zaal binnenschrijden: hij kalligrafeert de bullen en maakt ook zelf de rode lakzegels. Ook geeft hij vlak voor de spannende dag instructies over het protocol aan de promovendi en hoogleraren in spé. En daar heeft hij zijn handen vol aan. In de jaren '80 was het aantal promoties zo'n 140 per jaar, tegenwoordig zijn het er minstens 380.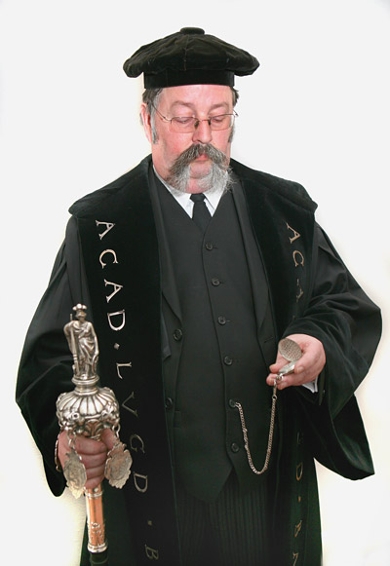 De pedel verkondigt in het Latijn 'Hora est!': dat wil zeggen 'de tijd is op' en daarbij rinkelt hij met zijn staf om zo de spreektijd van een promovendus te beëindigen.
Maar de ceremonie mag dan altijd hetzelfde zijn, geen enkele promovendus of hoogleraar is hetzelfde en voor hen is de dag uniek. 'Iedereen gaat op een andere manier met zijn zenuwen om. Bij de een maak ik een grapje ter ontspanning, bij de ander blijf ik vooral heel rustig om de nervositeit niet te vergroten. Teveel instructies werken bovendien niet. Daar worden mensen eerder zenuwachtig van.'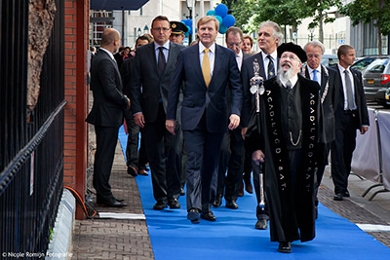 Van Beelen speelt ook een belangrijke rol bij bijzondere gelegenheden, zoals bij de lezing die VN-secretaris – generaal Ban ki-Moon augustus 2013 hield, of verder terug, eredoctoraten aan Nelson Mandela en koningin Beatrix destijds. Bij zulke gelegenheden leest hij vooraf het minutieuze draaiboek, 'alsof ik me voorbereid op een serieus toneelstuk', waardoor hij precies weet wie waar moet staan. 'Soms moet ik, plat gezegd, duw - en trekwerk verrichten om iedereen op de juiste plek te krijgen. Maar dat doe ik subtiel en ik blijf altijd rustig. Als pedel moet je standvastig zijn. Dat geldt trouwens voor ieder mens.'

(4 maart 2014 / LvP)
Een opleiding voor pedellen bestaat er niet. Van Beelen begon bij de universiteit als administratief medewerker bij het bureau van de pedel die bij afwezigheid de pedel moest vervangen. Negen jaar later vertrok de toenmalige pedel en nam Van Beelen de staf over.
Laatst Gewijzigd: 04-03-2014