Leidse student Filosofie Shahin Nasiri wint Peter Baehr Prijs 2014
Shahin Nasiri (28), MA-student Filosofie aan de Universiteit Leiden en afkomstig uit Iran, heeft de Peter Baehr Prijs 2014 gewonnen met zijn onderzoeksvoorstel "Rethinking the notion of freedom from the standpoint of the refugee". Veelbelovend is de voorgestelde methodologie om filosofische kritieken op universele en abstracte waarden, zoals het vrijheidsbegrip en mensenrechten, te onderbouwen met veldonderzoek onder vluchtelingen, aldus de jury. Stichting voor Vluchteling-Studenten UAF reikt de Peter Baehr Prijs uit op 10 december, Dag van de Mensenrechten.
Peter Baehr Prijs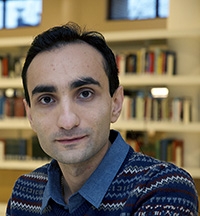 Met de prijs van €10.000 biedt het UAF vluchtelingstudenten de kans om te promoveren en stimuleert het UAF onderzoek op het terrein van mensenrechten, organisatie en buitenlands beleid. Ook vraagt het UAF op deze manier bredere bekendheid voor talentvolle vluchtelingen in het hoger onderwijs. De prijs wordt uitgereikt op 10 december tijdens de "Raymond and Beverly Sackler Distinguished Lecture on Human Rights" die wordt georganiseerd door de Universiteit Leiden.

De Peter Baehr Prijs is ingesteld door professor dr. Meindert Fennema, politicoloog en emeritus hoogleraar Politieke Theorie aan de Universiteit van Amsterdam. Met de prijs eert hij professor Peter Baehr (1935 – 2010), een belangrijk voorvechter van mensenrechten. Peter Baehr was van 1999 tot 2006 voorzitter van het UAF en gerenommeerd hoogleraar mensenrechten aan o.a. de Universiteit Utrecht.
Rethinking the notion of freedom from the standpoint of the refugee
Shahin Nasiri stelt zich ten doel om in een promotieonderzoek kritisch te reflecteren op de Westerse conceptualisering van het vrijheidsbegrip door dat begrip te contrasteren met het perspectief van de vluchteling. Het voorstel verbindt inzichten uit de politieke filosofie, de filosofische antropologie en de rechtswetenschap.

Veelbelovend noemt de jury van de Peter Baehr Prijs de voorgestelde methodologie om filosofische kritieken op universele en abstracte waarden, zoals het vrijheidsbegrip en mensenrechten, te onderbouwen met veldonderzoek onder vluchtelingen. Door ervaringen en behoeften van vluchtelingen, die vaak zijn uitgesloten van maatschappelijke participatie, tot uitgangspunt te nemen, kan het onderzoek een belangrijke bijdrage leveren aan het debat over vrijheid in het politieke en juridische domein.

Het voorstel is wetenschappelijk vernieuwend en gedurfd, maar ook haalbaar door de scherpe afbakening en degelijke methodologische verantwoording. Het is voorts buiten kijf dat het onderwerp nauw aansluit bij het werk en gedachtegoed van Peter Baehr, aldus de jury.

Shahin Nasiri vluchtte als 14-jarige met zijn familie naar Nederland. Na het gymnasium studeerde hij Lucht- en ruimtevaarttechniek in Delft. Na het behalen van zijn bachelorsdiploma maakte hij de overstap naar de masteropleiding Filosofie aan de Universiteit van Leiden. Nasiri studeerde met hulp van de Stichting voor Vluchteling-Studenten UAF.

Bron: UAF
Foto: Aleksandra Mihajlovic