Lisette Atsma: hoe een alumna Koreaans ict-specialist werd
Afgestudeerd in Koreaans en Asian Studies en vier jaar na het afstuderen als specialist aan het werk zijn voor een ict-detacheerder. Het gebeurde Lisette Atsma (27). Eigenlijk ging het nog sneller want ze werkt pas anderhalf jaar in de ict.
​​​​​​​Er zijn veel vacatures in de ict, lees je overal, maar kun je ook zonder ict-opleiding aan de slag in de branche?
'Ja, het kan. Je opleiden doet een detacheerder zelf wel. Je moet wel slim en kritisch zijn, en snel kunnen leren. En enige ervaring met ict hebben. Dat had ik. Ik ben opgegroeid met video games en misschien heb ik er ook wel gevoel voor. Rond mijn zesde hielp ik mijn broertje al uit de brand als die in een game het leven had gelaten of anderszins niet verder kwam. Ik probeerde net zo lang de mogelijkheden uit tot hij weer door kon. Ook tijdens mijn studietijd heb ik heel veel gegamed, met mijn medebewoners op de gang in de Pelikaanhof. Je stak elkaar aan. Zo speelden we bijvoorbeeld Left for Dead en Raving rabbits. Verder heb ik als tiener op ict-gebied de stylingcodes van de website Livejournal - waarop mensen online een dagboek kunnen bijhouden – gewijzigd om de opmaakmogelijkheden uit te breiden. Zo raakte ik vertrouwd met computertaal. En als er iets met mijn pc was, vogelde ik zelf uit wat er aan de hand was.'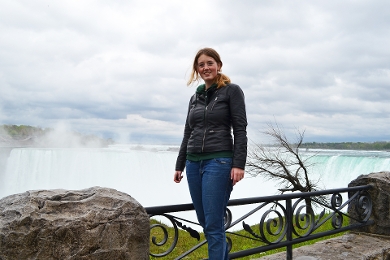 Hoe kwam je in de ict terecht?
'Na mijn afstuderen wist ik totaal niet wat ik wilde, dus heb ik allerlei baantjes gehad om geld te verdienen. Van subsidie-aanvrager tot hulp in de thuiszorg en van postbode tot campingmedewerker in Frankrijk. Ook heb ik nog in opdracht stukjes geschreven. Ik had er helemaal niet bij stil gestaan dat ik in de ict mijn brood zou kunnen verdienen tot ik vrienden zonder gerichte opleiding in de branche aan de slag zag gaan. Een vriend werkte bij Sogeti en ik besloot ook een poging te wagen. Ik solliciteerde op een functie voor Java maar werd aangenomen als test-engineer.'
Betekent dat dat je bij bedrijven en instellingen test of nieuwe software en applicaties doen wat ze moeten doen?
'Ja. Er is wel een grote omslag aan de gang. Eerst was het zo dat de opdrachtgever zei wat hij wilde en dat programmeurs gingen bouwen. Als het af was, of bijna af, ging je testen. Dat is met agile werken heel anders geworden. Daarbij wordt al begonnen met bouwen voordat precies duidelijk is wat de opdrachtgever wil. Je begint eigenlijk met een half idee. Het werk wordt in kleine projectjes opgedeeld die afzonderlijk worden getest. Als iets niet blijkt te werken hoef je niet alles af te breken maar kun je een andere oplossing bedenken. De werkwijze geeft veel flexibiliteit. Daarnaast speelt agile werken ook bij het testen zelf. Dat wordt geautomatiseerd: software controleert of de te testen applicaties wel naar behoren werkt. Dat werkt veel sneller en efficiënter.'
Wat is er leuk aan het werk?
'Je komt met veel mensen in contact, ook doordat je steeds bij andere bedrijven zit.Het werk is creatief en er wordt een groot beroep gedaan op mijn randkennis van zowel schrijven als grafische aspecten. Ik heb een goed oog voor detail, daar doe ik wel eens mensen mee versteld staan. Dat is natuurlijk ook leuk. En omdat je door je functie eigenlijk altijd een goed overview van het project hebt, ben je er altijd om te helpen.'
Waar ben je tot nu toe gedetacheerd geweest?
'Mijn eerste klant was een start up die het platform Tickr is begonnen. Daarna heb ik een project gedaan bij het Openbaar Ministerie aan het Geïntegreerd Processysteem Strafrecht. Die afdeling zit in Utrecht en niet in Den Haag. Fijn voor mij want ik woon ik Amersfoort. Er wordt wel gekeken naar de afstand tot je woonplaats, maar als je een specialisme hebt en er meldt zich een klant aan de andere kant van het land wordt er een hotel geboekt. Sinds januari ben ik aan het werk bij verzekeraar Centraal Beheer in Apeldoorn, opnieuw op prettige afstand van Amersfoort.'
Wie: Lisette Atsma, afgestudeerd in 2013; de foto hieronder is uit 2008.
Studie: bachelor Koreaanse taal en cultuur, master Asian Studies
Vereniging: korte tijd lid van het Duivelsei
Favoriete plek in Leiden: 'Engelse pub North End. Daar kwam ik regelmatig met een groep vrienden een biertje te drinken.'
Verliefd, verloofd, getrouwd…? 'Momenteel ben ik single. Met twee anderen huur ik een appartement in Amersfoort. Ook daar is het lastig betaalbare woonruimte te vinden. Nu we de kosten delen, kan ik flink sparen.'
Wil je dit blijven doen?
'Ja, maar ik denk natuurlijk wel over de toekomst. Zo ben nu bezig met een opleiding tot Full Stack Developer, dat is de kant van het bouwen. Bij Centraal Beheer heb ik meegeholpen met devlopment van de website, en vond dat ook enorm fascinerend. Ik ben in juli begonnen met de opleiding en in november ben ik klaar met de theorie. Dan moet ik een project gaan doen, dat kan geïntegreerd in mijn werk. Zowel mijn werkgever als ikzelf investeren in de opleiding. Eigenlijk is het best pittig om naast een baan van 36 uur ook nog eens 12 uur te studeren maar het voelt als een hobby. Uiteindelijk wil ik wel voor mezelf beginnen.'
Hoe was je studententijd?
'Enorm leuk. Ik vond het heerlijk om op mezelf te gaan wonen, en dan de uitdaging van de studie erbij... De mensen met wie ik op de Pelikaanhof woonde zijn nog steeds vrienden. We zien elkaar ook nog regelmatig. Volgende week gaan we samen eten in Utrecht. We houden contact via WhatsApp en we gaan voor het eerst ook samen een weekend weg.'
Wat heeft de Universiteit Leiden je gebracht waar je nog steeds wat aan hebt?
'Kritische vragen stellen is zeker iets. Maar ik heb vooral leren leren. Op de middelbare school kwam het me allemaal aanwaaien maar bij de universiteit moest ik echt aan de bak. Ik heb er geleerd te plannen en ook om stampwerk te doen, dat hoort nu eenmaal bij een talenstudie. Nu ik naast mijn studie met een opleiding bezig ben, kan ik die vaardigheid van kunnen studeren uitstekend gebruiken.'
Lisette Atsma was op 2 oktober 'Techgirl van de week' van het online magazine Techgirl. Als ze de meeste stemmen krijgt wordt ze 'girl' van de maand en vervolgens mogelijk Techgirl van het jaar. Maar, zegt ze, ze kan er ook prima mee leven als het iemand anders wordt.
(CH)