Meer zelfvertrouwen dankzij mentor
'Maak je niet druk en stel je open op', zei Lisa Quants mentor tegen haar vóór haar sollicitatiegesprek. En het hielp. Lisa vond haar mentor via het Mentornetwerk van de Universiteit Leiden: een online platform waar studenten contact kunnen zoeken met Leidse alumni voor ondersteuning en advies.
 Studie meteen leuk
Feitelijk heeft ze niet één, maar twee mentoren gevonden, vertelt Lisa Quant. 'Al is het contact met de ene intensiever en frequenter dan met de andere. Lisa is tweedejaars Rechtsgeleerdheid. Al meteen in het eerste jaar vond ze haar studie hartstikke leuk en interessant en zeker ook daardoor ging het studeren haar goed af. Medestudenten zeiden: 'Door dat eerste jaar moet je heen, daarna wordt rechten pas leuk.' Maar Lisa had al vanaf de eerste dag het gevoel dat ze een opleiding had gekozen die haar op het lijf was geschreven.
Twee reacties
Vandaar dat het al begon te kriebelen voor ze haar propedeuse had: Lisa wilde naast haar studie iets op het vakgebied doen om zich verder te ontwikkelen, betaald of onbetaald. Overal stuitte ze echter op de eis dat ze haar propedeuse moest hebben. 'Hoe pak ik dit aan?', dacht ze, en toen zag ze in het Kamerlingh Onnesgebouw op een scherm informatie over het mentornetwerk. Misschien lag daarin het antwoord. Ze selecteerde drie potentiële mentoren, waarvan er twee reageerden, allebei rond de dertig, schat ze: een advocaat van een Rotterdams strafrechtkantoor en een jurist van het London Court of Arbitration, een commercieel mediation- en arbitragekantoor.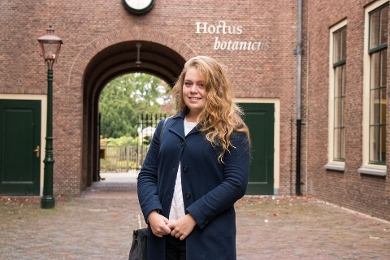 Goede adviezen
De Rotterdamse advocaat gaf Lisa vooral tips, bijvoorbeeld over haar cv, met de Londense jurist had ze een geregelder en persoonlijker contact. Hij had in Leiden alleen een master gedaan, en daarvóór in Oxford en Ottawa gestudeerd. Het contact verliep dus in het Engels, vaak per telefoon. Hij adviseerde Lisa om toch te solliciteren, al was in een advertentie de eis dat ze haar propedeuse moest hebben. En om zich niet uit het veld te laten slaan, al werd ze een aantal keren afgewezen. 'Maar het kan ook best dat ze het juist waarderen dat je zo vroeg in je studie al zo enthousiast bent.' En zo pakte het uit, ze werd opgeroepen voor gesprekken. 'Maak je niet druk en stel je open op', was een van de andere adviezen van de Londenaar.
Een baantje én vrijwilliger
Het resultaat is nu dat Lisa werkt als werkstudent bij een advocatenkantoor in Amsterdam én als vrijwilliger bij de Rechtswinkel in Den Haag, haar woonplaats. Bij beide werd ze aangenomen zonder haar propedeuse op zak te hebben, zij het wel bijna. Het werk bij het kantoor in Amsterdam is niet inhoudelijk, maar het biedt wel een uitgelezen kans om de sfeer van een kantoor te proeven en het reilen en zeilen te leren kennen. Lisa werkt er één dag vast en één dag flexibel. Ze doet administratief werk, zit achter de receptie, neemt de telefoon aan, regelt vergaderzalen en archiveert stukken. Bij de Rechtswinkel in Den Haag komt het wel tot inhoudelijk werk als ze spreekuren gaat draaien. Het leuke daar is dat ze met zes nieuwelingen begint, allemaal in het zelfde schuitje. 'Ik heb begrepen datze daar kijken of je het in je hebt. Of je nou net wel of net niet je propedeuse hebt, speelt minder een rol.'
Mentor ontmoeten
Het contact met haar Londense mentor was inmiddels zodanig dat ze het hem meteen liet weten toen ze aangenomen was. Hij was trots op haar. Waarschijnlijk gaat ze hem ontmoeten: ouders van vrienden wonen in Londen en ze komt daar de komende tijd zeker een keer. Een mooie gelegenheid om ook een afspraak te maken met haar mentor. Het contact zal voorlopig blijven, verwacht ze. Met de andere mentor ook.
Veel op het bordje
Voor het nieuwe academisch jaar wachtte Lisa nog een belangrijke keuze. Ze was ook voor een sollicitatiegesprek opgeroepen bij een klein kantoor in Den Haag. Maar tegelijkertijd lonkte de Honours Class van rechten. Ze had zich aangemeld maar moest afwachten of ze geplaatst zou worden. 'Mijn afweging is geweest: waar heb ik het meest aan voor mijn persoonlijke ontwikkeling?' Naast de baan als werk-student in Amsterdam en het vrijwilligerswerk in Den Haag, dacht ze uiteindelijk het meest uit de Honours Class te kunnen halen. Dus heeft ze het Haagse kantoor afgezegd. Als je bedenkt dat Lisa ook nog lid is van Quintus, heeft ze veel op haar bordje geladen dit jaar. Maar zo voelt ze het zelf niet. 'Gezien het eerste jaar mag ik erop vertrouwen dat het met mijn studie goed blijft gaan en wat ik ernaast doe zijn allemaal fijne dingen. Mede dankzij mijn mentoren.'
(CH)
Online tool
Op het Universiteit Leiden Mentornetwerk vind je honderden Leidse alumni in allerlei functies en met uiteenlopende achtergronden. Heb je bijvoorbeeld een vraag over jouw voorbereiding op de arbeidsmarkt? Je eerste baan, solliciteren of je masterkeuze? Je kiest zelf een mentor én de vorm van jullie mentorrelatie: per mail, telefoon of face to face. Ontdek het Mentornetwerk.
Bent u alumnus en stelt u zich graag beschikbaar als mentor voor studenten en jonge alumni? Bezoek de alumniwebsite voor meer informatie.