Drukbezocht Onderwijsfestival in het teken van innovatie
De acht ambities van de onderwijsvisie Learning@LeidenUniversity stonden centraal op het drukbezochte Onderwijsfestival op 19 juni. Meer dan 200 docenten en studenten kwamen naar innovatieve broedplaats PLNT voor inspiratie en best practices op het gebied van onderwijsvernieuwing.
Het Onderwijsfestival in foto's
Vice-rector magnificus Hester Bijl verwelkomde de deelnemers en attendeerde hen op twee nieuwe bronnen voor inspiratie: het dossier over de Onderwijsvisie met voorbeelden van onderwijsvernieuwing en de teaching and learning guide, die bedoeld is voor docenten.
Studentspreker Chantal Blom, tevens actief voor het Leiden University Green Office, sprak de zaal toe over haar ervaringen met het onderwijs van de Universiteit Leiden en de momenten waarop ze haar kennis in de praktijk mocht gaan brengen. 'Het zou geweldig zijn als alle studenten net zo vrij hun vakken zouden kunnen kiezen als ik dat heb gedaan.'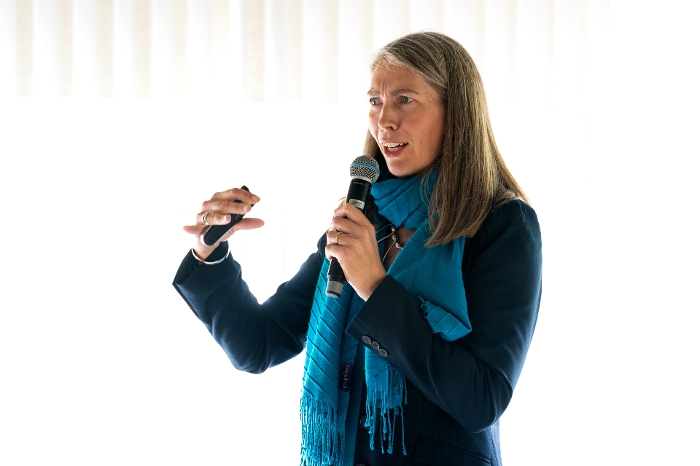 Keynote spreker Helen Walkington gaf vele voorbeelden hoe zij studenten betrekt bij en inzet voor onderzoek, ook vaak in opdracht van maatschappelijke organisaties. Walkington pleitte in haar lezing voor openbare platformen waar studenten hun werk presenteren. Een van de voordelen: studenten doen beter hun best op een presentatie of een verslag als niet alleen de docent dit leest.
In de daarop volgende workshops kwamen alle ambities uit de onderwijsvisie aan bod. De bezoekers konden kiezen uit maar liefst 24 workshops die elk betrekking hadden op één van de ambities: van betrokkenheid bij de samenleving tot de toepassing van technologie in het onderwijs. Zo vertelde Esther Kentin, docent bij de Leiden Law School, samen met Plastic Soup Surfer Merijn Tinga over het Leiden Advocacy Project on Plastic, waarin studenten pro bono advies geven aan organisaties die zich bezighouden met plasticvervuiling. En vertelde Beerend Hierck, universitair docent bij het LUMC, over de toepassingen van mixed reality bij onderwijs over anatomie.
Een aantal studenten had een heus kunstwerk gemaakt, bestaande uit verschillende kleuren linten die de acht ambities vertegenwoordigden. Bezoekers konden hun gedachten over de ambities kwijt op post-its, die zij vervolgens aan de linten konden vastmaken. Zo ontstond een levend kunstwerk met ideeën over onderwijsvernieuwing. Keynote spreker Helen Walkington was zeer enthousiast over het project van de studenten en gaf aan dat ze graag zelf een soortgelijk kunstwerk wil maken.
Het Onderwijsfestival werd samengevat door monologue artist Aloali Kananpour. Aan hem de taak om in enkele minuten de dag samen te vatten – wat hij met verve deed.