Verleden afgestoft bij feestelijke jaarafsluiting: 'I will survive'
De zon ontbrak, maar dat kon de sfeer niet drukken. Met een coverband, tropische drankjes en een stikstofijskar pakte de Honours Academy groots uit om de zomer in te luiden. Op de borrel blikten studenten, docenten en medewerkers van de Academy terug op het afgelopen jaar.
Op het plein voor de Oude Sterrewacht knopen honoursstudenten van verschillende trajecten gesprekken met elkaar aan. Onder het genot van cocktails en live muziek komen zij zo eens te meer in aanraking met andere disciplines. 'Dat is wel waarom ik blij ben dat ik Honours College doe', zegt Dorine Klein Gunnewiek, tweedejaars student van het Humanities Lab. 'Het geeft verbreding aan mijn studie.' Ze krijgt bijval van haar vriendin en cohortgenoot Roos van Bijnen: 'Je krijgt kennis mee, die je eigen opleiding niet meegeeft.'
Vriendschap
Tussen het ijsjeseten door legt Roos dit verder uit: 'Je leert onderwerpen verbinden met het nu. Neem het debat rond racistische monumenten. Dankzij de ruimte voor discussie in de seminars krijg je een genuanceerder beeld, je weet er daarna echt het fijne van.' Zo leren de studenten wetenschappelijke argumenten aan het maatschappelijke debat te verbinden. 'Ik kan het nu beter plaatsen.' Meedoen aan Honours heeft nog een groot voordeel, vindt Dorine: 'Vriendschap. Ik heb hele leuke mensen leren kennen dankzij de Honours Academy.'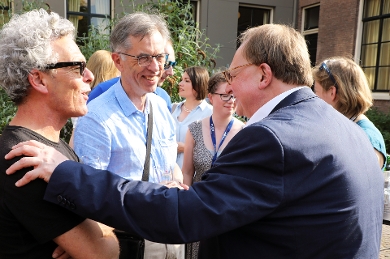 Geweldige jaren
De vriendinnen hopen volgend jaar hun certificaat te bemachtigen. Dat zullen ze in ieder geval niet meer ontvangen van Arie Verhagen, de taalkundehoogleraar die deze keer zijn laatste zomerborrel meemaakt als hoofd van het Humanities Lab. Van begin af aan was hij betrokken bij het honoursproject: 'Rond 2001 begonnen we bij Geesteswetenschappen een klasje voor gemotiveerde studenten, die van andere disciplines wilden leren. Dat heette toen nog geen Honours.'
Verhagen onderbreekt zijn verhaal even voor een bitterbal en vervolgt: 'Een jaar of zes geleden waren er plannen voor wat nu het Humanities Lab heet. Met een gedreven groep mensen hebben we toen een programma gemaakt. Dat gebeurde in grote onzekerheid, maar is helemaal goed afgelopen. Het waren geweldige jaren.'
Out of the box
De drijfveer van de wetenschapper was daarbij duidelijk – en lijkt erg op die van Roos en Dorine: 'Ik had de bijvakken informatica en wetenschapsfilosofie na mijn studie altijd bijgehouden. Die multidisciplinariteit, die mij toen zo aantrok, heeft nu voet aan de grond gekregen met het honoursprogramma.' Daarvoor is de docent dankbaar. 'Zelfs als iets niet direct raakt aan je eigen vakgebied, kun je er ontzettend veel van leren. Je wordt gedwongen out of the box te denken.'
Volgens Verhagen dragen mensen die houding hun hele carrière met zich mee: 'Daar ben ik trots op. Het is zonde om al dat talent te laten wegstoffen.' Gelukkig ziet hij de toekomst van het Honours College zonnig in. 'Het is nu goed ingebed in de organisatie, dat moeten we nooit meer kwijtraken.' Op de achtergrond zet de band nietsvermoedend een nieuw nummer in: I will survive… Een voorbode?
(Tekst: Michiel Knoester / Fotografie: André van Haasteren)