Chinees carrièreperspectief in Honours Summer School
China is één van de snelst groeiende landen in de wereld. In een unieke samenwerking kunnen Nederlandse studenten, als voorbereiding op een internationale toekomst, een summer school volgen aan een Chinese topuniversiteit. 'Het heeft mij een mooi carrièreperspectief opgeleverd.'
De Netherlands-Asia Honours Summer School (NAHSS) biedt jaarlijks aan honderd uitmuntende bachelorstudenten de mogelijkheid om naar China te gaan. Daarvoor wordt samengewerkt met Nederlandse en Aziatische bedrijven, universiteiten en overheidsinstellingen. Het doel: Nederlands talent voorbereiden op de internationale arbeidsmarkt, die vraagt om toenemende kennis over de Chinese cultuur.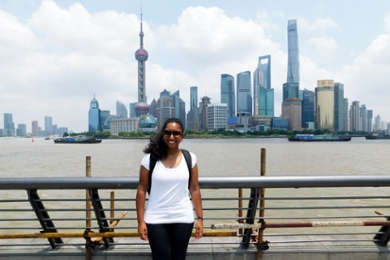 Banken
Voor Jennifa Mariadasan (masterstudent Biomedical Sciences) was het een mooie kennismaking met het internationale bedrijfsleven. 'Er wordt in het programma veel samengewerkt met banken, waar ik voor mijn gevoel heel ver van af sta. Door er binnen te komen en er kennis mee te maken, komt het veel dichterbij.' Daarna lachend: 'eigenlijk zijn mensen in pak zo eng nog niet.' Na een grondige selectie hoorde ze bijna een jaar geleden dat ze mee mocht naar China. 'Gelukkig maar, want ik wilde heel erg graag.'
Na de selectie volgde snel het kick-off weekend, dat in maart werd georganiseerd. 'Daar ontmoette ik mijn groepsgenoten, die expres niet uit dezelfde stad kwamen', vertelt ze. 'Dat maakt de samenwerking extra interessant.' Deelnemende studenten komen van verschillende Nederlandse universiteiten en worden ook nog eens gemixt op basis van studie-achtergrond. 'Vanuit mijn studie dacht ik bijvoorbeeld vooral aan impact op de gezondheid, terwijl groepsgenoten zich juist focusten op mogelijke maatregelen die we zouden kunnen nemen tegen luchtvervuiling.'
Chinese windtunnel
Ze vertelt over het project waar ze tijdens de NAHSS aan werkte. In opdracht van het Ministerie van Infrastructuur en Waterstaat bekeek ze luchtvervuiling in Nederland. 'In China is dat probleem nog veel groter, waardoor ze er veel vooruitstrevender zijn en wij er dus goed best practices konden ophalen.' Zo is er in het Olympisch park in Beijing een windtunnel aangelegd, die ervoor zorgt dat smog – door een kanalisatie van wind - kan worden weggeblazen. 'Met zoiets zou je in Nederland ook rekening kunnen houden bij nieuwbouw.'
'In Nederland moet eten vaak even snel tussendoor'
Haar verblijf in China heeft Mariadasan ook veel over culturele verschillen geleerd, vooral dat het daarmee best wel meevalt. 'We waren wel wat overwhelming volgens mij', lacht ze. 'Chinezen bleken wat terughoudender te zijn in het contact, terwijl Nederlanders meteen to the point komen.' Ook vond ze het interessant om Chinezen om te zien gaan met afspraken. 'Ze plannen echt een dagdeel vrij en nemen je dan bijvoorbeeld mee uit eten. In Nederland moet het vaak in een uurtje, snel even tussendoor.'
Lonely Planet
Ook aankomende zomer vertrekken er weer honderd studenten naar China, waarvoor aanmelden tot 8 januari mogelijk is. 'Het is gaaf dat je zowel op de universiteit als in verschillende bedrijven terechtkomt', zegt Mariadasan, die het andere studenten zeker aan kan raden om de selectieprocedure te doorlopen. 'Naast de geplande activiteiten was er ook nog genoeg tijd om de Lonely Planet erbij te pakken en rustig rond te kijken. Die combinatie met een carrièreperspectief is gewoon heel erg leuk.'
(IJT)
De aanmelding voor het Netherlands Asian Honours Summer School staat nu open en loopt tot 8 januari. De eisen zijn pittig. Zo is een minimaal cijfergemiddelde van 7 vereist, en moet je voor de aanmelding twee essays schrijven en een korte pitchvideo maken.
Contactpersoon voor de NAHSS bij de Universiteit Leiden is Ingrid D'Hooghe.