Met International Studies verbreedde Nassim Abba zijn horizon: 'Iedereen neemt zijn eigen blik mee'
Nassim zat bij de eerste lichting studenten die in 2012 met de bachelor International Studies startte. Zijn buitenlandse medestudenten veranderden zijn kijk op de wereld. Nu adviseert hij bestuurders en ambtenaren over vraagstukken in het hoger onderwijs en internationalisering. Zijn internationale blik helpt daarbij.
Naam: Nassim Abba (25)
Baan: Beleidsadviseur VSNU (Vereniging van Universiteiten), houdt zich bezig met projecten en dossiers op de domeinen Internationaal en Onderwijs. Was eerder maatschappelijk begeleider bij Vluchtelingenwerk en liep stage bij de Directie Midden-Oosten & Noord-Afrika van het ministerie van Buitenlandse Zaken.
Studies: Bachelor International Studies (2015) master Public Policy & Human Development (2017, Universiteit Maastricht)
Waar komt die interesse voor diversiteit en de maatschappij vandaan?
'Ik doe graag werk waarbij het maatschappelijk belang naar voren komt en je dat dient. Tijdens mijn master in Maastricht wilde ik naast de theorie mijn kennis overdragen aan mensen die het nodig hebben. Ik kwam met Vluchtelingenwerk in contact, die me wezen op een vrijwilligersplek om vluchtelingen naar een arbeidsplaats of studieplek te begeleiden. Tijdens mijn bachelor focuste ik op de regio Midden-Oosten en Noord-Afrika. Heel veel vluchtelingen kwamen destijds uit Syrië. Daar kwamen die twee interesses bij elkaar. Als kind fascineerde de regio me al; deze is dynamisch en er zijn veel politieke ontwikkelingen. Ik ben van Marokkaanse afkomst, thuis stonden vaak tv-zender Al Jazeera en Arabische nieuwskanalen aan. Toen ik ging studeren was ook de Arabische Lente in volle gang. Toen ik bij International Studies een regio moest kiezen, was de keuze snel gemaakt.'
Welke vaardigheden die je tijdens je studie hebt geleerd gebruik je nu?
'Meer dan de helft van de studenten bij International Studies was buitenlands. Daar heb ik veel van geleerd. Je komt vanuit een eigen bubbel van de middelbare school. Tijdens discussies in werkgroepen leerde ik van hun perspectieven en dat je je eigen identiteit pas kent als je weet dat er een ander is. Ik probeer mijn eigen culturele afkomst en ervaring mee te nemen en toe te passen in mijn baan. Ik spreek Arabisch en snap de cultuur, dat kan ik gebruiken. Ook kritisch nadenken, het toepassen van verschillende contexten en omgaan met politieke gevoeligheden zijn nu belangrijk in mijn werk. De VSNU is een werkgevers- en lobbyorganisatie, dus hoe ga je om met maatschappelijke discussies, hoe communiceer je binnen hiërarchische structuren? Hoe zorg je ervoor dat je advies goed overkomt en het proces goed verloopt voor de juiste resultaten?'
Hoe kwam je bij je huidige werkgever terecht en wat doe je precies?
'Via een project waarbij ik samen met anderen een studievoorbereidingsprogramma voor eerste-generatie studenten heb opgezet kwam ik in aanraking met het hoger onderwijs. Dat vond ik heel leuk en dus zocht ik na mijn studie op dat soort beleidsvacatures. In mijn werk wissel ik elk jaar van domein: vorig jaar deed ik personeelszakenbeleid, communicatie en public affairs. Sinds kort denk ik mee over de internationalisering van het onderwijs en hoe je dat in goede banen leidt. Er is maatschappelijke discussie over de effecten van internationalisering op universiteiten. Maar of je nou een Marokkaanse achtergrond hebt of een Nederlander bent die uit Friesland komt, iedereen neemt zijn eigen blik mee. 'De Nederlander bestaat niet', zoals Máxima ooit zei, er zijn Nederlanders met verschillende achtergronden. Dat is ook sociaaleconomisch en stad versus dorp. Dat heb ik geleerd bij International Studies: een werkgroep met verschillende mensen levert een leukere en betere discussie op omdat je dingen hoort waar je zelf nooit aan gedacht hebt.'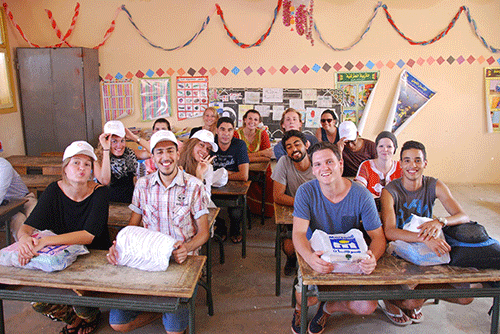 Een minor in Marokko
Nassim: 'In het kader van mijn bachelor International Studies heb ik een minor gevolgd aan het NIMAR in Rabat. Dit was een heel mooie ervaring: in een land uit de regio waarin ik mij specialiseerde kon ik onderwijs gaan volgen en tegelijkertijd onderzoek doen.' Meer weten over het NIMAR, en over minoren? Kom naar de Minorenmarkt op 16 april!