Mariska Kret over het nieuwe 'Comparative Psychology and Affective Neuroscience Lab'
Sinds april 2019 heeft de Faculteit der Sociale Wetenschappen er een nieuwe locatie bij voor haar onderzoek. Het Levelgebouw (direct naast Leiden Centraal) ontvangt proefpersonen in 3 gloednieuwe laboratoria. Psycholoog Mariska Kret vertelt enthousiast over de nieuwe mogelijkheden voor haar onderzoeksprojecten.
Uitingen van emoties
'Ik heb 2 onderzoeksprojecten in de nieuwe labs. Één is het ERC Starting grant project 'Function of emotional mimicry and physiological linkage'. We kijken daarin naar de interactie tussen 2 proefpersonen om te zien hoe emoties worden geuit en wat voor invloed dat heeft op sociale beslissingen zoals iemand te vertrouwen. Dus: wat voor nut hebben uitingen van emoties?
Die uitingen van emoties worden heel breed gemeten: gezichtsexpressies, lichaamstaal, maar ook fysiologische reacties die zichtbaar zijn voor de ander zoals een blos op de wangen of het verwijden van de pupillen. Een heel pallet dus en daar komt ook een hoop techniek bij kijken.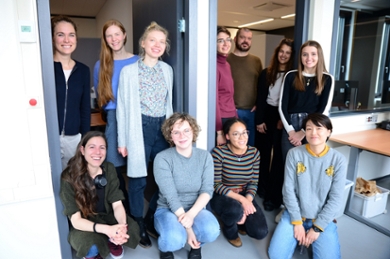 Sociale angst
Het Vidi project 'Alleen en kopschuw: Emotionele stoornissen in sociale angst en autisme' met promovendus Julia Folz en postdoc Amandine Lassalle ligt in het verlengde hiervan. Daar zoomen we in op populaties waar die interactie vaak misgaat; bij mensen met autisme en een sociale angststoornis. We gaan kijken waar het precies misgaat.
We weten dat mensen met autisme moeite hebben met het herkennen van emoties. Maar bij beide groepen speelt er sociale angst. Mensen met autisme begrijpen de emotie van de ander niet goed. Mensen met een sociale angststoornis maken zich teveel zorgen hoe ze overkomen en hoe anderen over hen denken. Deze groepen zijn nooit echt goed met elkaar vergeleken. Dit onderzoeksproject vergelijkt beide groepen en maakt ook de vergelijking met een controlegroep.
Virtual reality
Tenslotte zit er een virtual reality component aan beide projecten. In VR kun je dingen doen die je in het echt niet kan doen. We maken gebruik van avatars, virtuele personages, die de uitingen van emotie van proefpersoon wel, niet of vertraagd spiegelen. Zo kunnen we het effect van spiegelgedrag op beslisgedrag heel nauw onderzoeken.
Mijn projecten zijn om ruimtegebrek in het Levelgebouw gekomen. Ik gebruik een opstelling die ik eerder ook had; een tafel waaraan 2 proefpersonen zitten met een scherm tussen hen in dat open en dicht kan en er zit ook een schuifwand waarmee je de ruimte kan opdelen. Daarnaast een ruimte waar VR onderzoek wordt gedaan. Het is een luxe dat de mooie ontvangst een goede indruk wekt bij onze proefpersonen, maar het belangrijkste is dat al deze onderzoeken straks parallel kunnen lopen. Dit is waar we de komende 5 jaar mee bezig zijn.'