Wat Indonesische alumni meenamen uit Leiden
Voor veel Indonesische alumni was de studie in Leiden of Den Haag een 'life-changing event'. Dat vertelden ze op alumnibijeenkomsten tijdens het bezoek van een Leidse delegatie aan Indonesië. Oud-studenten richtten hier hun eigen alumninetwerk Ikali op. Waarom gingen ze destijds naar Leiden en wat namen ze mee terug?
Jakarta, 25 juni. Tientallen Indonesische alumni ontmoeten elkaar en de delegatie op een warme avond in de miljoenenstad. Locatie: het Erasmushuis op het terrein van de Nederlandse ambassade. Sommigen zagen elkaar, zo valt op te merken aan de enthousiaste begroetingen, voor het laatst in Leiden. Anderen trekken ook in Jakarta nog geregeld met elkaar op. De alumni wisselen ervaringen uit met de delegatie die bestaat uit rector Carel Stolker, diverse hoogleraren en alumni-coördinator Hanneke Wiessing.
Godfather Henk
Ambassadeur Rob Swartbol, die zelf een jaar Russisch studeerde in Leiden, prees de ondernemende alumni die de sprong waagden en zo ver van huis gingen studeren. Onderwijs en uitwisseling van studenten dragen bij aan goede internationale relaties, merkte hij op. 'Alumni zijn belangrijk voor ons', zei ook rector Carel Stolker. 'Jullie kunnen ons vertellen wat goed ging en wat beter kan.' Ook in Yogyakarta ontmoette de delegatie Indonesische alumni; sommigen waren nog maar net afgestudeerd, anderen al bijna met pensioen. 'Wat is je bijgebleven uit Leiden?', vroeg Stolker. De antwoorden liepen heel uiteen: van 'mijn oude professor, godfather Henk' (Schulte Nordholt red.), 'de collecties van de UB' , 'de Haarlemmerstraat' tot 'ik heb mijn man daar leren kennen!'
Mutiara Indriana studeerde International Relations
'Vele generaties Indonesiërs hebben in Leiden gestudeerd en ik wilde onderdeel zijn van die traditie. Ik koos ook voor Leiden vanwege de expertise over Zuidoost-Azië en de grote Indonesië-collectie van de Universiteitsbibliotheek. Nu ben ik voorzitter van het alumni chapter Ikali want ik wil iets terug doen voor de gemeenschap. Alumni kunnen elkaar helpen door een sterk netwerk te vormen zodat we beroep op elkaar kunnen doen. We kunnen ook Indonesische studenten vertellen hoe het is om in Leiden of Den Haag te studeren. Het is een heel grote stap en dan helpt het om te horen wat de mooie en soms ook moeilijke kanten zijn om aan de andere kant van de wereld te studeren.'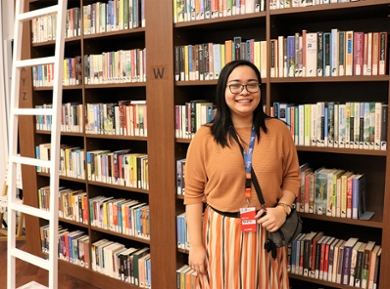 Fanzian Noviany deed een master Public Administration
'Ik was al ambtenaar op het ministerie van Financiële Zaken in Jakarta toen ik de kans kreeg om een master te volgen in het buitenland. Het studieprogramma van Public Administration in Den Haag sprak me aan vanwege de mix van theorie, praktijk en internationale oriëntatie. Ik schreef een scriptie over een casus op mijn eigen ministerie zodat ook mijn werk profiteerde van mijn studie. Daarnaast inspireerde de open studiecultuur mij; studenten worden aangemoedigd om voor hun mening uit te komen. Hierdoor durf ik meer voor mezelf op te komen en ben ik onafhankelijker geworden. Het was een life-changing event.'
Bunyan Wahid studeerde Islamic Studies
'Het is wel bijzonder om in Yogyakarta weer mijn oude professor Nico Kaptein te zien. Ik studeerde Islamic studies in Leiden vanwege de manier waarop de Islam bestudeerd wordt en het kritische gebruik van bronnen. In het begin moest ik wel erg wennen in Leiden: aan de andere cultuur en het koude weer. Maar ik leerde steeds meer mensen kennen en heb zelfs mijn vrouw hier ontmoet. Zij is ook Indonesisch en studeerde ook in Leiden.' Zijn vrouw, Fosa Sarassina, vult aan: 'Ons kind is dus een Leids product!'
Veel alumni in politiek en bestuur
Al vanaf eind 19e eeuw kwamen de eerste Indonesische studenten naar Leiden. Inmiddels zijn er ongeveer zeshonderd Indonesische alumni. Diversen van hen werden actief in de politiek, zoals Sutan Sjahrir, de eerste premier van Indonesië. Of ze ontpopten zich als activisten onder wie Maria Ulfah Santoso, voorvechter van de rechten van vrouwen. Ook nu werken er alumni op hoge posten, zoals Hilmar Farid, de directeur-generaal van het Indonesische ministerie van Onderwijs en Cultuur.
KITLV-Jakarta: brug tussen Indonesië en Leiden
Onvermoeibaar en met groot enthousiasme loodsten de medewerkers van KITLV-Jakarta de delegatie door Indonesië. Zoals coördinator Zweta Manggarani, ook alumnus. 'Leiden is voor mij een thuis weg van huis. Ik studeerde Linguistics in Leiden en werk nu bij KITLV-Jakarta, het kantoor van de Universiteit Leiden in Indonesië. Het is de ultieme plek waar Indonesië en Leiden samenkomen.'
Tekst: Linda van Putten
Mail de redactie
Het gezelschap in het Erasmushuis met diverse alumni, Hanneke Wiessing, Marrik Bellen, Pancras Hogendoorn en Carel Stolker.

Ambassadeur Rob Swartbol ontvangt van bibliothecaris Kurt De Belder het boek 'Rembrandt en de Universiteit Leiden'.

In het Erasmushuis op het terrein van de ambassade.

Het alumnidiner in Yogyakarta, georganiseerd door Hanneke Wiessing (rechts).

Bunyan Wahid en Fosa Sarassina leerden elkaar in Leiden kennen.

Mutiara Indriani, voorzitter Ikali, was zowel in Jakarta als Yogyakarta aanwezig.