LUC The Hague en het (online) afstuderen van de klas van 2020
Op vrijdag 10 juli 2020 vierde het Leiden University College Den Haag het afstuderen van de klas van 2020. Dit was op zijn zachtst gezegd een vreemd jaar, waarin de enige zekerheid, onzekerheid was. Het bracht echter veel nieuwe mogelijkheden voor onze community - en dankzij innovatie, technologie en enthousiaste medewerkers en studenten vierden we het afstuderen van de klas van 2020 virtueel en online!
De allereerste online afstudeerceremonie voor LUC. Hoewel het jammer was om niet allemaal fysiek bij elkaar te zijn, de families van afgestudeerde studenten te ontmoeten en hun succes samen te vieren, waren door de online ceremonie juist in staat om met nog zoveel meer familieleden en vrienden in contact te komen, die van over de hele wereld mee konden kijken! 166 studenten studeerden af, en ontvingen hun Bachelor of Arts of Sciences graad, afhankelijk van hun Major. Ze zullen allemaal nieuwe uitdagingen, kansen en paden betreden, waar ze zich ook bevinden.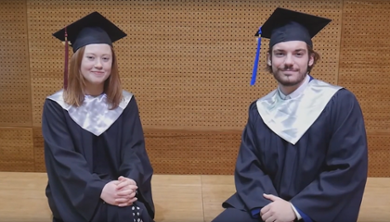 Werk aan de winkel
De ceremonie werd online gemodereerd door Abigail Thorley en Ethan Warren en voelde zeer persoonlijk, en inclusief. Veel leden van de community deelden hun gedachten over de huidige wereldwijde uitdagingen waar we vandaag de dag voor staan, hoe onze majors binnen het programma deze uitdagingen aanpakken en hoeveel werk we als samenleving nog te doen hebben - in de hoop dat onze nieuwe afgestudeerden zullen bijdragen aan het bouwen van bruggen en het dichten van de kloof tussen deze verschillende maatschappelijke vraagstukken.
Mitchell Esajas
De 'commencement speaker' - Mitchell Esajas, deelde woorden van wijsheid met onze pas afgestudeerden en families na het delen. Waaronder een aantal van zijn persoonlijke verhalen over zijn pad als ondernemer bij de oprichting van het New Urban Collective en het Zwarte Archief in Amsterdam. Onze afgestudeerden kregen enkele nuttige tips van hem, waaronder:
1. Verbeter elke dag!
2. Ontdek wat je missie en passie is - draag bij aan een groter doel!
3. Onderneem actie! Neem kleine stappen in de richting van iets.
4. Faal voorwaarts! - als je een uitdaging of obstakel tegenkomt, laat je dan niet door falen weerhouden om te doen wat je wilt doen. Leer ervan en groei!
5. Toewijding aan sociale en ecologische rechtvaardigheid.
Kennis opbouwen voor een betere wereld
Van klassenvertegenwoordiger, Omari Palmer, tot de valedictorian Felina Lottner, we genoten van de bijdragen van studenten op verschillende manieren, maar allen werkten ze naar hetzelfde doel toe - hoe kunnen we beter groeien als individu, community en maatschappij - om zo kennis te blijven opbouwen en kennis te blijven delen met anderen voor een betere wereld!
Tot slot hebben we genoten van zelfingestuurde beelden van de afgestudeerden die hun "diploma's" ontvingen van mede-studenten, families, vrienden of andere creatieve middelen die ze konden vinden. Dit gaf de ceremonie een heel speciaal en persoonlijk tintje. Het was zo leuk om de bredere LUC-community van familie en vrienden bij zo'n speciaal moment te kunnen betrekken.
We willen onze afgestudeerden van de 'Class of 2020' en hun families nogmaals feliciteren met de behaalde successen!