MIRD graduation 2020
Op vrijdag 10 juli 2020 vond de online diploma-uitreiking van de tweejarige opleiding Advanced MSc International Relations and Diplomacy (MIRD) plaats. De ceremonie werd geopend door Prof. Madeleine Hosli.
Iedereen had zich een andere diploma-uitreiking voorgesteld. 'Live', in het Academiegebouw van de Universiteit Leiden. Maar halverwege het derde blok moest de Universiteit haar deuren sluiten vanwege Covid-19. Vanaf dat moment was het alleen nog mogelijk om online contact te hebben met docenten en medestudenten via Skype, Teams en WhatsApp.
Professor Madeleine Hosli: 'Ik ben er zeker van dat jullie af en toe moeite gehad hebben om je op je werk te concentreren, gezien de wellicht compleet veranderde omstandigheden, zonder de gebruikelijke structuur van je vertrouwde studieomgeving. Maar jullie hebben doorgezet! Het is jullie gelukt! Jullie studeren af!'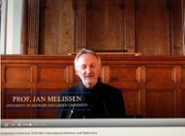 Bijzondere ervaring
Professor Jan Melissen deelde hoe hij de studenten en hun stages ervaren had. Voor veel studenten waren de stages een geweldige ervaring maar was het vaak ook een hele opgave. Jan Melissen vertelde hoe geïnspireerd hij was door deze studenten die hun stages deden met zoveel energie, alsof dit hun enige kans in het leven was op werk. Velen van hen ontdekten wat zij wilden doen nadat ze waren afgestudeerd, of kwamen er juist achter welke type carrière ze niet wilden. Studenten ontdekten ook dat de gedragsregels van school enigszins afwijken van de gedragsregels binnen een bedrijf of een ander type organisatie.
Professor Melissen sloot zijn speech af met een welgemeend: 'Ik heb heel veel respect voor alles wat jullie hebben bereikt. Vooruit kijkend naar de toekomst, weet ik zeker dat we contact zullen houden. Wij hopen dat we jullie kunnen blijven steunen en dat wij van jullie kunnen leren.'
Samenwerking met IRSA
Na de speech van Professor Jan Melissen, ging elke scriptiebegeleider kort in op de scripties die waren geschreven door de class van 2020. Tussen de korte speeches van de scriptiebegeleiders door, werd er stil gestaan bij alle inspanningen van de International Study Association, IRSA en hield scheidend voorzitter Louis Beynon een presentatie.
Professor Madeleine Hosli: 'Jullie waren de verbindende schakel tussen de studdenten die deelnamen aan ons programma en het programma team. Op afstudeerniveau is samenwerking noodzakelijk en dat is precies wat jullie boden. Daarom wil ik jullie, namens het MIRD, hartelijk danken voor jullie bijdrage.'
Class of 2020
Prof. Hosli sloot deze bijzondere diploma-uitreiking af met de woorden: 'Met wat creatieve oplossingen en originele bijdrages, hoop ik dat jullie en jullie familieleden toch hebben kunnen genieten van deze dialompuitreiking. Afstuderende studenten: Gefeliciteerd! Het allerbeste voor de toekomst!'
About this master's programme
The two-year MSc IRD programme (Advanced) offers a unique blend of academic education in international relations and political science with practical graduate education and training in international negotiation and diplomacy. After graduation, many students will work as diplomats or at NGO's and (international) governmental organizations.
Read more about the Advanced master's programme International Relations and Diplomacy.