Asma Mehan over PortCityFutures, antropologie en Leiden
Havensteden zijn internationaal met elkaar verbonden. Beslissingen en veranderingen die in de ene stad plaatsvinden, hebben direct gevolg op havensteden op andere plekken in de wereld. Het bestuderen van deze gebieden zorgt voor inzicht in sociaal-ruimtelijke processen waarbij lokale gemeenschappen en stedelijke ontwikkeling verbonden zijn met wereldwijde processen. Het PortCityFutures project doet onderzoek naar verschillende thema's in haven- en stedelijke gebieden. Asma Mehan is sinds juni een van de onderzoekers betrokken bij dit project en werkzaam bij CADS. Wat is PCF precies en waarom is onderzoek in havengebieden belangrijk? Een kennismaking met Asma Mehan en PCF.
Mehan is geboren en getogen in Teheran, Iran. Ze is opgeleid als architect en stedelijk geschiedkundige. Ze deed onder andere onderzoek in Teheran, Isfahan, Abu Dhabi, Istanbul, Dubai, Torino, Porto, Kuala Lumpur, Berlijn en Detroit. Ook werkte ze in Italië, waar ze verbonden was aan Politecnico di Torino, en in Portugal bij de Universiteit van Porto. En nu woont ze sinds juni in Leiden. "Leiden is geweldig. Het is een kleine stad, dus alles is dichtbij. Als ik de sfeer van de grote stad wil, ben ik zo in Amsterdam of Den Haag. Dat alles zo dichtbij is, is echt nieuw voor mij. Ik ben gewend aan grote, chaotische steden, zoals Teheran. Overdag zijn daar zo'n 16 miljoen mensen. Daarbij vergeleken lijkt Leiden erg relaxed en heeft een leuke sfeer." Ook het wonen met andere postdocs op de campus bevalt haar goed. "Het is een rare tijd om naar een nieuwe plek te verhuizen, maar mijn buren hebben me veel geholpen. Het is een kleine gemeenschap waar ik me snel thuis voelde."
PortCityFutures Project
Het PortCityFutures project is onderdeel van LDE, een samenwerkingsverband tussen de Universiteit Leiden, de TU Delft en de Erasmus Universiteit. Binnen PCF proberen onderzoekers uit verschillende disciplines van de drie universiteiten samen een dialoog te bouwen. Mehan: "Het is een jonge, dynamische en zeer geëngageerde onderzoeksgroep. Je zou PCF als een dak kunnen zien waaronder mensen uit de sociale wetenschappen, de designwetenschappen en de geesteswetenschappen samenwerken. Het is een multidisciplinair project. Het is gericht op het vaststellen van lange termijn methoden en nieuwe perspectieven om verschillende politieke, historische, sociale en culturele dimensies van bijzonder gebruik in havenstadregio's te verbinden."
Werken met antropologen
Het interdisciplinaire van de onderzoeksgroep, vindt Mehan interessant. Ze werkt met professoren van verschillende disciplines: antropologie, sociologie, ruimtelijke ordening, planningsgeschedenis, architectuur en geesteswetenschappen. Mehan is zelf sinds juni verbonden aan CADS, maar zelf is niet opgeleid als antropoloog. "Ik werk graag met antropologen en ik wil meer vertrouwd raken met de theoretisch kaders en debatten die binnen het vakgebied worden ontwikkeld." Door samenwerking hoopt ze die kennis op te doen. "Het is een leerproces dat ik erg leuk vind. Soms vind je mooie raakvlakken die nieuwe horizonten openen. Misschien kan ik wel 'de lijm' zijn om een dialoog tussen verschillende disciplines te vinden. Ik geniet echt van die plek tussen verschillende disciplines, tijdlijnen en geografieën."
Bruggen bouwen tussen verschillende instituten
"Complexe regio's zoals havensteden kunnen niet vanuit één discipline bestudeerd worden. Je moet inzoomen en uitzoomen vanuit verschillende invalshoeken." Mehan hoopt met haar interdisciplinaire interesses en achtergrond een toegevoegde waarde te kunnen zijn bij het project. "Ik probeer bruggen te bouwen tussen de instituten en de wereldwijde vraagstukken. Als post-doc in de PCF groep werk ik met verschillende professoren op verschillende vakgebieden. Maar om een complex vraagstuk als van havensteden aan te pakken, kan je niet slechts één richting opgaan.
Belang van Port City Futures: de voorlopers van de moderne problematiek
Om het belang van het onderzoeksproject aan te geven, gebruikt Mehan de woorden van Carola Hein, de onderzoeksleider van PCF, en Sabine Luning, universitair hoofddocent bij culturele antropologie. "Als er in Rotterdam iets gebeurt, kan het processen in andere delen van de wereld beïnvloeden. Zoals bijvoorbeeld bij de winning en die import en export van olie. Dat staat niet op zichzelf. Het is een complex en samenhangend geheel." Hetzelfde geldt voor bijvoorbeeld klimaatverandering, cultureel erfgoed of immigratie. Dit zijn problemen die niet op zichzelf staan. "Al deze debatten beginnen in havensteden. Het is belangrijk, want het vormt de voorhoede van hedendaagse uitdagingen." Door het bestuderen van de geschiedenis, transities en processen van havensteden, proberen we een toolbox te creëren waarmee onderzoekers in vergelijkbare gebieden op andere plekken in de wereld kunnen werken. Dit theoretische framework dat hier in Zuid-Holland ontwikkeld wordt, kan bijvoorbeeld gebruikt worden in havensteden in Australië of Azië.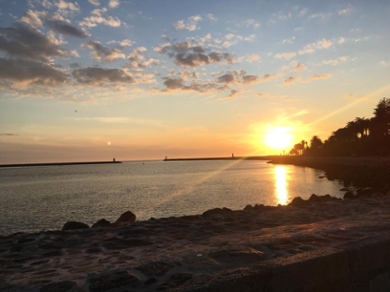 Ontwikkelen van een gedeelde taal
Mehan gelooft dat het belangrijk is om een gedeelde definitie en gedeeld perspectief te ontwikkelen voor havengebieden en de toekomst van die steden. "Elke organisatie, elk havenbestuur, elke stad heeft nu zijn eigen geluid. Er is geen geïntegreerde aanpak. Met PortCityFutures kunnen we werken naar een geïntegreerde stem binnen die disciplines. Het helpt hopelijk situaties als de explosie in Beiroet te voorkomen. We willen een MOOC (massive online open course) creëren om mensen te trainen, zoals professionals, havenstadbesturen, en jonge academici. Alles is met elkaar verbonden. We werken samen met verschillende internationale havenorganisaties, de VN, en beleidsmakers. Er moet een gemeenschappelijke aanpak komen."
Het Leiden Anthropology Blog en het PortCityFutures project gaan gezamenlijk blogartikelen publiceren. De blogs van Andrew Littlejohn, Sabine Luning en Asma Mehan die oorspronkelijk voor PCF zijn geschreven, zijn ook gerepost op het Leiden Anthropology Blog.

Port City Futures is een initiatief van het samenwerkingsverband Leiden-Delft-Erasmus. Het programma onderzoekt de veranderende sociaal-ruimtelijke omstandigheden, het gebruik en het ontwerp van havenstadregio's. Het verkent met name gebieden waar haven- en stadsactiviteiten tegelijkertijd plaatsvinden en met elkaar in conflict kunnen komen.
Het initiatief bestaat uit een interdisciplinaire groep waarvan de leden zich bezighouden met de sociale en culturele dimensies van havensteden en hun technologische en economische ontwikkeling. Het brengt wetenschappers uit verschillende sociale en technische wetenschappen en uit de geesteswetenschappen samen. De daaruit voortvloeiende gesprekken over disciplinaire grenzen heen, worden gevoed door vele 'beurten' die de verschillende vakgebieden kenmerken. Stedelijke geografie en planning ondergaan een 'culturele' wending; de focus ligt op kunst en culturele productie om representaties van het havenstadleven te bestuderen, en in de planning wordt erkend hoe verschuivingen in culturele waarden de beroepspraktijk beïnvloeden. Daarentegen zijn antropologen, die zich van oudsher bezighouden met cultuur, betrokken bij een 'ruimtelijke' wending. Ze herdefiniëren de discipline door hun groeiende interesse in hoe mondiale verbindingen zich verhouden tot gelokaliseerde praktijken, het herdenken van stedelijke/plattelandsverhoudingen, de zorg voor de verschuivende politiek van de openbare ruimte en onderzoek naar de sociale en culturele politiek van de infrastructuur als onderdeel van zowel de planning van de toekomst als van de plaatsen van verzet.
Havensteden zijn ideale locaties om deze en andere kwesties te bestuderen. Het zijn mondiale knooppunten, uitgedaagd door sociale ongelijkheden en milieuvraagstukken, die academische aandacht vragen voor sociaal-ruimtelijke dynamiek met een sleutelrol voor de sociale- en de geesteswetenschappen. Antropologen van CADS - met name Sabine Luning, Andrew Littlejohn en Erik de Maaker - zijn sinds het begin van januari 2020 betrokken bij het PCF-programma. Ze zijn allemaal trots en blij dat Asma Mehan als Postdoc in ons instituut en bij PCF is komen werken. Samen gaan ze dit programma verder ontwikkelen, gericht op langdurige institutionele verbindingen tussen LDE-partners.