Young Star Maite Boden verbreedt haar horizon
Maite Boden werd begin 2020 de eerste student ooit die de Young Star award in ontvangst mocht nemen. Ze ontving de prijs onder meer voor haar bijdrage aan onderzoek naar het beruchte spookdeeltje: de neutrino. Met ook haar masterdiploma inmiddels op zak, is ze nu op zoek naar een baan in de data analyse. 'De onvoorspelbaarheid van wat je zult vinden, maakt het voor mij zo interessant.'
Onderzoek naar deeltjes
'Het was een grote verrassing om de Young Star Award te winnen,' vertelt Boden. 'Alleen al de nominatie voelde als een mooie steun in de rug en een grote motivatie voor het vervolg van mijn studie.' Boden volgde de gecombineerde bachelor Natuur- en Sterrenkunde. Voor haar eindonderzoek werkte ze mee aan het kalibreren van een neutrinotelescoop in de Middellandse Zee. Hier toonde ze aan dat je de telescoop nauwkeuriger kunt maken door een achtergrondsignaal te gebruiken. Ze leverde hierbij een aanzienlijke bijdrage aan een precieze en zeer ingewikkelde meetopstelling, die meer kennis moet genereren over het beruchte spookdeeltje: de neutrino. Deze deeltjes ondergaan bijna geen interactie met andere deeltjes en bewegen ongezien door alles heen. Dat maakt het erg moeilijk ze te onderzoeken.
Voor het vervolg van haar studie reisde Boden naar Schotland. Hier rondde ze kortgeleden haar masterstudie Particle and Nuclear Physics af aan de University of Edinburgh. 'Ondanks de coronacrisis kon ik gelukkig hier in Edinburgh mijn scriptie met succes afronden. De interesse voor neutrino's die Boden tijdens haar bachelor ontwikkelde bracht haar naar Schotland. 'Sindsdien heb ik mijn interesses verbreed en onderzoek gedaan voor het donkere-materie-experiment LUX-ZEPLIN.
Creativiteit en strategie
Boden besloot echter niet direct verder te gaan in het onderzoek. 'Een PhD op een later moment sluit ik nog niet uit, maar momenteel ben ik op zoek naar een baan als data analist. Ik wil eerst graag verkennen wat ik kan doen met de kennis die ik tijdens mijn studie heb opgedaan.' Tijdens die studie ontwikkelde Boden namelijk een passie voor data analyse. 'Hierbij kan ik mijn creativiteit combineren met analytische strategieën. Je begint met een grote hoeveelheid data en weet nog niet wat deze betekent. Vervolgens probeer je deze data op logische, nieuwe manieren te manipuleren en de bevindingen te interpreteren. De onvoorspelbaarheid van wat je zult vinden, maakt het voor mij zo interessant.'
Vrouwen in de natuurkunde
Hoewel het aandeel vrouwen tijdens haar studie best hoog was, zou Boden graag nog meer vrouwen in de natuurkunde zien. 'In mijn eigen masterprogramma was het aandeel mannen en vrouwen gelijk verdeeld, maar in de meer theoretische richtingen lag het percentage vrouwen wel lager. Dat zag ik ook bij de wat meer theoretische of mathematische vakken die ik volgde. Ook binnen de natuurkunde zelf zijn er dus verschillen.' Eén van de vrouwelijke docenten die haar nog goed bijstaat is Marialuisa Aliotta. 'Zij organiseerde na één van haar colleges een vragenuurtje speciaal voor studentes, waarin ze vragen beantwoorde over haar ervaringen als vrouw in de academische wereld en hoe dat ook haar persoonlijke leven heeft bepaald. Daarmee hoopte ze ons te helpen een beter gewogen keuze te maken voor onze toekomst.

Een mooi steuntje in de rug dus, net als het winnen van de prijs. 'Het is een unieke ervaring om te horen dat jouw werk wordt gewaardeerd en erkend, en al helemaal door de vooraanstaande leden van de C.J. Kok jury. Ik ben daar nog steeds erg dankbaar voor net als dat ik Ewine van Dishoeck dankbaar ben, die deze prijs heeft opgezet.'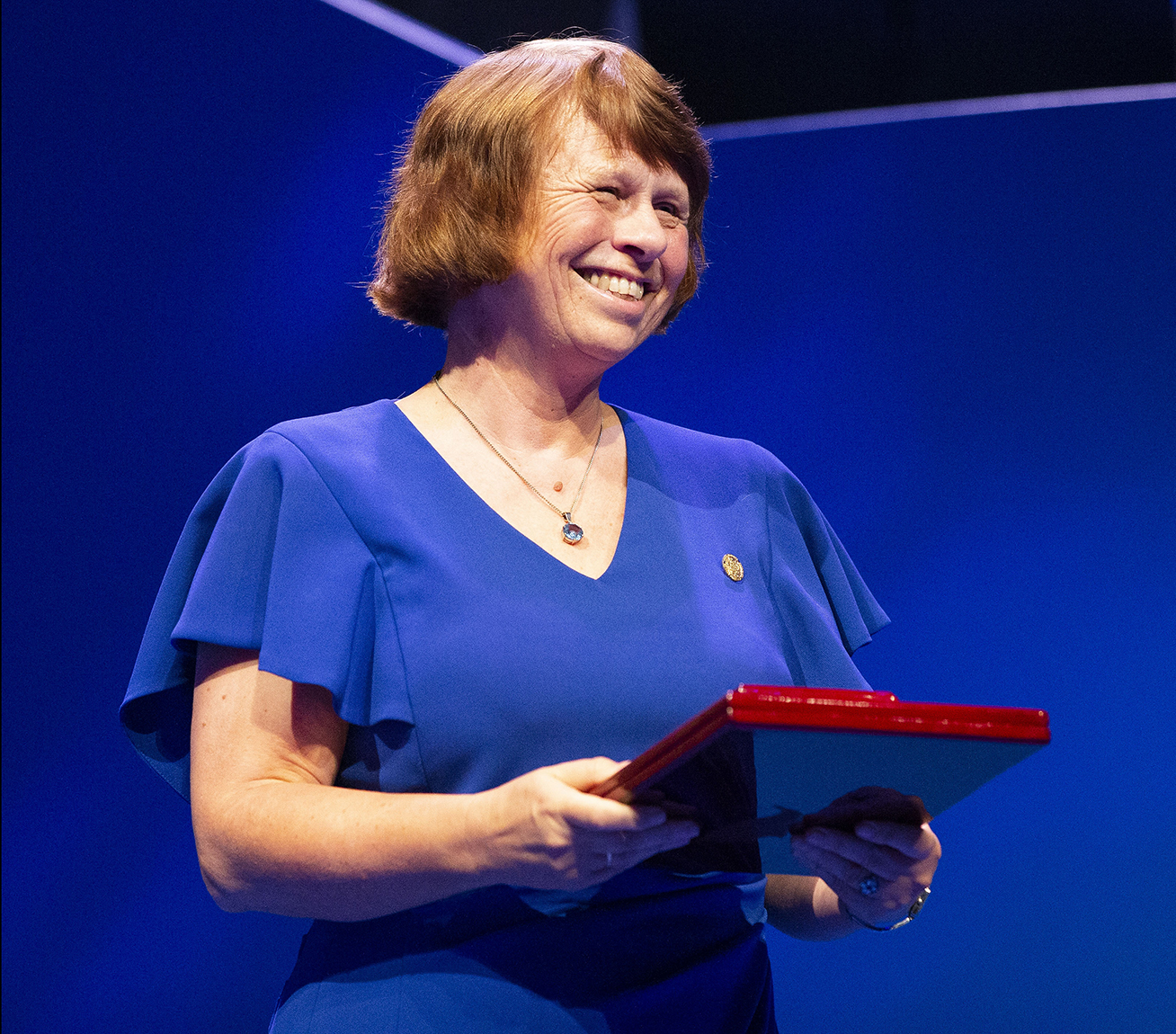 De Young Star Award
In 2019 stelde hoogleraar Ewine van Dishoeck de Young Star Award in uit het geld dat ze in 2018 ontving voor de Kavliprijs voor astrofysica. De prijs is onderdeel van het Van Dishoeck-de Zeeuw Fonds, dat Van Dishoeck samen met haar man instelde om jong talent in de wetenschap te stimuleren. De Young Star Award wordt jaarlijks uitgereikt en gaat gepaard met een geldprijs van 2.500 euro, dat voor een deel dient te worden ingezet voor studiegerelateerde activiteiten waarmee de student zich verder als wetenschapper kan ontwikkelen.