Healthy University Week: tadá naast to do
In de Healthy University Week, van 26 t/m 30 oktober, konden alle medewerkers kiezen uit 63 workshops, lezingen en andere online activiteiten voor een gezonde universiteit. Bij wijze van terugblik vroegen we een aantal workshopbegeleiders, sprekers en één deelnemer om een advies of tip. Zoals: kijk ook eens naar wat je al hebt gedaan (tadá) in plaats van naar wat nog allemaal moet (to do).
De 63 activiteiten kregen alles bij elkaar 2250 aanmeldingen. Het populairst waren de sportlessen 's ochtends, en de digitale lunchsessies. Maar ook de workshops deden het goed: ze werden bijna allemaal volgeboekt.
Dat leverde een mooi rijtje tips en adviezen op. De foto's zijn van de workshops hiphop en workout op je werkplek.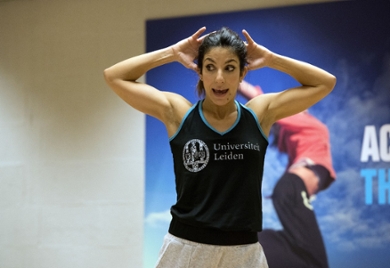 Hoe bewaak je de grens tussen werk en privé

?
In haar TED Talk pleitte Helen Pluut (rechtsgeleerdheid en voorzitter van de Youngh Academy Leiden) ervoor een gezonde leefstijl tot prioriteit te maken. Werk en privé strikt scheiden hoort daarbij. 'Het komt je geluk, gezondheid en productiviteit ten goede. Want als de grenzen tussen werk en privé vervagen, trekken slapen, bewegen, gezond eten en ontspanning vaak aan het kortste eind.'
Gezond én duurzaam eten
Chef-kok Pierre (wervel)Wind hield een lunchlezing over gezond én duurzaam eten. Deelnemer en SCM-collega Marieke Epping vertelt: 'De hyperactieve Wind creëerde een volkomen chaos maar wij lagen dubbel. En toch echte tips. Wist je bijvoorbeeld dat je de schil van je banaan kunt koken en dan in de blender door je fruitshake kunt mixen? Veel vezels en geen afval. Wind adviseerde ook de kookstop-methode. Breng groenten, eieren, pasta (of die bananenschil) in koud water aan de kook, en zet het vuur uit zodra het kookt: na 8 minuten zijn pasta of groenten gaar en is het ei perfect hardgekookt, met de helft van de energie! Andere tips: een minibarbecue boven een waxinelichtje, zelf zonnebloemolie persen en spaghettislierten van appels maken. Laatste tip: het kookboek De ecokeuken van Wind.'
Cool, calm en collected
Wat kun je doen om de werkdruk te lijf te gaan. Nathan Albury (HRM). 'Het is geen geheim dat de werkdruk op de universiteit flink is toegenomen. Het is in Leiden zelfs beleidsprioriteit die terug te dringen. Wat kun je zelf doen?' Nathan is (ook) van de oneliners: 'Zet jezelf in je vrije tijd uit' en Zeg nee of nu niet'. Meer tips en adviezen.
Twintigerstwijfels & Dertigersdilemma's
Nienke Wijnants: 'Kijk bij het uitstippelen van jouw carrièrepad kritisch naar het verschil tussen willen en moeten. Waarom staan bepaalde doelen op jouw lijstje? Zijn het zelfgekozen doelen, die aansluiten bij je talenten en innerlijke drijfveren, of zitten er doelen tussen die - soms heel subtiel of onbewust - zijn aangepraat of opgelegd door vrienden, familie, media of de maatschappij? Vaak denken we iets te willen, wat bij nadere inspectie een moetje blijkt. Blijf jezelf daarover bevragen!'
Kaltura Koffiebreaks
Mieke Cabout (HRM): 'In deze periode mis ik het dagelijkse contact met collega's. Uit veel onderzoek blijkt dat sociale steun een belangrijk wapen is tegen stressklachten.' De Kaltura Koffiebreaks die Cabout organiseerde, bleken een leuke manier om met een kopje koffie of thee in gesprek te komen met bekende en/of nieuwe collega's. Haar tip: 'Overdenk eens hoe je anderen corona-proof hulp kunt aanbieden. Een klein gebaar doet al veel.'
Hoe vind je rust als je werk nooit af is?
Kiki Vreeling adviseert: 'Verander je perspectief. Kijk naar wat je allemaal gedaan hébt. Maak een tada-lijst met alles wat je die dag hebt gedaan en bereikt, hoe klein ook. Telefoontjes, mails, presentaties: alles gaat op de tada-lijst. Kijk ernaar en wees er trots op!
Coronakilo's en stress-sigaretten
Hoe kun je een gezonde leefstijl wél volhouden? De tip van Veronica Janssens (Psychologie) naar aanleiding van haar TED Talk is kort en krachtig: 'Maak je doel klein, koppel het aan een vaste gewoonte en vier je succes.
Stress, vitaliteit en de middagdip
Angela Champness verzorgde maar liefst drie workshops, over stressreductie, vitaal naar het werk en het voorkomen van een middagdip. Haar belangrijkste tip: let op suiker! 'Het advies van de World Health Organisation is om maximaal 10% van je energie uit zogenoemde vrije suikers te halen. Dat is de suiker die in de voedselindustrie extra word toegevoegd of een industriële bewerking hebben ondergaan. Een stuk fruit telt niet als vrij, maar een glas sap uit vruchtenconcentraat weer wel.' Er wordt vaak suiker toegevoegd aan producten waarbij je het totaal niet verwacht, zoals mayonaise en de helft van alle blik- en potgroenten. Bij een inname van 2000 kcal mag je alles bij elkaar tussen de 25 en50 gram suiker binnen krijgen. 'Nog beter', aldus Angela, 'is het om maximaal 5% vrije suiker aan te houden. Dit vermindert het risico op overgewicht en diabetes 2 én op gaatjes in je tanden. Nog minder suiker vermindert vooral het risico op gaatjes maar beinvloedt niet meer je gewicht.'
Tekst: Corine Hendriks
Fotografie: SCM redactiecluster