Help ons burn-out onder studenten te voorkomen!
We zijn op zoek naar studenten van 16 jaar of ouder die studeren aan een Nederlandse mbo, hbo of universiteit. Ons doel is om inzicht te krijgen in de behoeftes van studenten met betrekking tot stress en burn-out.
Over burn-out
Uit onderzoek van het Interstedelijk Studenten Overleg (ISO) in 2019 blijkt dat 57% van de studenten last heeft van een ongezond stressniveau. Factoren zoals academische druk, onderlinge competitie, gebrek aan sociale ondersteuning en leermoeilijkheden dragen bij aan een toename van burn-outklachten onder studenten. De academische burn-out is wereldwijd een groeiend probleem voor de geestelijke gezondheid. Toch is er maar weinig bekend over de behoeftes van studenten om zo'n burn-out te voorkomen.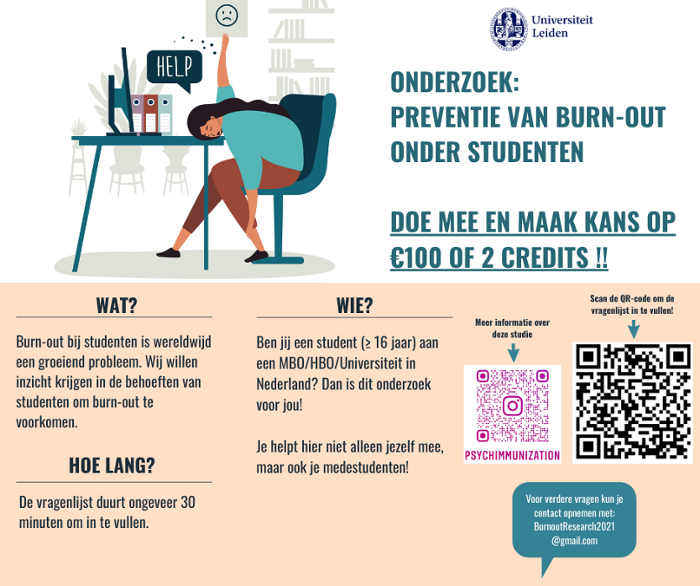 Wat houdt het onderzoek in?
We onderzoeken wat studenten ervaren als oorzaken van stress en burn-out, en wat hun behoeftes zijn met betrekking tot het voorkomen van burn-out.
Wie kan deelnemen?
We zijn op zoek naar studenten van 16 jaar of ouder die deel uitmaken van een Nederlandse mbo, hbo of universiteit. Zowel Nederlandse als internationale studenten, inclusief uitwisselingsstudenten, met en zonder leerproblemen zijn welkom om deel te nemen.
Hoe kan jij helpen?
Als je een student bent, help je ons door de vragenlijst in te vullen. De enquête duurt ongeveer 30 minuten om in te vullen, en deelnemende studenten maken kans op €100,- (gebaseerd op een loterij). Studenten aan Universiteit Leiden kunnen 2 credits ontvangen door hun studenten email achter te laten aan het einde van de vragenlijst.
Deel onze enquête met je medestudenten en kijk op onze @psychimmunization Instagram en Facebook accounts! Het zou helpen als je onze content deelt en/of ons volgt!
Vragen?
Als je vragen of opmerkingen hebt over ons onderzoek, neem dan contact op met één van de hoofdonderzoekers:
• Klodiana-Daphne Tona
• Philip Spinhoven