Leiden Leadership Lunch – Scoren mannelijke of vrouwelijke leidinggevenden beter bij medewerkers?
Hoe verhoudt gender van leidinggevenden zich tot de tevredenheid van werknemers over het leiderschap van hun direct leidinggevende? In de online Leiden Leadership Lunch op vrijdag 24 september presenteerde Dr. Max van Lent (universitair docent Economie) de resultaten van zijn recente onderzoek naar de verschillen tussen mannelijke en vrouwelijke leidinggevenden vanuit het perspectief van de medewerker.
Leiderschap en economie
Het onderzoek van Dr. Van Lent toont aan dat er een belangrijke link is tussen leiderschap en de economie. Leidinggevenden dragen namelijk voor een belangrijk deel bij aan de tevredenheid, motivatie en hiermee ook de arbeidsproductiviteit van werknemers.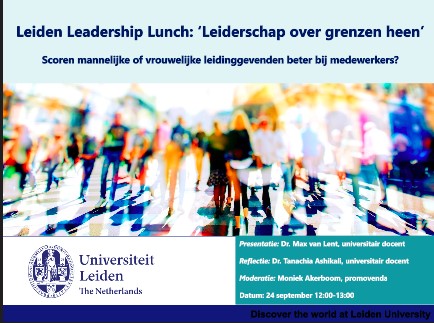 De afgelopen decennia is er een verandering te zien in de samenstelling van leidinggevenden. Het aantal vrouwelijke leidinggevenden is sterk gestegen. Deze trend geeft aanleiding tot het onderzoeken van de verschillen tussen de percepties van medewerkers met een mannelijke ofwel een vrouwelijke leidinggevende. Worden vrouwelijke en mannelijke leidinggevenden anders ervaren?
De resultaten van recent verzamelde enquêtedata over leidinggevenden in de Nederlandse publieke sector laten zien dat vrouwelijke leidinggevenden beter scoren bij medewerkers dan mannelijke leidinggevenden. Dit geldt voor zowel de percepties van mannelijke als vrouwelijke medewerkers.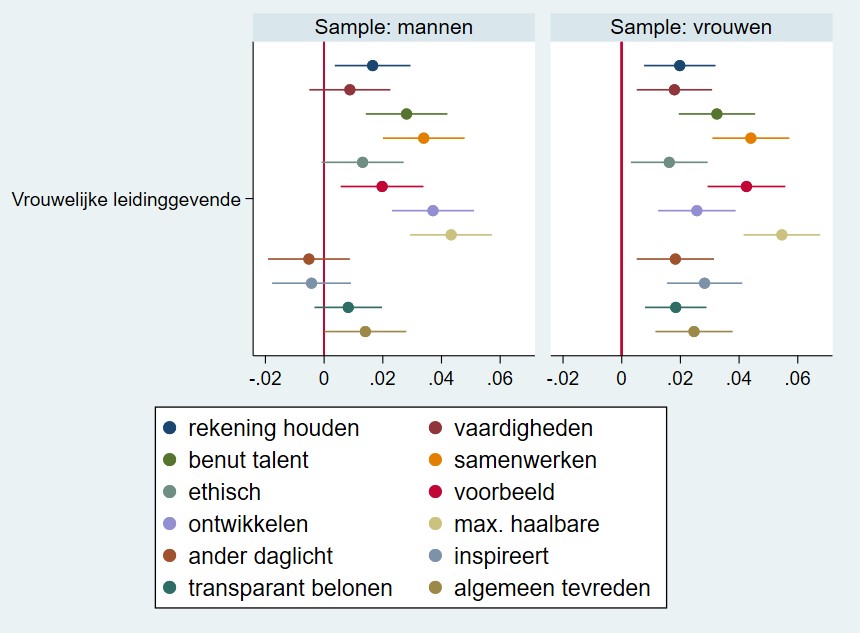 Bestuurskundig perspectief
Na de presentatie sloot Dr. Tanachia Ashikali (universiteit docent Bestuurskunde) aan om te reflecteren op het onderzoek vanuit bestuurskundig perspectief. Dr. Ashikali wees onder andere op de implicaties van de onderzoeksresultaten voor leiderschapsontwikkeling. Uit het onderzoek blijkt dat medewerkers relationeel leiderschap beter waarderen dan taakgerichte leiderschapsvaardigheden. Dit kan gevolgen hebben voor leiderschapsontwikkeling in organisaties en hoe leidinggevenden geselecteerd worden.
Vervolg
Dit was de eerste bijeenkomst in een nieuwe reeks Leiden Leadership Lunches met als centrale thema 'Leiderschap over grenzen heen'. In deze nieuwe reeks lunchbijeenkomsten nodigt het Leiden Leadership Centre collega's uit andere disciplines uit om in gesprek te gaan over leiderschap. Houd onze website in de gaten voor een aankondiging van de volgende lunchbijeenkomsten uit deze reeks of schrijf je in voor onze nieuwsbrief.
Wil je op de hoogte blijven van de volgende lunchbijeenkomsten uit deze reeks? Houd onze website in de gaten of volg ons op LinkedIn en Twitter en schrijf je in voor onze nieuwsbrief.