Aangeklaagde Poolse Holocaust-onderzoekers houden samen de Cleveringa-oratie
Historicus Jan Grabowski en socioloog Barbara Engelking houden op 26 november samen de Cleveringa-oratie. Zij schreven een kritisch boek over de Holocaust in Polen en werden daarvoor aangeklaagd.
Het is een primeur: voor het eerst is er een duo-oratie van twee Cleveringahoogleraren (aanmelden kan hier). Grabowski en Engelking liggen in Polen onder vuur vanwege hun boek Night without an end. Fate of Jews in selected counties of occupied Poland. Dit geruchtmakende boek over de Holocaust in Polen kwam in 2018 uit en werd lovend ontvangen in de academische wereld. Maar in Polen is de publicatie controversieel omdat het boek pijnlijke geschiedenissen blootlegt. Zoals die van Edward Malinowski, de toenmalige burgemeester van het dorp Malinowo. Volgens de auteurs leverde hij een groep van 22 Joden over aan de nazi's die hen vervolgens vermoordden. Volgens Malinowski's nog levende nicht hielp haar oom juist Joden in de oorlog.
In Polen is het sinds 2018 strafbaar om 'de Poolse natie' in het openbaar medeverantwoordelijk te houden voor de Holocaust.
Veroordeling voor smaad
Een districtsrechtbank in Warschau oordeelde begin 2021 dat Grabowski en Engelking zich schuldig maakten aan smaad en beval hen om excuses aan te bieden. De twee gingen in beroep en het Hof van Beroep van Warschau verklaarde het vonnis later dit jaar nietig. Wetenschappelijk onderzoek mag niet door rechtbanken worden beoordeeld, zo voerde het Hof van Beroep aan. Maar daarmee was de zaak nog niet voorbij. De advocaat van de aanklager – de nicht van Malinowski – kondigde aan in hoger beroep te willen gaan.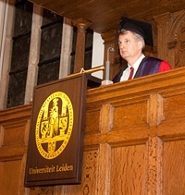 Jodenvervolging
De hoogleraren Grabowski en Engelking zijn door de faculteiten Rechtsgeleerdheid en Geesteswetenschappen voorgedragen voor de Cleveringaleerstoel. De suggestie kwam van Jorrit Rijpma, hoogleraar Europees Recht. Waarom stelde hij de twee onderzoekers voor? 'Hun onderzoek sluit ten eerste aan op Cleveringa's protestrede (zie kader, red.) en het thema van de Jodenvervolging', aldus Rijpma. Het onderzoek van beide wetenschappers haakt volgens hem ook goed aan op het werk van de Amerikaanse Holocaust-deskundige Timothy Snyder, die in 2012 de Cleveringa-oratie hield.
Rechtsstaat onder druk
Daarnaast speelt de situatie in Polen een rol. Rijpma: 'Zoals bekend staat de rechtsstaat er al een aantal jaren onder druk. De onafhankelijkheid van de rechterlijke macht wordt bedreigd en Grabowski en Engelking ervaren nu dat ook de academische vrijheid ter discussie staat. Hun rechtszaak is door een particulier aangezwengeld, maar op de achtergrond speelt een wet uit 2018 mee die het strafbaar stelt om 'de Poolse natie' in het openbaar medeverantwoordelijk te houden voor de Holocaust. Geheel in de geest van Cleveringa en onze Leidse lijfspreuk Praesidium Libertatis willen we Grabowski en Engelking de gelegenheid geven vrijelijk te spreken over hun onderzoek', aldus Rijpma.
Wie zijn Engelking en Grabowski
Barbara Engelking (1962) is een Poolse socioloog en verbonden aan het Institute of Philosophy and Sociology in Warschau. Ze is tevens directeur van het Centrum voor Holocaust Research in Warschau. Ook is ze sinds 2014 voorzitter van de Poolse International Auschwitz Council. Engelking schreef diverse studies over de Holocaust in Polen.
Jan Grabowski (1962) is een Pools-Canadese historicus en hoogleraar aan de University of Ottawa in Canada. Zijn specialisatie is eveneens de Holocaust in Polen. Samen met Engelking richtte hij het Centrum voor Holocaust Research op. Voor zijn gezaghebbende boek Hunt for the Jews: Betrayal and Murder in German-Occupied Poland (2013) won hij de Yad Vashem International Book Prize.
Voor het eerst sinds de invoering van de Cleveringaleerstoel in 1970 zijn er dit collegejaar twee Cleveringahoogleraren. Jan Grabowski en Barbara Engelking zullen op 26 november ieder een half uur spreken in het Academiegebouw. De oratie is van 14.00 tot 15.00 uur. Meld u aan als u de oratie in het Academiegebouw wilt bijwonen. De oratie is ook online te volgen op universiteitleiden.nl.
Ieder jaar herdenkt de universiteit de slachtoffers van de Tweede Wereldoorlog - ten minste 663 studenten, medewerkers en alumni kwamen om het leven. Ook staat de universiteit stil bij de protestrede van de Leidse rechtendecaan, Rudolph Cleveringa. Op 26 november 1940 sprak hij zich in een openbaar college uit tegen het ontslag van zijn Joodse collega Eduard Meijers. Na zijn rede werd Cleveringa gearresteerd en Meijers kwam na Westerbork terecht in concentratiekamp Theresienstadt waar hij de oorlog zou overleven. Ook andere Leidse hoogleraren zoals rechtsgeleerde Ben Telders, medicus Ton Barge en theoloog Lambert van Holk protesteerden openlijk tegen de nazi's. Van deze hoogleraren overleefde Telders de oorlog niet. De Cleveringaleerstoel is een wisselleerstoel van een jaar.
Tekst: Linda van Putten
Foto: Reuters/ANP