Scriptiewerkplaats: 'Er gebeurt echt iets met mijn onderzoek'
Voor de scriptiewerkplaats Den Haag Zuidwest werken LDE-universiteiten samen met de gemeente Den Haag. Op 28 oktober presenteerden studenten van de eerste afstudeergroep hun concrete adviezen aan beleidsmedewerkers van de gemeente. Lilian van Leeuwen, één van de studenten, schreef haar scriptie over de veiligheidsbeleving van bewoners in de Haagse wijk Moerwijk.
De scriptiewerkplaats is een initiatief van het Leiden-Delft-Erasmus Centre Governance of Migration and Diversity om studenten te verbinden met de stad. Zij hebben de handen ineen geslagen met de gemeente Den Haag. Studenten van de drie LDE-universiteiten kunnen zich via de scriptiewerkplaats verdiepen in de maatschappelijke uitdagingen van de regio Den Haag Zuidwest. Naast het schrijven van hun scriptie vertalen ze ook de academische theorie naar praktische beleidsadviezen. Deze adviezen presenteren ze aan het einde van het traject aan de gemeente.
Vertaling van onderzoek naar beleid
Lilian van Leeuwen studeerde dit jaar af aan de Universiteit Leiden, waar ze de master Public Administration volgde met als specialisatie Economics and Governance. Lilian koos voor de scriptiewerkplaats vanwege de praktische vertaling van onderzoek naar beleid: 'Ik vond het leuk om een actueel onderwerp te kiezen. Daarnaast sprak het idee me erg aan dat er echt iets gebeurt met je onderzoek. Binnen de master Public Administration is het niet gebruikelijk om een afstudeerstage te doen, daarom vond ik dit een mooie manier om een scriptie te schrijven met een advies dat echt gelezen wordt.'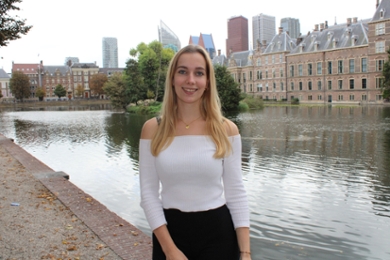 Bewoners als beleidsmakers
Voor haar onderzoek ging Lilian de Haagse wijk Moerwijk in: 'Een van de problemen in Moerwijk is dat bewoners zich onveilig voelen. Om bewoners mee te laten denken over oplossingen heb ik ze in de schoenen van beleidsmakers gezet: ze kregen verschillende voorbeeldsituaties met randvoorwaarden geschetst, zoals het budget. De bewoners maakten dan de keuze hoe ze zelf de situatie zouden aanpakken.'
Het was niet altijd makkelijk om mensen te spreken: 'In het begin was het lastig om mensen te vinden die wilden praten over eventuele oplossingen: door corona zaten veel mensen thuis en ook is niet iedereen bereid om mee te werken aan een interview. Daarom bezocht ik buurtcentra in Moerwijk. Daar stond iedereen open voor een praatje. Bewoners die niet mee wilden doen aan een interview, wilden vaak wel hun ideeën delen in een informeel gesprek. Die gesprekken hielpen mij ook verder.'
Wat is de scriptiewerkplaats Den Haag Zuidwest?
Via de scriptiewerkplaats kunnen studenten van verschillende studieachtergronden veldwerk verrichten in Den Haag Zuidwest. Aan de hand van praktijkgerichte uitdagingen vanuit de gemeente Den Haag, burgerinitiatieven en bewoners formuleren masterstudenten hun onderzoeksvraag. De vertaalslag van praktijk naar wetenschappelijk onderzoek is het uitgangspunt van de scriptie. Deze vertaalslag komt aan het einde van proces weer terug wanneer de studenten hun onderzoeksresultaten omzetten naar concrete beleidsaanbevelingen. In 2021 is het eerste traject van de scriptiewerkplaats succesvol afgerond en zijn drie studenten afgestudeerd. Voor meer informatie over de scriptiewerkplaats kan je contact opnemen met Mandy Koenraads.
Niet te veel onderzoek
Bij de slotsessie presenteerde Lilian haar beleidsadviezen aan de gemeente: 'Het formuleren van beleidsadvies was goed te doen. Mijn advies is onder andere om te letten op de hoeveelheid onderzoek die wordt gedaan in de wijk. Bewoners van Moerwijk gaven in de gesprekken aan dat er veel onderzoek wordt gedaan, maar dat ze er weinig van terug zien. Dat moet de gemeente in de gaten houden.'