8 Leidse antropologen publiceren gezamenlijk nieuwe gids voor audiovisuele en digitale etnografie
Op 30 november 2021 is het boek 'Audiovisual and Digital Ethnography: A Practical and Theoretical Guide' gepubliceerd door Routledge. Het boek is geschreven op initiatief van professor Cristina Grasseni en is een gezamenlijke inspanning van 7 andere professoren en docenten werkzaam binnen het Instituute voor Culturele Antropologie en Ontwikkelingssociologie: Bart Barendregt, Erik de Maaker, Federico de Musso, Andrew Littlejohn, Marianne Maeckelbergh, Metje Postma en Mark R. Westmoreland. De gids beschrijft hoe audiovisuele en digitale antropologie met elkaar verweven zijn geraakt, en biedt praktische handvatten om zelf dergelijk onderzoek uit te voeren. Het doel is om collega-onderzoekers in de sociale en geesteswetenschappen, maar ook verwante disciplines, te helpen de mogelijkheden te benutten die audiovisuele en digitale onderzoeksmethodologieën kunnen bieden. Vijf vragen over deze nieuwe gids.
Hoe is het boek 'Audiovisual and Digital Ethnography: A Practical and Theoretical Guide?' ontstaan?
'De mogelijkheid om dit boek te schrijven kwam toen Cristina Grasseni in 2017 door Routledge werd uitgenodigd om een Handbook of Visual Anthropology te schrijven. Ons instituut heeft een lange geschiedenis van innovatie binnen Visuele Antropologie. Recentelijk zijn we begonnen te experimenteren met nieuwe vormen van vooruitstrevende multimodale antropologie in zowel ons onderzoek als ons onderwijs. Na wat reflecties hebben we besloten om samen een boek te schrijven met alle CADS collega's die op het moment van schrijven audio, visuele en digitale etnografie beoefenden.'
Hoelang heeft het geduurd om dit boek te schrijven?
'We kwamen vlak voor Kerstmis 2019 als co-auteurs bij elkaar en dienden daarna het boekvoorstel in. Vervolgens hebben we de hoofstukken geschreven en is ieder hoofdstuk door 2 peer reviews beoordeeld. Onze collega Jan Jansen was zo behulpzaam om het manuscript te redigeren en daarna ging het boek in productie. De praktijk die aan de basis ligt van dit boek heeft natuurlijk een langere geschiedenis. Zo is het hoofdstuk van Andrew Littlejohn terug te traceren naar 2015 toen hij dagenlang de rampgebieden in het noordoosten van Japan opnam met een enorme 5.1 surround-sound microfoon. Mark Westmoreland introduceerde rond 2017 tekenoefeningen in zijn lessen. Hij zag de impact die het had op studenten en wilde daardoor meer inzicht krijgen in de grafische kant van de discipline.
Waarom hebben jullie het boek geschreven?
'Er zijn veel goede boeken over de theoretische aspecten van multimodale en visuele antropologie. Maar we hadden het idee dat het veld baat zou hebben bij een up-to-date boek dat deze theorieën in dialoog brengt met praktische vaardigheidstrainingen. In Leiden hebben we een steeds groter wordende groep die multimodaliteit, visuele etnografie en digitalisering toepast in hun onderzoek en onderwijs. Het boek vertegenwoordigt en promoot deze bijzondere concentratie van vaardigheden en specialismen die we kunnen aanbieden als onderdeel van de kenmerkende CADS methodologie.'
Voor wie is dit boek?
'Het boek richt zich tot master- en bachelorstudenten en degenen die hen lesgeven. Het behandelt onderwerpen als skilled vision, sonische etnografie, grafische antropologie, multimodale antropologie, veldwerk met een camera, observerende film, interactieve documentaire, digitale etnografie, en datamanagement. Elk hoofdstuk kan afzonderlijk worden gelezen of als onderdeel van het hele boek, dat is bedoeld als een 'praktische en theoretische' gids. Elk hoofdstuk introduceert het onderwerp ten opzichte van de belangrijkste literatuur op dat gebied en geeft oefeningen en uitgebreide instructies en tips om verder te lezen of te kijken.'
Volgt er nog meer?
'Er komt een website bij het boek met extra audiovisuele inhoud en links.'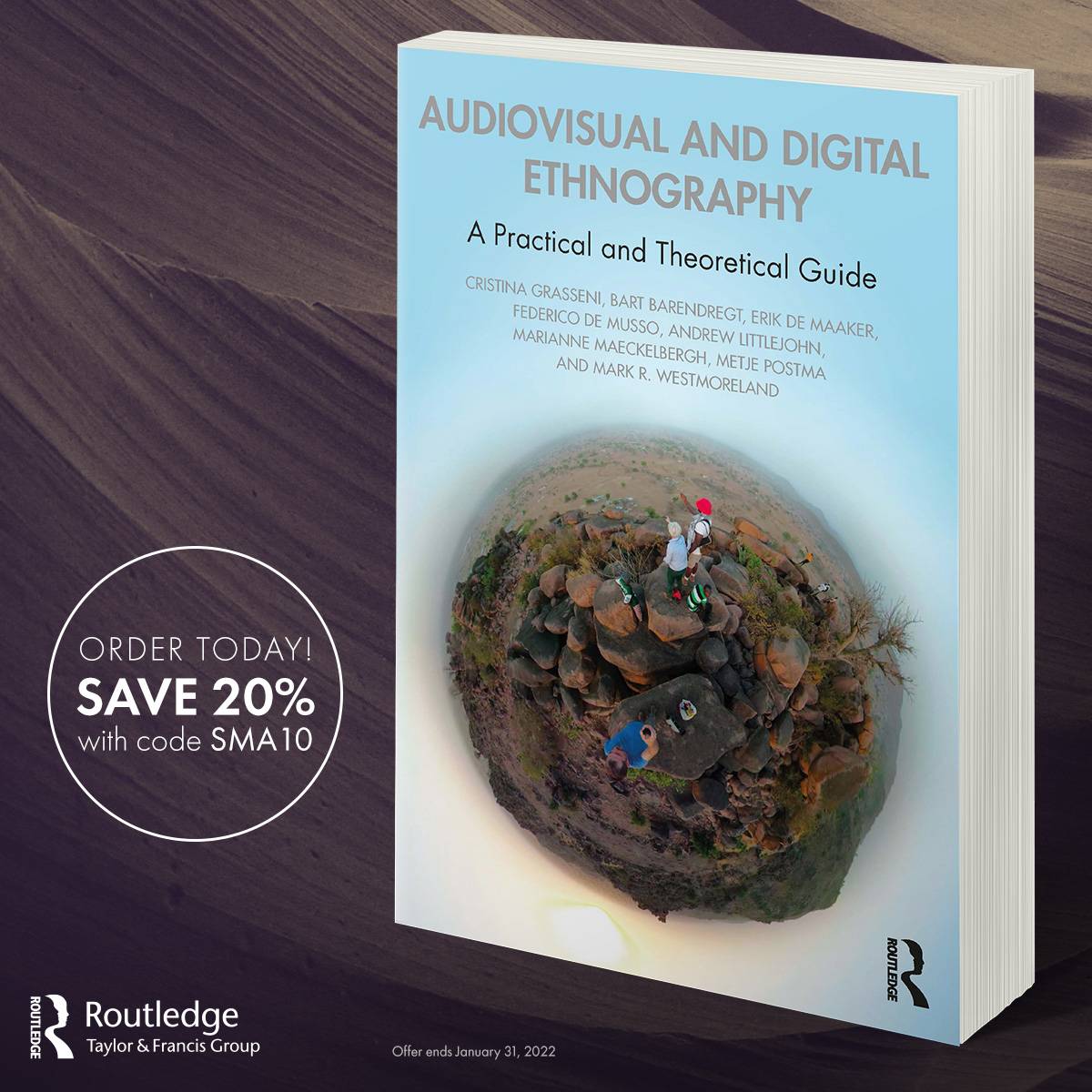 Informatie over de gids
Het 'Audiovisual and Digital Ethnography: A Practical and Theoretical Guide' is te koop via de website van Routledge.
Inhoudsopgave (English)
1. Audiovisual and Digital Ethnography at Leiden
Cristina Grasseni, Bart Barendregt, Erik de Maaker, Federico De Musso, Andrew Littlejohn, Marianne Maeckelbergh, Metje Postma, and Mark R. Westmoreland
2. Learning to See - Cristina Grasseni
3. Sonic Ethnography - Andrew Littlejohn
4. Graphic Anthropology: A Foundation for Multimodality - Mark R. Westmoreland
5. Dialoguing Events: An Audiovisual Toolkit for Extended Participatory Observation - Erik de Maaker
6. Observational Cinema as Process, Skill and Method - Metje Postma
7. Interactive Documentaries - Federico De Musso
8. Digital Ethnography, or 'Deep Hanging Out' in the Age of Big Data - Bart Barendregt
9. Navigating Conflicting Instruments of Data Morality - Marianne Maeckelbergh