Alumna Gabriella Sancisi: 'In Leiden heb ik geleerd wat ik belangrijk vind in het leven'
Zeven jaar lang werkte ze op Paleis Noordeinde, als particulier secretaris van koningin Máxima. Sinds de zomer van 2021 is Gabriella Sancisi (1973) de Nederlandse ambassadeur in Slowakije, en is de ambassade in de historische binnenstad van Bratislava haar basis.
Enerzijds is dat een hele overstap, erkent ze. 'Je moet je weg weer zien te vinden, nieuwe onderwerpen in de vingers krijgen, collega's leren kennen, weten waar je koffie haalt. Anderzijds zijn er ook veel overeenkomsten tussen beide functies. Ook hier moet ik op veel borden tegelijk schaken, ontmoet ik veel verschillende mensen en zijn er soms spannende onderwerpen. Die diversiteit hebben beide functies gemeen. 's Morgens heb je een overleg met een minister, 's middags bezoek je een buurthuis of spreek je met een Nederlands bedrijf. Je moet een sociale duizendpoot zijn om je met al die mensen te verstaan.'
En nog een overeenkomst, volgens Sancisi: het belang van Nederland dienen. Op de ambassade gaat het dan over politieke, economische, culturele en consulaire zaken. Van het bezoeken en spreken met Nederlandse ondernemers, en het initieren van projecten op het terrein van duurzaamheid tot het faciliteren van een uitwisseling tussen Slowaakse en Nederlandse experts over hervormingen van het Slowaakse rechtssysteem.
Doorzetten
Toen Gabriella Sancisi in 1991 in Leiden Italiaans en Rechten ging studeren, had ze nog geen idee wat ze ermee wilde doen. 'Op de middelbare school had ik een goede vriend die al wist dat hij diplomaat wilde worden, maar ik had toen geen idee dat dat júist mijn loopbaanpad zou worden.' Ze koos voor Italiaans wegens haar liefde voor talen en haar eigen tweetaligheid, en studeerde tegelijkertijd rechten, omdat dat haar een interessante, brede studie leek. 'Ik vind het leuk om verschillende dingen te combineren en hou van afwisseling. Door twee studies tegelijkertijd te doen, leerde ik snel schakelen, iets wat me in mijn loopbaan goed van pas komt.' En doorzetten: 'De studieadviseur bij rechten raadde me destijds af om twee studies tegelijk te doen. Beter eerst één propedeuse halen en dan verder zien. Die reactie gaf mij net dat duwtje: ik ging die twee studies gewoon proberen en zou wel zien of het schip zou stranden. Niet dus!'
'Ik vind het leuk om in het diepe te springen, nieuwe dingen te doorgronden. Dat moest ik als kind al, doordat ik een paar keer in het buitenland heb gewoond wegens het werk van mijn ouders. Ik herinner me dat ik op mijn negende naar school moest in New Jersey. Ik sprak geen Engels en toen de juffrouw vroeg of ik wilde gaan staan, deed ik dat niet, omdat ik haar niet verstond. Toen tot me doordrong wat ze bedoelde, besloot ik à la minute om snel de taal te leren. Volgens mijn moeder sprak ik twee weken later Engels.'
Prikbord
Dat ze voor Leiden koos als stad om te studeren, had veel te maken met haar ouders. Haar vader werkte aan de universiteit in Groningen, haar moeder in Utrecht. 'Ik wilde graag ver van mijn ouderlijk huis in Groningen studeren', vertelt ze. 'Mijn eigen wereldje opbouwen.'
Ze had een 'enorm leuke studententijd'. Ze roeide bij Njord, was lid van een studentenvereniging, had veel sociale contacten en besteedde ook nog tijd aan studeren ('maar wel vaak last-minute'), bracht enkele maanden met een Erasmus-beurs door in Bologna en liep stage bij een advocatenkantoor. 'Daar heb ik ontdekt dat mijn hart niet bij de advocatuur lag.'
Een briefje op het prikbord bij de vakgroep Italiaans zou bepalend blijken voor haar verdere leven. 'Het ministerie van Buitenlandse Zaken zocht een stagiair voor het personeelsblad. Dat leek me wel leuk, want ik was al actief geweest voor de middelbare-schoolkrant en het blad van roeivereniging Njord. Ik kreeg door die stage een goede indruk van de organisatie BZ en de buitenlandse dienst in de volle breedte.'
Tegen het einde van haar studie werkte Sancisi nóg een periode bij het ministerie, omdat de directie communicatie extra mensen nodig had wegens het Nederlandse voorzitterschap van de Europese Unie. 'Toen wist ik: dit vind ik echt leuk. Ik voelde echt passie voor Buitenlandse Zaken.' Ze deed het diplomatenklasje en was onder meer medewerker cultuur in New York, particulier secretaris van toenmalig staatssecretaris Frans Timmermans en minister Uri Rosenthal en plaatsvervangend ambassadeur in Zagreb. 'Het leuke van BZ als werkgever is dat je elke keer in een nieuwe situatie terechtkomt, nieuwe dingen ontdekt, weer iets nieuws mag opbouwen en in allerlei verschillende omgevingen werkt', aldus Sancisi, die zichzelf omschrijft als een praktisch mens en een bruggenbouwer. 'Ik zoek altijd naar verbinding. Hoe kan ik mensen bij een onderwerp betrekken?' De publieke zaak ligt haar na aan het hart, vertelt ze. Dat is een van de redenen waarom ze diverse malen in het team van bewindspersonen heeft gewerkt. 'Samenwerken met andere mensen geeft me plezier en kracht. Een solistische functie zou niets voor mij zijn.'
Gedicht van Dante
Heeft ze iets gehad aan haar studies? 'Wat ik heb geleerd, zat 'm niet zozeer in concrete vakken. Al was ik best trots dat ik laatst op de Italiaanse ambassade een passage uit een gedicht van Dante kon opzeggen' lacht ze. 'Het is veel meer het snelle schakelen tussen verschillende onderwerpen, het vlot kunnen opnemen van informatie zonder het overzicht te verliezen, doorzetten en het vertrouwen dat een nieuw avontuur kan slagen, wat ik in Leiden heb geleerd.' En ook heel wezenlijk: 'Ik heb aan de universiteit geleerd wat ik belangrijk vind in het leven.'
Heeft Sancisi adviezen voor de studenten van nu? 'Ja, doe een studie die je leuk vindt. Als je alleen maar een studie kiest met het oog op een loopbaan, dan kan een carrière erg lang duren. Vaak wordt bijvoorbeeld gedacht dat je alleen bij Buitenlandse Zaken terecht kunt als je internationaal recht hebt gestudeerd, maar echt, je kunt er met alle studies terecht. Er lopen zelfs mensen rond die wiskunde, sociale geografie of conservatorium hebben gedaan!'
Heel vaak komt ze niet meer in Leiden. Maar de band met de stad en de universiteit voelt ze nog steeds. Zoals laatst, toen Kutsal Yesilkagit, hoogleraar Public Administration in Leiden, de Cleveringa-lezing hield voor de Nederlandse gemeenschap in Bratislava. En ze denkt nog vaak aan al die mooie momenten aan de universiteit. Zoals die twee keer dat ze afstudeerde. 'Dat je afstudeerdocent je toespreekt in dat mooie Academiegebouw, in aanwezigheid van familie en vrienden, daar kijk ik met trots op terug. Ja, ik heb echt genoten van mijn tijd in Leiden.'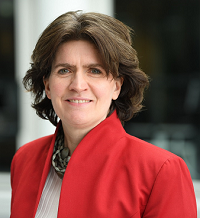 CV Gabriella Sancisi
2021 - heden
Ambassadeur in Bratislava, Slowakije
2014 - 2021
Particulier Secretaris H.M. Koningin Máxima, Dienst Koninklijk Huis
2011 - 2014
Plv. Chef de Poste, Ambassade Zagreb, Kroatie
2010 - 2011
Particulier Secretaris Minister van Buitenlandse Zaken (Rosenthal)
2009 - 2010
Particulier Secretaris Staatssecretaris voor Europese Zaken (Timmermans)
2007 - 2009
Senior beleidsmedewerker directie West- en Midden Europa
2003 - 2007
Consul voor Pers- en Culturele Zaken, CG New York
1996 -2003
In dienst bij Buitenlandse Zaken in diverse functies bij Directie Voorlichting en Directie ICT.
1991-1996/7
Studie Italiaanse taal- en letterkunde en Nederlands recht in Leiden