Leren over polarisatie door te praten met vluchtelingen: 'Onze verbeelding schiet gigantisch tekort'
De confrontatie aangaan met je eigen vooroordelen, in het honoursvak 'Adults and Children in a Polarising world' duiken studenten hier niet voor weg. 'Dat mijn verwachtingen van het interview niet in lijn lagen met de uitkomst ervan, was heel leerzaam.'
Het vak 'Adults and Children in a Polarising World' is onderdeel van het Honours Collegetraject Science and Society van de Faculteit Sociale Wetenschappen. Nadat de nodige theorieën over polarisering en stigmatisering zijn besproken, gaan de studenten zelf in gesprek met iemand die hier ervaring mee heeft.
Bewustwording
Het doel is bewustwording creëren van je eigen vooroordelen, legt docent Rob van Waarde uit. 'Van tevoren vraag ik studenten welke beelden bij hen opkomen als ze denken aan gestigmatiseerde groepen, zoals vluchtelingen of daklozen. Na de interviews blijkt doorgaans dat deze ideeën niet kloppen, onze verbeelding schiet nu eenmaal gigantisch tekort.'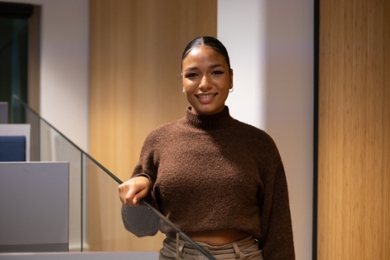 Zo ontdekte honoursparticipant Sarah dat haar eigen ervaringen haar verwachtingen van het interview beïnvloedden. 'Ook al ben ik daar geboren en getogen, nog steeds nemen veel mensen in mijn thuisland Oostenrijk aan dat ik buitenlands ben vanwege mijn zwarte huidskleur. Daarom was ik erg verrast dat de asielzoeker die ik interviewde vertelde zich meteen helemaal thuis en comfortabel te voelen in Nederland.'
Ook voor student Baaba waren de interviews een waardevolle ervaring. 'Bij polarisering denk je aan een groot macroconcept, terwijl het zich in de realiteit op individueel niveau afspeelt. Aannames over mensen maken is ergens ook iets natuurlijks, maar het gaat erom dat je je hiervan bewust bent. Daarom was het heel leerzaam dat mijn verwachtingen van het interview niet in lijn lagen met de uitkomst ervan.'
Taboe
Polarisering en stigmatisering zijn niet altijd makkelijke onderwerpen om over te praten, zegt Rob van Waarde. 'Het is een taboe, want niemand wil discrimineren of vooroordelen hebben. Toch lopen de meesten van ons dagelijks tegen het probleem van polarisering aan. Maar hoe vaak sta je op dit soort momenten echt stil bij wat er om je heen gebeurt? Of hoe deze processen in jezelf doorwerken? Dit vak biedt tijd en ruimte om daar onderzoek naar te doen.'
Verschillend denken
Student Nichol zag het vak als een kans om buiten haar eigen bubbel te treden. Zij interviewde Basil, een Syrische vluchteling die het lastig vindt om te integreren in de Nederlandse samenleving.
'Voor hem is het bijvoorbeeld heel gek dat mensen hier altijd eerst hun agenda moeten checken en je niet spontaan op de stoep kan staan.' Het verhaal van Basil vertelde Nichol tijdens de eindpresentaties met een geïllustreerde video. 'Hier kon ik mijn creativiteit in kwijt.'
Ook Sarah en Baaba maakten een video. Zij lieten zien hoe verschillend mensen denken over de Nederlandse identiteit. 'Voor de asielzoeker die wij interviewden waren vooral de Nederlandse democratische waarden belangrijk, terwijl iemand anders vertelde dat hij Nederlanders waardeert om hun directheid', zegt Sarah. Ze slaat de spijker op zijn kop: 'Voor elk individu betekent het iets anders om Nederlands te zijn. Daarom is het erg onverstandig om een ander uit te sluiten op basis van deze persoonlijke ideeën.'
Tekst: Sarawitia Franken
Foto's: Eric van den Bandt