Grote behoefte om samen te praten over Oekraïne
De aanval op Oekraïne, een oorlog op het Europese continent, geeft ons allemaal een onheilspellend gevoel. Het brengt verwoesting, verlies, lijden, zorgen, ongerustheid, en roept vragen op. Met die woorden opende rector magnificus Hester Bijl donderdagmiddag de themabijeenkomst over de oorlog in Oekraïne in Wijnhaven. 'Deze situatie raakt de hele wereld, ook onze gemeenschap hier aan de Universiteit Leiden en daarom ben ik blij dat we hier vandaag in de zaal en online samen zijn.'
Wetenschappers van verschillende faculteiten duidden de achtergronden bij de oorlog onder leiding van moderator Jan Melissen. Ook werden vragen gesteld vanuit de zaal en vanuit huis, waar bijna 500 mensen meekeken via een livestream. Betrokken studenten en medewerkers uit de regio waren speciaal uitgenodigd door de rector.
Hester Bijl: 'Het is goed om samen te komen. Om dit conflict in wetenschappelijke termen uitgelegd te krijgen, om antwoorden te zoeken, en om als gemeenschap na te denken over wat we kunnen doen. Maar vooral om naar elkaar te luisteren, om met elkaar te praten en elkaar te steunen.' Met een volle zaal en vele toehoorders online via de livestream bleek de behoefte om samen over dit onderwerp te praten groot. Jan Melissen: 'We staan allemaal op met het nieuws en gaan naar bed met het nieuws. Wij als universiteit hebben daarnaast ook onze academische plicht om verder te kijken dan de headlines.'
Deze last wordt nog generaties lang gedragen
Veel indruk maakte het persoonlijke verhaal van de Oekraïense Veronika Yefremova, promovendus aan de faculteit Rechtsgeleerdheid. Ze begon met het schetsen van de afstand. Leiden-Rome met de auto is net zo ver als Leiden-Kiev. 'Zodat jullie een idee hebben, want veel mensen weten wel iets van Oekraïne, maar zijn er nog nooit geweest.' Yefremova vertelde over de geschiedenis en identiteit van haar land en de overeenkomsten die ze heeft met Rusland, maar ook over de machteloosheid die ze voelt. 'Ik spreek Russisch, mijn achternaam is Russisch, ik heb Russische vrienden. Maar we zijn een eigen land. Wat er nu gebeurt, is een drastische ingreep op onze identiteit. Families worden verscheurd, we weten niet hoe we ons moeten gedragen. Toch hebben we elkaar nodig. Hoe we hier mee om moeten gaan, zal een last worden die we nog generaties lang met ons mee gaan dragen.'
Strijdlust is enorm
Honorata Mazepus, universitair docent bij het Institute of Security and Global Affairs, ging daarna in op de dynamiek van het maatschappelijk middenveld en vertelde over het nepnieuws dat rondgaat. Mazepus komt zelf uit Polen en deed veel onderzoek in Rusland en in Oekraïne. Ze roemt de strijdlust en het gezamenlijk optrekken van burgers in Oekraïne. Voor het tegengaan van desinformatie en de verspreiding van nepnieuws zegt ze dat het belangrijk is om Russen elke kans te geven om ze van de juiste informatie te voorzien. 'Laat de Russische soldaten die zich overgeven hun moeder bellen om het echte verhaal te vertellen.'
De impact van de oorlog en de sancties op de culturele sector en de kerk werden onder de loep genomen door universitair hoofddocent Otto Boele van het Leiden University Centre for the Arts in Society van de faculteit Geesteswetenschappen. Hij stond onder andere stil bij de enorme gevolgen die de oorlog en de sancties hebben voor bijvoorbeeld de Russische filmindustrie. Alle banden met Russische regisseurs of filmmakers zullen worden verbroken en budgetten zullen drastisch omlaag gaan. Boele sprak de hoop uit dat documentairemakers ook met minder middelen op een creatieve manier toch hun kunsten blijven vertonen.
Tragedie voor heel Europa
Frans Osinga, bijzonder hoogleraar War Studies, sprak van een Europese tragedie. 'Ik loop met een zwaar hart rond, sinds de start van deze oorlog. Niet alleen voor de mensen in Oekraïne maar voor ons allemaal.' Zoals Osinga eerder al aangaf in dit artikel, komt het gedrag van Poetin voor hem niet als een verrassing.
De theorie van de internationale betrekkingen en alternatieve logica's en perspectieven werden besproken door Isabelle Duijvestijn, Professor of International Studies and Global History. 'We zijn allemaal aan het worstelen om te begrijpen wat hier aan de hand is.
Tot slot besprak Antoaneta Dimitrova, hoogleraar Comparative Governance bij FGGA, de toekomstige internationale betrekkingen van de EU met Oekraïne. Ze noemde het historisch dat Oekraïne, terwijl het land bij een oorlog betrokken is, een aanvraag doet om EU-lid te worden. 'Dat is normaal gesproken een zeer lang proces. Maar normaal telt nu niet.'
Meer vragen dan tijd om te antwoorden
Vragen uit het publiek en vanuit huis waren er volop. Van een Russische studente die een statement maakte door haar verbondenheid met de Oekraïense gemeenschap te benoemen. Een Chileense student die graag meer wil weten over het politieke landschap in Oekraïne, maar ook vragen als: Waarom wil Zelensky zo graag bij de EU? Wat zijn de veiligheidszorgen van Poetin als het gaat om Oekraïne? Hoe kijken andere vluchtelingen aan tegen de bereidheid die er nu is om mensen uit de Oekraïne te helpen? En er is een oproep van Matthew Hoye, universitair hoofddocent bij ISGA, om in actie te komen. Om onderdak te bieden aan academici en studenten die niet meer veilig zijn. 'Een 'Universiteit in ballingschap'. Uiteraard is dit een nationale kwestie, maar waarom zouden we als Universiteit Leiden hierin niet het voortouw nemen?'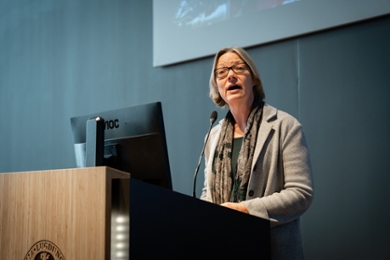 Na ruim twee uur werd het gesprek buiten de zaal voortgezet en was er ruimte om elkaar te ontmoeten en bij te praten. Er waren medewerkers aanwezig van Student Support Services en Service Centre International Staff. Want praten, dat is wat er de komende tijd veel gedaan zal worden. Via debatten, rondetafelgesprekken, maar ook tijdens colleges en daarbuiten. Om af te sluiten met de beginwoorden van Hester Bijl: 'Voor mij is deze bijeenkomst ook een uiting van de kernwaarden van onze universiteit. Deze waarden - vrijheid, verantwoordelijkheid, verbinding en vernieuwen - nemen wij niet licht op. We willen ze actief en concreet uitdragen. Dat verklaart ook waarom we vandaag bij elkaar zijn gekomen.'
Tekst: Margriet van der Zee
Beeld: Wilke Geurds