Studenteninitiatief COOP helpt bij het bespreekbaar maken van moeilijke onderwerpen
Studenten voelen zich steeds vaker beperkt om zich vrijelijk uit te drukken. Een nieuw D&I studenteninitiatief bij Geesteswetenschappen, COOP, wil hier wat aan doen. Ze helpen studenten om meer zelfvertrouwen te krijgen en tegelijkertijd verschillende meningen te respecteren.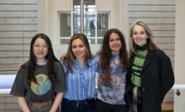 Een D&I studenteninitiatief
Hoewel de universiteit al initiatieven heeft zoals het Challenge Expected onderzoeksproject, is er een groep studenten van de Faculteit Geesteswetenschappen die het aanpakken van deze kwestie een stap verder willen brengen — en zo ontstond COOP.
Talisha Schilder (MA International Relations), Barbara Troost (BA English Literature), Lara Mongiardi (MA International Relations) and Yilin Li (MA Philosophy) zijn het COOP project gestart om zeker te stellen dat de universiteit een plek is waar iedereen zich thuis voelt. Het initiatief is erop gericht om studenten een 'gereedschapskist' te bieden die hen helpt bij het voeren van moeilijke al dan niet gevoelige discussies. 'Wij willen COnflicting OPinions (conflicterende meningen), waarbij men een discussie zou willen vermijden, veranderen in COOPeration (samenwerking), waarbij er ruimte ontstaat voor een respectvolle, en begripvol discussie.'
'Discussies en meningsverschillen zullen altijd blijven bestaan'
COOP zal in de maand mei 2022 een aantal evenementen organiseren, gericht op een respectvolle benadering van discussies waarbij de standpunten conflicteren. Studenten kunnen ervoor kiezen om de hele reeks of individuele sessies bij te wonen. Alle evenementen zullen worden geleid door sprekers met academische of professionele achtergrond. 'Door naar deze evenementen te komen, kunnen studenten leren beter om te gaan met onenigheid over onderwerpen die emotionele betrokkenheid met zich meebrengen op een strategische en diplomatieke manier', zeggen de organisatoren. 'We gaan ook in op de herkomst van de angel: 'trigger words' en een beter begrip waarom specifieke woorden 'ontploffingsgevaar' met zich meebrengen. En samen met de POPcorner organiseren we een paneldiscussie over de Gedragscode voor Studenten van de Faculteit Geesteswetenschappen.'
'Welk onderwerp het ook betreft, discussies en verschillen van mening zullen altijd blijven bestaan, ook op de universiteit. Wij willen laten zien dat dit geen probleem hoeft te zijn', leggen ze uit. 'Onderzoeken waarom een student of hoogleraar een bepaald standpunt inneemt levert nieuwe perspectieven op. Juist door perspectieven in twijfel te trekken ontstaan vaak waardevolle nieuwe inzichten. Dit lukt alleen als iedereen respect voor elkaar en elkaars zienswijzen toont. Het doel van het COOP team is om studenten uit te rusten met tips and tricks zodat ze zich kunnen ontwikkelen op academisch en professioneel vlak. Ongeacht welke toekomst er voor je ligt, het is een fijn gevoel om met vertrouwen en zelfvertrouwen je stem te kunnen en mogen laten horen.'
Heb je vragen of opmerkingen? Stuur een mail naar coop@hum.leidenuniv.nl.