Studenten losmaken van het idee dat alles maar waar is wat je leest
Van studenten verwachten we dat ze kritisch lezen. 'Maar hoe dan', zeggen ze. 'Je leest een artikel en het klinkt allemaal logisch en overtuigend, waarom zou het niet waar zijn.' Psycholoog Anouk van der Weiden wil studenten leren om artikelen kritisch te lezen. En meer, daarvoor ontvangt ze een Comenius onderwijsbeurs.
'Ik wil met mijn voeten in de klei van de klas blijven staan', zegt Anouk van der Weiden. 'Ook al word ik de nieuwe opleidingscoördinator van Sociale, Economische en Organisatiepsychologie, ik wil niet alleen bestuurlijke taken doen. Want ik vind het zo mooi om die ontwikkeling te zien bij studenten. En de inzichten die ik daar opdoe vormen de basis voor mijn onderwijsideeën.'
Goed ontvangen door studenten
'We verwachten in het onderwijs dat studenten kritische essays schrijven, presentaties geven en een diepgaande discussie voeren, maar niet alle studenten kunnen dat zomaar. Sommigen ontvangen keer op keer negatieve feedback, raken gedemotiveerd en gefrustreerd omdat we iets van ze vragen wat ze niet geleerd hebben. Gefrustreerd, dat ze het niet kunnen, maar is dat dan niet eigenlijk ons probleem? Want dat is wat we moeten bieden in ons onderwijs. We moeten ze niet alleen beoordelen maar ook iets leren. Daarvoor heb ik oefeningen bedacht om ze te helpen. Een paar oefeningen hebben we al uitgetest. Die zijn goed ontvangen door studenten.'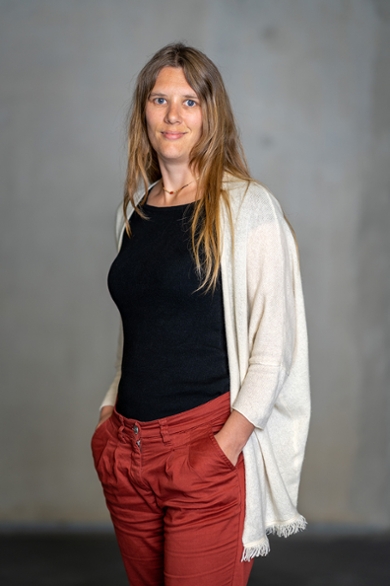 Nee schudden terwijl je leest
'Soms hebben auteurs een blinde vlek, vertel ik mijn studenten in de oefeningen. Soms is er prestatiedruk. De conclusies en interpretaties van onderzoekers zijn daarom niet perse de complete waarheid. We weten uit onderzoek naar overtuiging dat het helpt om nee te schudden terwijl je een artikel leest. Dat is een goede oefening om ze los te krijgen van 'de waarheid'. Daarnaast leren we ze actief nadenken over de onderzoeksvraag en methoden. Hoe zou ik dat zelf onderzoeken en hoe is het daadwerkelijk gebeurd? Wat betekent dat voor de uitkomsten en conclusies? Vervolgens willen we een tweede onderwijsmodule waarin studenten de theorie ook kritisch leren toepassen.'
Psychologie in de praktijk
'Hoe ziet de onderzoeksopzet er precies uit, verklaart dat misschien deels de uitkomsten, is die opzet wel te vertalen naar specifieke praktische situaties? Dat is belangrijk, want soms zijn de resultaten in een andere situatie of voor een specifieke doelgroep precies omgekeerd. Neem bijvoorbeeld het effect van de sociale norm bij energiegebruik. Je wilt die sociale norm activeren en daarom laat je zien dat de meeste buren bijvoorbeeld 40 % minder energie verbruiken. Je zou denken dat dit mensen motiveert om ook minder te verbruiken. Maar ga je beter kijken, dan zie je verschillen tussen wijken of tussen mensen. Sommige mensen zullen denken: 'Ja, die lat ligt zo hoog, dat ga ik toch niet halen, ik ga het niet eens proberen.' Dan kan je prachtige evidence-based toepassing precies verkeerd om werken. Daarom is het dus belangrijk om kritisch te kijken naar welke psychologische processen er precies meespelen en hoe je die vertaalt naar de praktijk. De derde module is specifiek voor het thesisproject waarin we studenten meerdere dingen leren. Kritisch kijken naar je eigen thesis, blinde vlekken voorkomen en transparant zijn in je onderzoek.'
Goed bezig?
'We willen natuurlijk ook inzichtelijk maken en beoordelen hoe goed studenten zijn in kritisch lezen. Dat is voor docenten maar ook voor studenten handig om te weten of ze goed bezig zijn, zodat ze bepaalde kwaliteiten hebben als ze afgestudeerd zijn. Daarom heb ik een beurs aangevraagd voor anderhalf jaar, die voorziet in uren voor een team met Hester Ruigendijk, coördinator master Sociale en Organisatiepsychologie, Coen Wirtz, docent Psychology of Selling en Advertising, Welmer Molenmaker, thesiscoördinator bij sociale, economische en organisatiepsychologie en twee student-assistenten.'
Online platform voor oefeningen
'Eerst wil ik inzichtelijk maken hoe studenten het nu aanpakken, waar het van nature goed gaat en waar ze tegenaan lopen. Op basis van interviews uitgevoerd door de student-assistenten en wetenschappelijke literatuur maken we nieuwe oefeningen die we eerst voorleggen aan onze student-assistenten of onze gave oefeningen wel werken. Daarna geven onze eigen studenten van onze cursussen aan of de onderwijsmodule nuttig was of lastig. Waar loop je tegen aan? We kijken wat ze invullen en dat interpreteren we en gebruiken we om de modules verder aan te scherpen. In ons team kijkt ook onderwijskundige Maarten van de Ven van het ICLON kritisch mee bij het ontwikkelen en evalueren van de modules. Mijn ideaal is een Online platform, liefst geïntegreerd met Brightspace, waar studenten na de online basisoefeningen nog verder kunnen oefenen. Daarbij betrekken we het Center for Innovation.'
Succesvoller in wat je leuk vindt
'Vanuit huis heb ik meegekregen om altijd het beste uit jezelf naar boven te halen, vaak impliciet via mijn ouders als rolmodellen. Mijn moeder is begonnen op de huishoudschool en heeft het gebracht tot personeelsadviseur. Haar adagium is: je moet eruit halen wat erin zit. Bij een cijfer 8 zei mijn vader: 'nou dat klinkt goed, maar wat kon er beter.' Het gaat niet om het cijfer, maar om wat er nog meer te leren is. Dat kan wel een bepaalde druk opleggen. Ik denk dat ik perfectionistisch ben, maar ook dankbaar voor alles wat ik geleerd heb. En ondertussen sta ik met veel ontspanning in mijn werk. Een eyeopener was de competitieve sfeer in onderzoek. Daar kan je in meegaan en vervolgens je werk niet meer leuk vinden, maar waar doe je het dan nog voor? Ik kan ook de dingen doen die ik leuk vind. Dan zie ik wel waar het me brengt en ben ik waarschijnlijk ook succesvoller. Maar zo niet dan niet, dan doe ik in ieder geval wel wat ik leuk vind.'