Vernieuwde Leiden Leadership Programme 'biedt gereedschap om het verschil te maken'
Het Leiden Leadership Programme gaat innoveren. Na 12 jaar krijgt het honoursprogramma voor masterstudenten een andere opzet. We vragen twee betrokkenen naar de hoed en de rand van het nieuwe LLP. 'Je leert welke leiderschapsstijl bij jou past en hoe je zelf impact kunt maken.'
Het Leiden Leadership Programme (LLP) is een honoursprogramma voor masterstudenten aan de Universiteit Leiden, de TU Delft en de Erasmus Universiteit. LLP'ers gaan – naast hun reguliere studie – een jaar lang aan de slag met het verkrijgen van inzicht en kennis omtrent relevante leiderschapsvraagstukken. Afgelopen jaren bestond daarnaast het International Leiden Leadership Programme voor internationale studenten. Zij kunnen zich voortaan aanmelden voor het LLP, dat grotendeels in het Engels aangeboden zal worden.
We vroegen Eline Bergijk, opleidingsdirecteur bij de Honours Academy, en Sandra Groeneveld, kwartiermaker van het LLP, wat we nog meer moeten weten over het nieuwe Leiden Leadership Programme.
Wat is de filosofie achter het Leiden Leadership Programme?
Sandra: "We hebben het op de universiteit vaak over maatschappelijke impact, maar daar moet je iets voor doen. In het nieuwe LLP worden studenten toegerust met inzichten rond leiderschap en de bijbehorende vaardigheden die nodig zijn om in de maatschappij het verschil te kunnen maken."
Eline: "Deelname aan het LLP is geslaagd als studenten beter zijn toegerust om sturing te geven aan zowel hun persoonlijke ontwikkeling, als aan het oplossen van de complexe uitdagingen waar we als maatschappij voor staan."
Hoe is het balletje voor 'LLP 2.0' gaan rollen?
Sandra: "Het LLP is al jarenlang een succesvol programma. De universiteit wil graag meer studenten de kans bieden eraan deel te nemen. Met de nieuwe opzet kunnen we tweemaal zoveel studenten toelaten. Daarnaast gaan meerdere instituten een deel van het onderwijs verzorgen. Zo wordt het nadrukkelijker verbonden met alle disciplines die de universiteit rijk is."
Hoe gaat de nieuwe opzet eruit zien?
Sandra: "Elke student volgt vier onderdelen van in totaal 15 EC. Bij de Leadership Essentials krijg je colleges van wetenschappers en mensen uit de praktijk over leiderschap. In het Leadership Lab werk je in groepen aan een praktijkopdracht en train je je leiderschapsvaardigheden, zoals luisteren, onderhandelen en motiveren. De labs zijn georganiseerd rond vier thema's:
• Sustainability & Climate
• Equality & Inclusion
• Healthy living & Well-being
• Peace & Safety
Ten slotte volg je twee korte modules omtrent een specifek type leiderschap, zoals business leadership, inclusive leadership of digital leadership."
Wat is het grootste misverstand over het LLP?
Eline: "Dat je al over leiderschapsvaardigheden zou moeten beschikken bij aanvang. Bij het LLP ga je juist ontdekken welke manieren van leidinggeven er zijn, welke stijl bij jouw persoonlijkheid past en hoe je zelf impact kunt maken."
Sandra: "Dat het LLP vooral bedoeld is voor studenten die CEO willen worden van een groot bedrijf. Het LLP gaat natuurlijk ook over CEO's en politieke leiders. Maar het gaat vooral over hoe studenten zelf leiderschap kunnen nemen, over hun eigen leven en hun eigen rol in de maatschappij."
Voor de studenten die meelezen: waarom zouden zij zich moeten aanmelden?
Eline: "Je krijgt de kans om in interdisciplinaire teams te werken aan een real life leiderschapsvraagstuk. In je toekomstige professionele leven zal je er veel profijt van hebben als je hebt geleerd hoe je mensen kunt meekrijgen bij het initiëren van veranderingen. Het LLP biedt je het gereedschap zodat jij het verschil kunt maken."
Sandra: "Als je wilt begrijpen hoe leiderschap werkt, hoe één persoon iets in beweging kan zetten of waarom grote problemen juist niet worden opgelost, terwijl ze zo urgent zijn. Als je wilt leren hoe je richting kan geven aan je eigen professionele leven, en aan je omgeving. En als je succesvol wilt zijn, maar vooral ook de wereld een beetje beter wilt maken – dan is het LLP iets voor jou."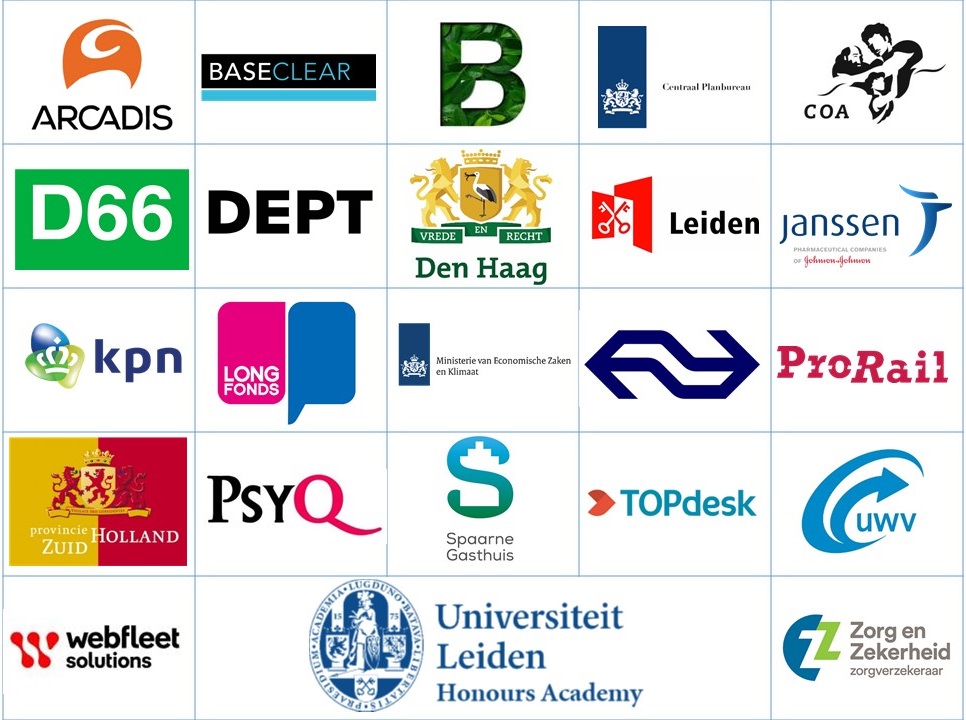 Praktijkopdracht bij partnerorganisaties
Het LLP wil dat studenten hun talenten leren kennen en effectief leren inzetten voor maatschappelijk of academisch leiderschap. Essentieel onderdeel van deze leercurve is de praktijkopdracht bij een partnerorganisatie.
Bij de praktijkopdracht ontwikkelen deelnemers organisatiesensitiviteit en passen ze opgedane leiderschapvaardigheden toe. De partnerorganisaties halen daarnaast veel uit de samenwerking met de studenten. Zij waarderen het contact en de vaak verfrissende uitkomsten. Dit jaar voeren studenten bij 22 partnerorganisaties een praktijkopdracht uit.
Tekst: Michiel Knoester