Mondiaal perspectief op zorg voor kinderen met ontwikkelingsstoornissen
De Cleveringa lezing in het Marokkaanse Rabat wordt dit jaar gehouden door prof. Maretha de Jonge. Met haar lezing getiteld "Weaving the lines of education and disability support" benadrukt de Jonge het belang van een mondiaal perspectief op ondersteuning van gezinnen die zorgen voor kinderen met ontwikkelingsstoornissen. De jaarlijkse Cleveringa bijeenkomst in Rabat is op 15 november 2022.
Maretha de Jonge spreekt in haar lezing over gelijkheid en inclusie van kinderen met een beperking in het algemeen en over de moedigheid van ouders om naar voren te stappen en het stigma te bestrijden. Ouders zijn vaak de drijvende kracht achter het verbeteren van zorg en onderwijs voor kinderen met ontwikkelingsstoornissen.", aldus de Jonge. "Het vraagt om een gezamenlijke en mondiale inspanning om beschikbare kennis en middelen, toepasbaar te maken voor mensen in alle taalgebieden en culturen". Daar is nog een wereld te winnen. In haar lezing spreekt zij over een project dat daar een kleine bijdrage aan levert.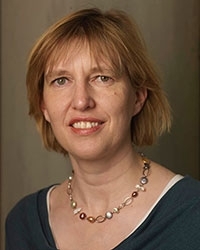 Over Maretha de Jonge
Maretha de Jonge's klinische onderzoek richt zich op ontwikkelingsstoornissen bij kinderen en adolescenten die het sociaal-communicatief functioneren beïnvloeden, waaronder autismespectrumstoornissen en selectief mutisme. Zij werkt als hoogleraar Orthopedagogiek aan het Instituut Pedagogische Wetenschappen van de Universiteit Leiden.
Stichting Nour
De Jonge spreekt in haar lezing over een project dat zij samen met ouders en professionals in Ouarzazate - een stad in het Atlasgebergte - heeft opgericht. Zij richtte Stichting Nour op met betrokkenen uit Nederland, om dit project te ondersteunen.
Het belangrijkste doel van het werk van deze stichting is het delen van kennis en ervaring om zorg en onderwijs voor kinderen met ontwikkelingsstoornissen en hun families te verbeteren. De Jonge zet zich ervoor in dat de uitwisseling van kennis een wederkerig proces is dat alle samenwerkende partners verrijkt, met als doel de zorg en het begrip voor gezinnen die kinderen met ontwikkelingsstoornissen opvoeden te verbeteren.
Uit wetenschappelijk onderzoek, uitgevoerd met een internationale groep studenten en lokale samenwerkingspartners, kwamen zorgthema's naar voren die ouders van kinderen met autisme in stedelijke en landelijke gebieden belangrijk vinden. Deze thema's vormen de basis voor volgende praktische en wetenschappelijke activiteiten.
Accepted for publication in Autism: International Journal of Research and Practice De Jonge M.V., Boutjdir, M, El Korchi, T., Torres H., Karpur A., Shih A., El Idrissi A. Urban and rural differences in needs, service use and satisfaction among caregivers of autistic children in Morocco
Lees meer over de Cleveringa bijeenkomst van Maretha de Jonge in Rabat ››
Cleveringa bijeenkomsten
Deze lezing maakt deel uit van de Cleveringa bijeenkomsten die over de hele wereld worden gehouden, georganiseerd door het Leids Universiteits Fonds in samenwerking met de regionale comités. Op 26 november 1940 hield professor Cleveringa, decaan van de Faculteit der Rechtsgeleerdheid van de Universiteit Leiden, een rede waarin hij het opnam tegen de maatregel om de Joodse hoogleraren te ontslaan. Ter herinnering aan deze beroemde protestrede houden Leidse wetenschappers sinds 1946 wereldwijd interessante lezingen. Lees meer ››