Meer over wetenschapscommunicatie? Luister mee tijdens de lunch!
Schuif je op donderdagmiddag 16 februari ook een half uurtje aan bij de online Zoom meeting van het Instituut voor Onderzoek naar Leefwijzen & Verslaving Onderzoeksinstituut (IVO)? Deze keer is Rachel Plak te gast. Zij zal vertellen over haar ervaringen met wetenschapscommunicatie.
'Live' in de common room van Pedagogische Wetenschappen
Deze zogenoemde #SciCommLunch van Onderzoeksinstituut IVO kun je op 16 februari tussen 12:30u en 13:00u 'live' bijwonen in de common room van Pedagogische Wetenschappen op de 4de verdieping. Terwijl jij je zelf meegebrachte lunch opeet, zie en hoor je Rachel vertellen over haar ervaringen met wetenschapscommunicatie op het grote scherm.
Je kunt deze meeting ook bijwonen via je eigen beeldscherm. Geef je dan op via de website van Onderzoeksinstituut IVO. Uiterlijk een dag van te voren ontvang je een Zoom-link in je inbox.
#SciCommLunch met Rachel Plak over wetenschapscommunicatie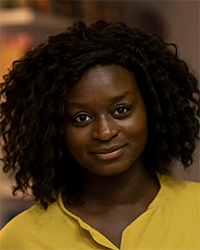 Over Rachel Plak
Rachel Plak doet onderzoek naar autisme. Ook verzorgt zij onderwijs over autisme. Voor het vak Autismespectrumstoornissen maakte zij een podcastserie waarin de ervaringen van mensen met autisme centraal staan.
Rachel is hiernaast voorzitter van de Young Academy Leiden werkgroep 'Outreach' en ze is lid van de Wetenschapscommunicatiecommissie van het Instituut Pedagogische Wetenschappen. Rachel vindt het belangrijk om het brede publiek te betrekken bij wetenschap. Zij zet zich in voor meer erkenning en waardering van wetenschapscommunicatie binnen en buiten de academie.
Over de online #SciCommLunches
Elke maand organiseert het IVO een online #SciCommLunch met een 'special guest'. Deze gast is actief op het gebied van wetenschapscommunicatie of maakt onderzoeksresultaten toegankelijk voor een breder publiek dan alleen wetenschappers. Bijvoorbeeld als blogger, podcastmaker, in de media, op social media of presentaties voor het algemeen publiek. Op donderdagmiddag 16 februari is Rachel Plak te gast.