Studieboeken weg en ontspannen maar: de Living Room is open
De Universiteit Leiden heeft donderdag 16 februari de deuren van de Living Room geopend. Deze 'tweede woonkamer' voor studenten is bedoeld als ruimte voor ontspanning en connectie en is een expliciete no study-zone voor Nederlandse en internationale studenten.
Anna de Keijzer, project coördinator bij het Well-being Office, knipte een lintje en opende daarmee officieel de Living Room. In haar speech legde ze uit dat de Living Room een ruimte is waar studenten elkaar kunnen ontmoeten en even kunnen ontspannen. Dat beamen twee van de studenten die aanwezig waren bij de feestelijke opening: 'De Living Room voelt gezellig en huiselijk aan, het is goed dat er niet gestudeerd wordt zodat de sfeer lekker ontspannen blijft.'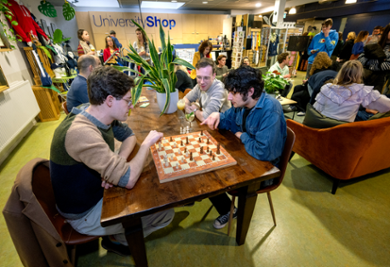 Hosts aanwezig
Vanaf nu is er elke maandag tot en met vrijdag tussen 12.00 en 17.00 uur een host aanwezig achter de Well-being Desk. Deze vrijwilligers organiseren activiteiten in de Living Room, zoals spelletjesmiddagen en schilderworkshops. Daarnaast zetten zij zich in voor het welzijn van hun medestudenten. Zo bieden ze een luisterend oor voor wie dat maar wil en kunnen ze studenten alles vertellen over de handvatten die de universiteit studenten biedt op het gebied van welzijn. En dat is fijn, zeggen aanwezige studenten, 'want studenten begrijpen de beleveniswereld van andere studenten nou eenmaal beter'.
Activiteiten
Aleydis, een van de hosts, vertelt: 'Ik vind het leuk om andere studenten via de Living Room te leren kennen en met ze in gesprek te gaan of samen te werken aan leuke activiteiten. Ik hoop dan ook dat nog meer studenten lezen over de Living Room en zich aanmelden als vrijwilliger of de gezelligheid hier komen opzoeken!' Zelf hoorde Aleydis over de Living Room via Uni-Life. Ook toekomstige evenementen worden daarop aangekondigd, al zullen aankondigingen ook in de Living Room zelf hangen. Benieuwd geworden? Loop eens binnen bij Plexus en breng een bezoekje aan onze Living Room hosts!
Tekst: Zaida Amorij
Foto's: Marc de Haan