'Als vluchteling mogen we onze dromen niet zomaar opgeven'
'In Leiden kan ik de weg naar mijn droom voortzetten: een eigen apotheek', zegt Duaa Abbas. Ze studeerde Farmacie in Syrië en werkte daar anderhalf jaar in een apotheek. Nadat ze het land moest ontvluchten, kwam ze in Nederland terecht. Dankzij de hulp van Stichting voor Vluchteling-Studenten (UAF) kan ze hier een nieuw leven opbouwen als toekomstig apotheker.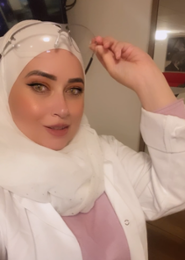 Toen Duaa vijf jaar geleden in Nederland aankwam, was ze bang dat ze nooit meer als apotheker zou kunnen werken. 'De opleiding in Syrië is anders dan in Nederland. Ik kreeg te horen dat ik een master aan een Nederlandse universiteit moest doen om hier weer te mogen werken als apotheekster. Dat was wel even een zware klap, want ik had in Syrië net de hele opleiding afgerond. Opnieuw gaan studeren zag ik eerst niet zitten.' Maar opgeven staat niet in haar woordenboek. 'Ik ben begonnen met lessen Nederlands om de taal zo snel mogelijk onder de knie te krijgen.'
Goed Nederlands spreken vindt ze zelf heel belangrijk. 'In een apotheek wil je mensen in hun eigen taal kunnen helpen en een goede uitleg kunnen geven.' En je hebt meer kans om een baan te vinden, aldus Duaa.
Het UAF als een soort vader
Duaa volgde drie jaar Nederlandse les en werkte ondertussene en jaar als farmaceutisch assistent in een apotheek. 'Dat was toch niet hetzelfde als zelf apotheker zijn. En dus heb ik na dat jaar besloten om er alles aan te doen om weer apotheker te worden. Ook al betekende het dat ik opnieuw een master moest doen.' Ze ging op zoek naar een manier om die droom waar te maken.
Op zaterdag 15 april 2023 organiseren we de vijfde editie van de Leiden Science Run. De volledige opbrengst van de sponsorloop gaat naar het UAF. Schrijf je team in of steun een van de teams via de website.
Via haar medestudenten hoorde ze over het UAF. 'Ik heb meteen contact gezocht en zij hebben meegekeken naar mijn diploma's, ervaringen en plannen. Ze hebben mij op veel vlakken bijgestaan: met het toelatingsexamen bijvoorbeeld, en met financiële hulp en advies.' Het is vooral dankzij het UAF dat Duaa weer kon studeren. 'Het UAF is een soort van vader voor ons als vluchtelingstudenten. Als we het even niet zien zitten, staan ze ons bij. Als we iets nodig hebben, helpen ze ons. Dat kan gaan van het vergoeden van reiskosten tot het aankopen van een laptop of studieboeken.'
Verschillen tussen Syrië en Leiden
Momenteel zit Duaa in de premaster Farmacie. 'Daarna moet ik nog drie jaar de master doen. Ik heb nog een lange weg te gaan, maar ik vind het heel fijn om in Leiden te studeren.' Vooral de combinatie van theorie en stages spreekt haar aan. 'En daarnaast is dit echt een fijne universiteit. We moeten veel studeren, maar de sfeer is rustig en relaxed.' Duaa werkt hard en dat werpt zijn vruchten af. 'Tot nu toe heb ik al mijn vakken in een keer gehaald', zegt ze trots.
'Wanneer er iemand in je gelooft, krijg je weer nieuwe energie om door te gaan.'
Wel moet Duaa nog wennen aan de Nederlandse vorm van onderwijs. 'De inhoud van de studie is natuurlijk gelijk, maar hier hebben we een andere manier van studeren dan in Syrië. Daar krijgen we de informatie die we vanbuiten moeten leren, hier moeten we die informatie meer zelfstandig opzoeken.' Daarnaast gaat de Nederlandse opleiding meer in op de details. 'In Syrië leer je meer de hoofdlijnen. Dat is wel even wennen en vind ik soms minder leuk.'
Op weg naar haar eigen Nederlandse apotheek
De komende jaren blijven de medewerkers van het UAF Duaa bijstaan. 'Ze steunen me altijd wanneer ik het even niet meer zie zitten, en ze geloven in me. Dat is het allerbelangrijkste. Wanneer er iemand in je gelooft, krijg je weer nieuwe energie om door te gaan.'
Duaa hoopt dat ze andere vluchtelingen kan inspireren om ook hun dromen te volgen. 'Het is niet gemakkelijk geweest, maar ik ben trots op mezelf. Na jaren studeren in Syrië ben ik hier weer doorgegaan, zelfs in een nieuwe taal.' Met die positieve blik kijkt ze naar de toekomst. 'Ik heb zin in de toekomst en hoop dat ik ooit mijn eigen apotheek kan openen.'