Alumnus Nadia Kadhim: Van kinderrechten tot Forbes 30 under 30
Alumnus Nadia Kadhim startte in 2017 als bedrijfsjurist die de AVG implementeerde bij een van de bedrijven waar ze vrijwilligerswerk verrichtte en ontving eind 2022 zowel de prijs Most Inspiring Woman in Cyber als een plekje in de Forbes lijst 30 under 30 met haar legal start-up Naq.. 'Durf de niet-traditionele kant op de te gaan. Als advocaat aan de zuidas wordt je zo vervangen door AI.'
Hoe ben je aan de universiteit Leiden terechtgekomen, wat studeerde je en hoe vond je de studie?
Ik wist niet zeker of ik rechten wilde studeren; ik twijfelde tussen psychologie en rechten. In de zomer vlak voordat ik definitief de keuze moest maken, keek ik naar de documentaire over Guantanamo bay. Het onrecht van die gehele situatie en de mensen die daar vast werden gehouden raakte me zo diep tot in mijn kern, dat ik direct voor rechten koos. Ik koos voor mensenrechten in Leiden vanwege de hele goede reputatie van deze faculteit op het gebied van mensenrechten. Tijdens mijn bachelor ben ik gaan toespitsen op kinderrechten. Die focus op kinderrechten kan te maken hebben met mijn eigen jeugd. Ik ben op mijn 14e uit huis geplaatst door de kinderbescherming. Vlak voordat ik begon met mijn bachelor-scriptie, kreeg ik een stage bij UNICEF in Geneve aangeboden voor 4 maanden. Na terugkeer uit Geneve ben ik mijn passie achterna gegaan door de Master Public International Law af te ronden.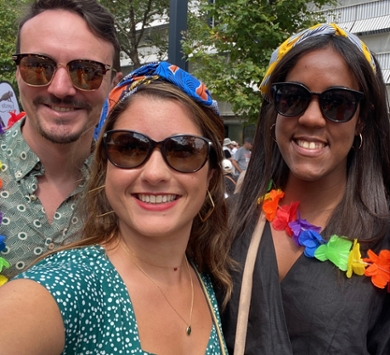 Je bent snel geswitched van kinderrechten naar (co)founder van een startup, hoe is dit proces verlopen?
Tijdens mijn studietijd heb ik veel vrijwilligerswerk gedaan, alles in het belang van of gerelateerd aan kinderbescherming. Na afronding van mijn Master ben ik gevraagd door één van die organisaties, Centrum voor Publieke Innovatie, waar ik als vrijwillige trainer werkzaam was om daar te werken als betaalde trainer. Toen ze ontdekten dat ik afgestudeerd jurist was, vroegen ze mij als bedrijfsjurist de AVG te implementeren. In die tijd, 2017, kwam AVG op en werden alle bedrijven en organisaties geconfronteerd met de (voor hen destijds nieuwe) eisen. De organisatie waar ik voor werkte was vrij klein, het bestond uit circa 25/30 man. De implementatie van met name AVG kostte verhoudingsgewijs ontzettend veel tijd en geld, het werd echt een project van meerdere jaren. Huidige co-founder Chris (Clinton, red.) werkte destijds bij de NAVO in Den Haag en had al een idee voor iets aan te bieden in het kader van cybersecurity voor kleine bedrijven. Met mijn ervaring in AVG hebben we samen aan een accelerator programma meegedaan, parttime naast onze reguliere banen. In januari 2021 zijn we fulltime van start gegaan met ons bedrijf Naq..
Hoe was het om zelf een bedrijf op te zetten?
Je komt in een soort pressure cooker terecht. Je leert in korte tijd ontzettend veel facetten van het opzetten en runnen van een bedrijf. Ik heb daardoor ook enorm veel over mezelf geleerd. Waar ik misschien wel iets te bleu ben ingestapt was het investeringstraject rondom Legaltech startups. Deze hebben enorm veel geld nodig om hun product te ontwikkelen. In ons geval ging het bijvoorbeeld om een app die bedrijven helpt automatisch de AVG te implementeren. Investeerders komen met eisen, daar moet je rekening mee houden. Daarbij heb je als founder van een start-up niet diezelfde richtlijnen die je als student of jurist hebt. Ik zou nu meer dan 1000 uur kunnen werken en dan nog is het werk nooit af.
Je moet veel aan staan en hard werken dus, hoe blaas jij stoom af?
In het weekend zing ik regelmatig in (cocktail)bars jazz, R&B, soul, pop… Allemaal begeleid door mijn vaste gitarist. Maar na een lange dag werken zet ik mijn verstand op nul en kan ik eindeloos afleveringen van Friends herkijken.
Had je verwacht dat je in de Forbes 30 under 30 zou komen?
Verwacht niet, maar het was voor mij wel een doel om mijn succes aan te meten. Ik wilde in de 30 under 30 komen. Wanneer ik dat had bereikt mocht ik door met een nieuwe stap. Ik wist uiteindelijk ook niet dat ik aangedragen was, dit was gedaan door mijn co-founder.
Wat is je stip op de horizon?
Momenteel zijn we bezig met partnerships waar iedereen van heeft gehoord, grote bedrijven die hun klanten willen doorverwijzen naar ons of white labelling (doorverkopen van ons platform) willen aanbieden. We hebben al aardig wat klanten, ik ben er bijvoorbeeld super trots op dat we Hiscox (grote verzekeraar, marktleider in cyberverzekeringen) als partner hebben. Als dat allemaal staat, willen Chris en ik Naq. verkopen. Het liefst ga ik daarna terug naar kinderrechten; waar nog altijd mijn passie ligt. Ik wil betekenisvol werk blijven doen.
Je rechtenstudie is sowieso van waarde omdat je op termijn terug wilt naar kinderrechten. Maar heeft je achtergrond in recht je ook geholpen met je startup?
Het heeft me enorm geholpen. Als je als startup founder geconfontreerd wordt met contracten en non-disclosure agreements, weet je veel beter hoe je daarmee om moet gaan. Er wordt wel eens gezegd 'je bent zelf je slechtste raadgever maar in een startup kun je vaak een externe jurist niet veroorloven en dan is het handig als je zelf alles begrijpt. Ook heeft het me geholpen in het werven van investeerders en klanten. Ik had natuurlijk geen ervaring in ondernemen en was erg jong, maar die paar jaren dat ik als AVG-jurist heb gewerkt hebben zeker bijgedragen in het overtuigend overkomen tijdens deze gesprekken.
Wat zou je huidige studenten willen meegeven?
Dat je altijd een keuze hebt, niets staat vast. En let op, de status en ontwikkeling van technologie gaat vele malen harder en sneller dan enige ontwikkeling in de wetgeving. De huidige student kan daar zijn of haar voordeel mee behalen. Er is ontzettend veel vrijheid om nieuwe producten te bouwen waar je je tijd mee voor kunt zijn. Dit geldt des te meer voor de juridische wereld waar alles nog vrijwel handmatig en op papier wordt verwerkt, denk aan de grote wetboeken. En dit, terwijl het werk van de jurist vooral bestaat uit kennis vergaren en toepassen. Kijk naar de komst van ChatGPT, dat kan dit soort werk heel makkelijk vervangen. Kortom, ook of juist binnen het juridische werkveld, is er veel verandering nodig. Er wordt ook al steeds meer Artifical Intelligence gebruikt om bijvoorbeeld contracten te automatiseren. Durf dus de niet-traditionele kant op te gaan! Kijk naar mij, ik heb de prijs most inspiring woman in Cyber 2022 gewonnen én sta op de Forbes lijst 30 under 30 met mijn internationale rechtenbul. Geloof me, als advocaat aan de Zuidas wordt je zo vervangen door AI.