Studeren in het buitenland: Heb jij al eens aan een Summer School gedacht?
Studeren in het buitenland en op uitwisseling gaan is een geweldige manier om je horizon te verbreden en nieuwe plaatsen, culturen en studierichtingen te verkennen. Naast een uitwisseling van een volledig semester is er nog veel meer mogelijk: een Summer School of een stage. Bart Geldermans, student Bestuurskunde, ging bijvoorbeeld naar Milaan voor een Summer School aan de Bocconi Universiteit.
Bart Geldermans: 'Het was echt ontzettend leuk. Ik koos voor dit programma omdat het in dezelfde stad was waar ik het semester erna op uitwisseling zou gaan. Een mooie gelegenheid om alvast de stad te leren kennen. Het programma duurde drie weken. We kregen afwisselend in de ochtend of de middag les over ondernemerschap. In de les werkten we aan een ondernemingsplan voor een eigen startup. Geen theoretische stof, maar praktisch bezig zijn met je eigen en elkaars ideeën.'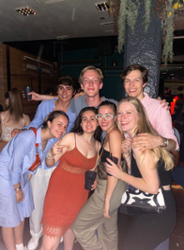 Aanrader voor iedereen
Tijdens een fieldtrip gingen Bart en zijn studiegenoten naar een wijngaard in de bergen en ook was er tussendoor genoeg tijd om leuke cafés en restaurants in de stad te bezoeken. 'Wat ik erg leuk vond was om internationale vrienden te maken en mensen te spreken met een heel andere achtergrond. Het was grappig om de verschillen en de overeenkomsten tussen onze culturen en opvoedingen te vergelijken. Daarnaast ben ik er tijdens de Summer School achter gekomen dat ik geen ondernemer in hart en nieren ben. Daar is zo'n korte cursus ook goed voor. Het was een mooie ervaring om tijdens een soort vakantie kennis te maken met een andere universiteit en studie. Ik kan het iedereen aanraden. Stuur me vooral een berichtje als je zelf geïnteresseerd bent om naar het buitenland te gaan en nog vragen hebt.'
Afhankelijk van je studieprogramma zijn er verschillende internationale activiteiten mogelijk. Bij sommige kan je studiepunten krijgen of het kunnen verplichte of optionele onderdelen van je opleiding zijn. Anderen zijn extra-curriculaire activiteiten als aanvulling op je studie. Voorbeelden van activiteiten zijn een stage, onderzoek of veldwerk in het buitenland, zomer- of winterschoolprogramma's en studiereizen georganiseerd door studieverenigingen.
Neem contact op met FGGA International Office
Lijkt het je interessant om in het buitenland te gaan studeren? Kom meer te weten over alle mogelijkheden. Meer informatie lees je hier. Houd de Brightspace-pagina's van je opleiding in de gaten, want daar wordt regelmatig informatie over zomer- en winterschoolprogramma's gepubliceerd. Aarzel niet om het FGGA International Office een e-mail te sturen als je vragen hebt! We zijn er om je te helpen. Informeer ons altijd over je internationale plannen en controleer vooraf of je studiepunten kunt krijgen voor je activiteit.
Studenten die je al voorgingen naar het buitenland, hebben hun ervaringen voor je vastgelegd. Kijk hier voor student reports over studeren, stagelopen en meer in het buitenland.