Skills Training
De POPcorner biedt ieder studiejaar een ruim aanbod aan workshops en cursussen om jou te helpen met leren leren. Er zijn zowel workshops in het Nederlands als in het Engels beschikbaar.
Effectief Studeren
Wat leer je?
Vind je het moeilijk om bij het studeren onderscheid te maken tussen de belangrijkste informatie en minder belangrijke informatie? Of vind je het moeilijk om geconcentreerd te blijven als je veel studiemateriaal moet lezen?
In deze workshop leer je een methode om actiever en geconcentreerder te studeren. Ook besteden we aandacht aan hoe je je concentratie kunt verbeteren.
Time Management
Wat leer je?
In deze workshop leer je hoe je een realistische weekplanning maakt en hoe je je daaraan kunt houden. Als voorbereiding op de workshop houd je een week lang een tijdlogboek bij. Het is de bedoeling dat je van uur tot uur bijhoudt hoe je je tijd besteedt. Wanneer je aan deze workshop deelneemt, heb je je agenda en een overzicht van al je studietaken voor de komende periode bij de hand.
Making (mutiple choice) exams & exam confidence
Wat leer je?
In deze workshop leer je hoe je meer zelfvertrouwen ontwikkelt in het maken van examens en hoe je omgaat met examenstress. Daarnaast geven we je tips over hoe je je het beste kunt voorbereiden op verschillende soorten examens.
Studie Plan Groep
Heb je moeite met het maken van een wekelijks studieplan dat werkt? Of maak je mooie planningen maar houd je je er niet aan?
De studieplangroep is voor studenten die moeite hebben met het maken van en zich houden aan een realistische planning. De groep komt eens per week bij elkaar. Tijdens deze bijeenkomst bespreken we hoe je planning van de afgelopen week is gegaan, en waar de valkuilen zaten. Ook maak je tijdens de bijeenkomst een nieuwe planning voor de komende week, die we met de groep bespreken.
Heb je vragen over de Skills Trainingen en Study Plan Group neem contact via popcornerthehague@leidenuniv.nl.
Inloopspreekuur studievaardigheden
Heb je vragen over:
Plannen
Hoofd- en bijzaken onderscheiden
Geconcentreerd studeren
Tentamens voorbereiden
Dikke boeken de baas worden
Handige workshops en trainingen die geschikt voor je kunnen zijn
Elke dinsdag van 16:00-17:00 in Beehive 0.10, zaal Apiary. Geen afspraak nodig; kom gewoon langs!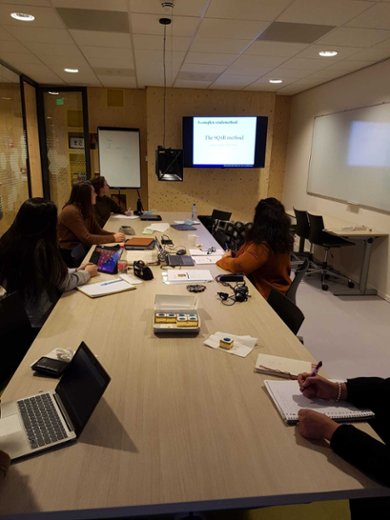 Testimonial: Jelmer Groenenboom, Liberal Arts & Sciences: Global Challenges
Deze workshop Timemanagement werkte voor mij goed, omdat er ook aandacht is voor wat er niet werkt, de manier van plannen vrij straightforward is en je ook leert om ruimte te maken voor vrije tijd. Je krijgt terwijl je ermee oefent ook steeds meer inzicht in hoeveel tijd dingen je daadwerkelijk kosten, dus het wordt steeds makkelijker om te doen. Sinds ik het ben gaan gebruiken voelt het als meer vrije tijd en minder stress, dus ik zou hem zeker aanraden.
Testimonial Matyas Hansel, Urban Studies
Ik schreef me in voor alle workshops van de POPcorner aangezien ik nog moeite had met effectief studeren in mijn eerste semester. Ik had hoge verwachtingen en ze hebben inderdaad enorm geholpen in het eigen maken van allerlei studentenzaken, zoals het studeren, organiseren van tijd, mentale gezondheid en openbaar spreken vaardigheden. De sfeer was altijd erg informeel en Gianelle, de werkgroep docent, bood zelfs 1 op 1 coaching sessies aan om me te helpen wanneer ik achterliep.