Studentenpanel
Het studentenpanel van de POPcorner FGW bestaat uit 4 student-leden van verschillende studies. Dit zorgt ervoor dat het studentenpanel van de POPcorner FGW een brede groep studenten kan vertegenwoordigen. Het panel organiseert activiteiten als promoties, lezingen, excursies en borrels en draagt zo bij aan de POPcorner community.
Sinan Zhao
Hoi! Mijn naam is Sinan, ik ben 19 jaar en eerstejaars student filosofie hier in Leiden. Als internationale student die in China, de VS en Denemarken heeft gestudeerd voordat ik naar Nederland kwam, kan ik me volledig inleven in de worstelingen en uitdagingen waarmee studenten worden geconfronteerd nadat ze in een nieuwe omgeving zijn gekomen, en hopelijk kan ik wat hulp bieden wanneer je iemand nodig hebt om mee te praten! Het studentenpanel van POPcorner heeft het initiatief van studenten die studenten helpen, wat ons een manier geeft om potentiële veranderingen te bekijken vanuit het perspectief van studenten! Hopelijk tot snel bij een van de POPcorner workshops ( ´▽` )ノ
Sahba Manouchehri
Mijn naam is Sahba Manouchehri en ik doe mijn master Linguistics -Language and Communication- aan de Universiteit Leiden. Student Geesteswetenschappen zijn betekent je bezig houden met en het bereid zijn om delen van jezelf te ontdekken en je rol en missie binnen de gemeenschap te vinden, en ik geloof dat dit onbereikbaar is zonder communicatie en verbinding, en het delen met elkaar op onze universiteit. Ik zou graag de POPcorner te helpen een plek te zijn waar studenten een gevoel van verbondenheid kunnen vinden en waar iedereen de kans heeft om zich vrij uit te drukken!
Nadien Abou Elmagd
Hoi! Ik ben Nadien Abou Elmagd – een student op zowel de Faculteit Geesteswetenschappen als de Faculteit Rechtsgeleerdheid. Momenteel ben ik een vierdejaarsstudent aan de Universiteit Leiden. Daarnaast heb ik zelf een biculturele achtergrond. Met behulp van alle kennis en ervaring die ik als student heb opgedaan, hoop ik andere studenten te kunnen helpen. Ook hoop ik studenten een luisterend oor te kunnen bieden, om hen thuis te laten voelen en hen met vertrouwen weer naar hun lessen te laten gaan! Ik vind het geweldig dat er een plek als de POPcorner is om studenten een safe space te bieden en ik ben trots hier deel van uit te mogen maken.
Fons van de Wetering
Mijn naam is Fons van de Wetering, Masterstudent Russian and Eurasian Studies en dit jaar panellid van de POPcorner geesteswetenschappen. Als eerstegeneratiestudent zag ik de universiteit als een leerfabriek, en was ik me niet bewust van de mogelijkheden en ondersteuning die de ze biedt. In het komende jaar wil ik me niet alleen inzetten om alle studenten zich thuis te laten voelen, maar ook in de gelegenheid stellen om het meeste van hun tijd op de universiteit te maken.
Wil je ook meedenken in het Studentenpanel?
Voor meer informatie of om je aan te melden stuur een mail naar POPcorner@hum.leidenuniv.nl.
Dasha Lohvynova
Hey! Mijn naam is Dasha, ik ben 20 jaar en ik ben een tweedejaars student. Ik geloof dat de POPcorner een geweldig initiatief is dat kan helpen om de ervaringen en het leven van studenten tijdens hun studie aan de Universiteit Leiden te verrijken en te verbeteren. Ik ben lid geworden van het POPanel omdat ik wil bijdragen aan een zo'n initiatief en studenten wil helpen zich op de universiteit zo te laten voelen als thuis, waar ze altijd een plek hebben, waar ze voor alles terecht kunnen, waar ze gewoon een leuke tijd hebben, nieuwe vrienden en hobby's kunnen zoeken.
Sonida Sok
Mijn naam is Sonida Sok. Ik studeer momenteel International Studies en volg de minor Global Affairs. Als eerste-generatie-student begrijp ik heel goed hoe lastig het kan zijn om je eigen weg te vinden op de universiteit. Door mij bij het studentenpanel aan te sluiten hoop ik een community te creëren waarin studenten zich op hun gemak kunnen voelen. Zeker in deze tijden is zo'n thuisgevoel ontzettend belangrijk!
Nasreen Javanjoo
Mijn naam is Nasreen Javanjoo en ik zit in mijn tweede jaar van de BA Religiewetenschappen. Ik vind het belangrijk dat alle studenten aan de universiteit een eigen plekje kunnen vinden en dat ze hierbij zo goed mogelijk geholpen worden. Dit is op dit moment voor velen een uitdaging en ik denk dat veel studenten wel een steuntje in de rug kunnen gebruiken. Ik wil graag een welkome omgeving creëren om zo het leven als student net wat makkelijker en leuker te maken.
Zahraa Abdul Kadir
Hi, mijn naam is Zahraa Abdul Kadir. Ik studeer Midden-Oosten Studies, en mag dit jaar onderdeel uitmaken van het POPcorner studentenpanel! Voor mij is het erg belangrijk om je thuis te voelen op de universiteit, en vooral in tijden zoals deze, is het fijn om te weten dat je ergens terecht kunt! Ik hoop daarom dat we, ondanks de beperkte mogelijkheden, ondersteuning kunnen bieden aan iedereen die daar behoefte aan heeft!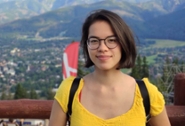 Janessa Vleghert
Mijn naam is Janessa Vleghert. Ik ben student-assistent bij de POPcorner FGW en lid van het studentenpanel van de POPcorner. Ik studeer Engelse Taal en Cultuur met een minor Digital Humanities. Zelf ben ik in contact met de POPcorner gekomen toen ik ondersteuning nodig had. Nu wil ik andere studenten dezelfde steun bieden.
L'Aurora Mazzitelli
Mijn naam is L'Aurora Mazzitelli en ik zit nu in mijn tweede jaar van de BA Engelse Taal en Cultuur. Ik ben een eerstengeneratie student, wat wil zeggen dat niemand anders in mijn familie ooit heeft gestudeerd aan een universiteit. Gianelle heeft mij geholpen met elke vraag die ik kon bedenken en heeft me een beetje wegwijs gemaakt in de werkingen van de uni. Ik wilde graag in het panel zodat ik studenten zoals ik ook zou kunnen helpen.
Carolina Lins Machado
Mijn naam is Carolina en ik ben een Master student Theoretische en Experimentele Linguïstiek. Ik kwam voor het eerst in aanraking met de POPCorner na het bijwonen van een POPTalk in 2018. Naast panellid te zijn, ben ik ook vrijwilliger bij het Meeting Point, dat ondersteuning biedt aan vluchtelingenstudenten. Ik geloof dat de POPCorner niet alleen voor eerste generatie studenten een belangrijke plek is, maar voor alle studenten die hulp of begeleiding nodig hebben als het gaat om hun academische leven.
Ebrar Kaya
Mijn naam is Ebrar Kaya. Ik heb Religiewetenschappen gestudeerd en studeer nu Midden-Oostenstudies. Het is voor mij erg belangrijk dat studenten zich thuis kunnen voelen op zowel de universiteit als bij de opleiding. Dit zorgt voor minder uitval en voor meer studenten met passie voor hun onderzoeksveld.
Emma Oosterink
Mijn naam is Emma Oosterink en ik studeer International Studies aan de locatie Wijnhaven in Den Haag! Ik ben lid geworden van het studentenpanel van de POPcorner FGW, omdat ik het erg belangrijk vind dat de universiteit een plek is waar alle studenten zich fijn en thuis kunnen voelen. Aangezien ik veel te maken heb met internationale studenten binnen mijn studie wil ik hen graag zich meer gerepresenteerd laten voelen.
Pepijn Bouwmans
Ik ben Pepijn, ik ben 23 jaar en ik help dit jaar mee aan de POPcorner van de Faculteit Geesteswetenschappen. Ik zit in het laatste jaar van mijn bachelor en ben lid van de faculteitsraad. Daarnaast houd ik van koken, sporten en gezelligheid.
Sam Saifullahzadeh
Hallo allemaal, mijn naam is Sam Saifullahzadeh en ik ben een derdejaars Moderne Midden-Oosten Studies student. Ik ben in eerste instantie in aanraking gekomen met de POPcorner omdat ik een eerstejaarsstudent help zijn Nederlands te verbeteren. Vervolgens heb ik mij aangesloten bij het studentenpanel, omdat ik het belangrijk vind dat studenten met een niet-Nederlandse achtergrond hulp moeten kunnen ontvangen op het gebied van taal, studievaardigheden en integratie.
Hezja Mahmood
Mijn naam is Hezja Mahmood. Ik ben student-assistent bij de POPcorner FGW en lid van het studentenpanel van de POPcorner. Ik studeer Midden-Oosten Studies met als specialisatie Modern Midden-Oosten. Ik heb voor de POPcorner gekozen, omdat ik zelf een eerste-generatie-student ben en ik in mijn eerste jaar op de universiteit moeite om "thuisgevoel" te hebben. Ik denk persoonlijk dat er meer studenten zijn met hetzelfde probleem en samen met de POPcorner en de andere panel leden willen wij jullie een thuisgevoel geven.