Teaching Prize winner Ayo Adedokun: teaching is a calling
'Teaching is not merely a profession; it's a calling.' These were the words of Ayo Adedokun on winning the LUS Teaching Prize at the opening of the academic year on 6 September. The prize is for the best lecturer of the year.
Adedokun was visibly moved when he received the prize from the Chair of the Leiden University Student Platform. The Teaching Prize comprises 25,000 euros to spend on innovation in teaching and learning, and membership of the University's Teachers' Academy. Adedokun became a lecturer at Leiden University College The Hague (LUC) in January 2020 and had not expected to win such a prize so soon. Adedokun was chosen for, among others, his original way of keeping in touch with his students during the pandemic: he took them for walks. 'That was the best way to find out how they were doing.' He also introduced some entertainment into his class: he played jazz music during the breaks to calm the students down. Plus, he organised coaching sessions for his final year students: 'coaching sessions are an opportunity for LUC students to discuss life beyond LUC, such as potential career paths, opportunities for self-development, and more.'
Impressed by 'Leiden' ethos and culture
Two days later Adedokun is lyrical in his enthusiasm for his place of work: 'I am really impressed by Leiden's ethos and culture. The University values merit, performance, achievement and, most importantly, relationships. We really care about one another. From my first days I felt a strong spirit of camaraderie.'
A political scientist and international development specialist by training, Adedokun specialises in conflict, peacebuilding and development, with a regional focus on Africa. At the LUC he teaches students from two specialisations – Governance, Economics and Development; and World Politics – and a wide range of courses, including Politics and Development of Africa; Human Security; Public Policy Analysis; Institutions of Governance and Development; and Peace and Conflict Studies.
What typifies your teaching?
'I have three overarching goals for any course that I teach: 1) to foster critical thinking, 2) to promote mastery of course content, and 3) to encourage application of course materials to real-world contexts. I emphasise problem based learning (PBL) in all of my courses. I am committed to an interdisciplinary approach to scholarship and teaching. I believe the solutions to global challenges, such as climate change, the Covid-19 pandemic, poverty and conflict cannot be found within a single discipline. So, I encourage my students to draw upon many disciplinary sources so that they can synthesise those sources and use them to explore complexities fully and then to take a stand. To model inclusive approaches to intellectual inquiry, my courses have been "decolonised". In terms of the course materials, the reading list emphasises the voices of authors from both the Global North and the Global South.'
Ayokunu ('Ayo') Adedokun comes from Nigeria but can justifiably call himself a world citizen: the countries he has lived in include the UK, the US, Norway and Mozambique. He earned a bachelor's degree in political science from the University of Lagos, Nigeria as a Chancellor Scholar. He completed a Master of Philosophy (M.Phil.) degree in international development at Oxford University, in the UK, as a Clarendon Scholar and completed a PhD at Maastricht University in 2016. Before he came to Leiden, he taught at Maastricht University and the United Nations University (UNU MERIT) in the Netherlands, as well as at the American University of Nigeria (AUN). He has also worked and consulted for the World Bank in the US, the British Council in the UK and as an adviser to the Nigerian government. In his research the questions Adedokun is most passionate about are: Why are some communities and societies characterised by conflict and poverty, while others remain peaceful and prosperous? What can be done to promote sustainable peace and inclusive development? What is the role of 'local' and 'international' actors?
On receiving the LUS Teaching Prize you said teaching isn't a job but a calling...
'Being a teacher gives you the opportunity and privilege of making an impact on society by shaping the minds of the next generation. It takes passion, patience, empathy, dedication, and the ability to do more with less. And that's why for me, teaching is not merely a profession; rather it is a calling, a vocation and an opportunity to bring out the best in my students and to inspire, motivate them to strive for greatness, to believe in possibilities and dream big dreams.'
'My teaching philosophy is that I believe all students are capable of learning. However, they do not learn at the same rate. So, I use a combination of lectures, tutorials, seminars, and PBL approaches to engage my students. My teaching style is designed to accommodate all types of learners from different races, ethnic groups and socio-economic backgrounds. But I am also flexible and I know how to adapt my teaching whenever necessary.'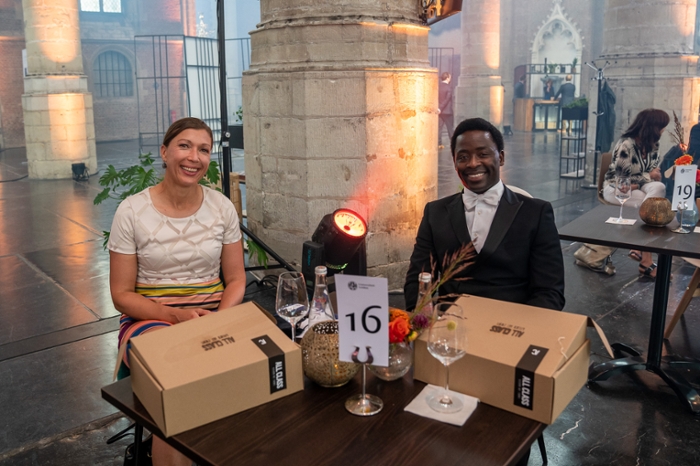 What was it like to teach during the pandemic? What have you learned?
'A lot. For example, to address the challenges of online learning, such as distractions, screen fatigue, less social interaction, anxiety and depression I devised strategies to improve student engagement. I strongly believe that human connection is more important than ever in these difficult times. Creating a personal connection means taking time to interact with each student, getting to know them and knowing their hobbies and interests. I used the first ten minutes of each lesson to have a chat and ask students about their well-being. I also introduced the 'tutorial system', a student-centred approach to collaborative learning. Here I had my students give a presentation to their peers, followed by a debate. I also created debate and group discussions in breakout rooms on Microsoft Teams.'
Do you already know how to spend your 25,000 euros for educational innovation?
'I have some cool ideas on innovative teaching and learning strategies, and I'm looking forward to brainstorming with other colleagues at the Leiden Teachers' Academy.'
Text: Corine Hendriks
Photos: Monique Shaw