Programme
What can I do in the Humanities Lab Programme? Continue reading to find out the possibilities!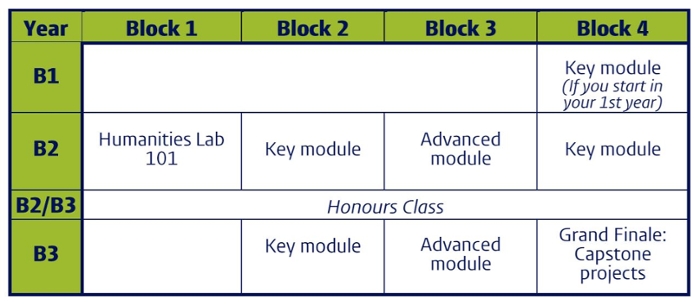 Humanities Lab is a flexible 30 EC programme. You choose the six components (5 EC each) in blocks that combine best with your regular BA schedule. The introduction module Humanities Lab 101 and the concluding Capstone Project are mandatory for all students. From the electives on offer, you choose two key and one advanced module. Students enrolling in the second semester of their first BA year start with a key module in block 4, students enrolling in September of year 2 start with the compulsory module Humanities Lab 101.
Each module is taught in a block of 6 meetings, and typically features presentations, group discussions, guest lectures and excursions. All Humanities Lab modules are scheduled on Friday afternoons. Honours classes are offered by the Honours Academy, throughout the year and on different days and hours of the week. There are modules and classes scheduled both in Leiden and The Hague. You can check the full range of courses in the Prospectus.
Six lectures combined with tutorials, offering a general introduction to core concepts and themes in the humanities. Examples include questions such as: Are humanities outclassed by the sciences? Is history coming to an end? How does meaning work? What is the purpose of novels, of art, or of thought experiments?
The lectures culminate in a final assignment. In recent years, students made a short film. Read the articles below for some examples:
Small interdisciplinary workgroups addressing questions of topical societal interest, using cross-disciplinary methods of approach. Topics include cultural memory, Dutch colonialism, museum studies, identity, food studies, and sociolinguistics.
Students work together in small teams on a research project of their own design, in which they focus on a question of topical interest for society or the world of science. Students present their findings at a closing conference with staff, stakeholders, and community members.
Read this article on the Capstone Conference to get an impression.
Honours Classes bring together students from different programmes across the university to work on interdisciplinary topics and to train specific academic skills. Topics range from mindfulness to cybersecurity, and from creative writing to negotiation and conflict management.