Student Panel
The Humanities POPcorner student panel consists of 4 student members, all from different study programmes. This ensures that the POPcorner FGW student panel is able to represent a larger group. The panel organizes activities such as promotions, lectures, excursions, and get-togethers, thus contributing to the POPcorner community.
Sinan Zhao
Hi! My name is Sinan, I am 19 years old and I am a first-year student studying philosophy here at Leiden. As an international student who studied in China, the US, and Denmark before coming to the Netherlands, I can totally relate to the struggles and challenges students face after coming into a new environment, and hopefully I can provide some help when you need someone to talk to! The POPcorner student panel holds the initiative of students helping students, which grants us a way to look at potential changes through students' perspectives! Hope to see you soon at one of the POPcorner workshops ( ´▽` )ノ
Sahba Manouchehri
My name is Sahba Manouchehri and I am doing my Master's in Linguistics -Language and Communication- at Leiden University. Being a student in Humanities means having concerns and willingness to discover deeper parts of self and find one's role and mission within the community, and I believe it is unattainable without communication and connection, and sharing with each other in our University. I'd love to and hope to be able to help POPcorner be a place where students find a sense of belonging and everyone has the chance to freely express themselves!
Nadien Abou Elmagd
Hi! My name is Nadien Abou Elmagd – a student at both the Faculty of Humanities and the Faculty of Law. I am currently a fourth year student at Leiden University. I also have a bicultural background. With the help of all the knowledge and experience I gained as a student, I hope to be able to help other students. I also hope to be able to offer students a listening ear, to make them feel at home and to let them go back to their classes with confidence! I love that there is a place like the POPcorner to provide students with a safe space and I am proud to be a part of this.
Fons van de Wetering
My name is Fons van de Wetering, MA Student of Russian and Eurasian Studies and member of the Humanities POPCorner for this year. As a first-generation student I used to look at university as just a learning institution, and I was unaware of all the opportunities and support systems that it has. In the coming year I want to work to make all students not only feel at home, but confident to make the most of their time in university.
Dasha Lohvynova
Hi! My name is Dasha, I am 20 years old and I am a second-year student. I believe that POPcorner is a very great initiative which can help to enrich as well as to enhance students' experiences and life during their study at Leiden University. I joined Panel since I want to contribute to such initiative and help students to feel at university as at home where they always have a place to turn to for anything and just have nice time, finding new friends and hobbies.
Sonida Sok
My name is Sonida Sok. I am currently studying International Studies and taking the minor Global Affairs. As a first-generation student, I understand very well how difficult it can be to find your own way at university. By joining the student panel I hope to create a community in which students can feel at ease. Especially in these times, such a home feeling is extremely important!
Nasreen Javanjoo
My name is Nasreen Javanjoo and I am in my second year of the BA Religious Studies. I think it is important that all students at the university can find their own place and that they are helped as well as possible. This is currently a challenge for many and I think that many students could use a helping hand. I would like to create a welcome environment to make life as a student just that little bit easier and more fun.
Zahraa Abdul Kadir
Hi, my name is Zahraa Abdul Kadir. I am studying Middle Eastern Studies, and this year I can be part of the POPcorner student panel! For me it is very important to feel at home at university, and especially in times like these, it is nice to know that you have somewhere to go! I therefore hope that, despite the limited possibilities, we can offer support to everyone who needs it!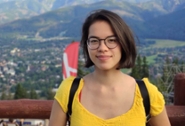 Janessa Vleghert
My name is Janessa Vleghert. I am a student assistant at the Humanities POPcorner and a member of the student panel at the POPcorner. I study English Language and Culture and take a minor in Digital Humanities. I came into contact with the POPcorner when I needed support. Now I want to offer the same support to other students.
L'Aurora Mazzitelli
My name is L'Aurora Mazzitelli and I am now in the second year of the BA English Language and Culture programme. I am a first generation student, which means that no one else in my family has ever studied at a university. Gianelle has helped me with every question I could think of and has given me a little insight into the workings of the uni. I wanted to be on the panel so that I could help students like me.
Carolina Lins Machado
My name is Carolina and I'm an MA student of Theoretical and Experimental Linguistics. I first came in contact with the POPCorner after attending a POPTalk in 2018. Besides being a panel member, I also volunteer at the Meeting Point, which offers support for refugee students. I believe the POPcorner is an important place not just for first generation students, but for all students needing help or guidance when it comes to their academic life.
Ebrar Kaya
My name is Ebrar Kaya. I studied Religious Studies and am currently studying Middle Eastern Studies. It is very important to me that students can feel at home in both the university and their study programme. This results in fewer dropouts and more students with a passion for their research field. Hopefully, as POPcorner panel, we will be able to increase this sense of home among our fellow students.
Emma Oosterink
My name is Emma Oosterink and I am a student of International Studies at the Wijnhaven location in The Hague! I joined the student panel of the Humanities POPcorner, because I think it is very important that the university is a place where all students can feel comfortable and at home. As I come in touch with international students in my study programme, I would like them to feel more represented.
Pepijn Bouwmans
I am Pepijn, I am 23 years old and this year I am helping out at the POPcorner of the Faculty of Humanities. I am in the last year of my bachelor's programme and I am a member of the faculty board. I also like to cook, play sports, and have fun.
Sam Saifullahzadeh
Hello everyone, my name is Sam Saifullahzadeh and I'm a third-year Modern Middle Eastern Studies student. I first came into contact with the POPcorner because I am helping a first-year student improve his Dutch. I then joined the student panel, because I think it is important that students with a non-Dutch background should be able to receive help when it comes to language, study skills and integration.
Hezja Mahmood
My name is Hezha Mahmood. I am a student assistant at the Humanities POPcorner and a member of the student panel at the POPcorner. I study Middle Eastern Studies with a specialization in Modern Middle East. I chose to join the POPcorner because I am a first-generation student myself and in my first year at university I struggled to feel "at home". I personally think there are more students facing the same problem and together with the POPcorner and the other panel members we want to make you feel at home.