Perspectives on the World belicht bijzonder onderzoek 2014-2015
Van masterstudent tot hoogleraar: op alle niveaus wordt binnen de Faculteit der Geesteswetenschappen bijzonder en spraakmakend onderzoek verricht. In Perspectives on the World, Research within the Faculty of Humanities zijn studenten en wetenschappers van de faculteit aan het woord over hun onderzoek van het afgelopen academisch jaar.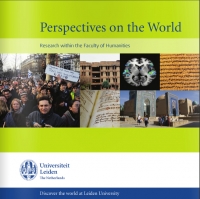 De kracht van herinneringsmonumenten, opmerkelijke veranderingen in Middeleeuwse boekwerken, de situatie-afhankelijke betekenis van vrijheid, de fictieve presentatie van het mythische Samarkand: voorbeelden van bijzonder en spraakmakend onderzoek. Acht boeiende interviews die een beeld geven van de breedte van Geesteswetenschappen in Leiden, en van de passie en de kwaliteit van haar onderzoekers.
Jaarlijkse uitgave
Perspectives on the World is een jaarlijkse uitgave. Het boekje is voorzien van mooi fotomateriaal en geheel Engelstalig. Naast de serie portretten, bevat het ook een korte introductie op de faculteit zelf.
Beschikbaar
Het boekje beschikbaar voor medewerkers en relaties van de faculteit. Een digitale versie kunt u downloaden op de facultaire website. Voor vragen en drukwerkexemplaren kunt u contact opnemen met de afdeling Communicatie en Werving: communicatie@hum.leidenuniv.nl.