Els de Busser krijgt NWO-financiering voor project in oplossen cyberveiligheidsproblemen
Dr. Els de Busser, assistent-professor en onderzoeker aan het Institute of Security and Global Affairs, heeft als hoofdonderzoeker van een consortium 1,45 miljoen euro gekregen voor een project genaamd C-SIDe.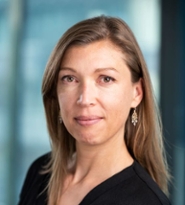 Het NWO-bestuur heeft voorstellen gehonoreerd van consortia die onderzoek gaan doen naar cyberveiligheid. Vijf vragen over C-SIDe.
Waar gaat het project over?
De Busser: 'Het project heet Cyber Security by Integrated Design (C-SIDe) omdat het doel is om een methodologie te ontwikkelen voor het softwareontwerpproces waarin zowel technische als niet-technische aspecten van cybersecurity zijn geïntegreerd. In plaats van alleen te focussen op de technische kant van softwareontwerp, kan een veel hoger beveiligingsniveau worden bereikt wanneer een veelheid aan belanghebbenden wordt betrokken, waaronder deskundigen op het gebied van psychologie, privacy, governance en risicobeheer. Wanneer problemen tijdens het ontwikkelingsproces worden opgelost in plaats van later, voorkomen we dat problemen aan de oppervlakte komen wanneer het systeem toegankelijk wordt voor de gebruikers, en mogelijk echte schade aanrichten. Om de invoering van deze aanpak te vergemakkelijken, omvatten we ook een onderzoek naar de beleidsopties van de overheid inzake cyberveiligheid, ter ondersteuning van bedrijven die werken aan 'secure-by-design-producten'. Er zijn veel bewegende onderdelen in cyberbeveiliging en daarom is een aanpak op alle fronten noodzakelijk.'
Waarom is dit onderzoek nodig?
De Busser: 'Dit onderzoek is nodig omdat storingen in het functioneren, hacks of privacy-gerelateerde problemen in softwaresystemen vaak voorkomen, maar een echte aanpak om ze te voorkomen door in te grijpen op het vroegste moment van de ontwerpfase nog niet bestaat. Dit project is uniek omwille van dat specifieke doel en omwille van de interdisciplinaire aanpak om dat doel te bereiken. We brengen experts uit de relevante domeinen bij elkaar door een samenwerking op te zetten tussen het Institute for Security and Global Affairs (bij de Faculteit Governance and Global Affairs), het Leiden Institute for Advanced Computer Science, de Haagse Hogeschool en het Nationaal Cyber Security Centrum van het Ministerie van Justitie en Veiligheid. Verder werken we samen met SURFSara, en het Nationaal eHealth Living Lab van het Leids Universitair Medisch Centrum. Zij zullen ons helpen bij het testen van de methodologie.'
Dr. Els de Busser: 'Aangezien interdisciplinair onderwijs in cybersecurity iets is dat de Universiteit Leiden en de Haagse Hogeschool actief ondersteunen, zullen de inzichten die uit het project voortvloeien worden gebruikt om de bestaande curricula te verbeteren en uit te breiden.'
Waar ga je de subsidie voor gebruiken?
De Busser: 'De NWO-financiering zal allereerst worden gebruikt voor de aanstelling van vier promovendi en één postdoc-onderzoeker, die hun eigen onderzoek zullen doen, maar ook een sterke interdisciplinaire samenwerking zullen onderhouden. Van de vier promovendi zullen er twee zich richten op het technologische deel van het project en twee op het onderwerp private organisatie en publiek bestuur. De vier zullen gezamenlijk de C-SIDe methodologie ontwikkelen en dit is een uniek kenmerk van het project.
De postdoc-onderzoeker zal een studie maken van de sleutelconcepten die in het hele project zullen worden gebruikt, hoe zij zich tot elkaar verhouden, een gemeenschappelijke terminologie ontwikkelen en de vier promovendi ondersteunen in hun samenwerking. Wij zijn ervan overtuigd dat interdisciplinaire samenwerking die instituten, faculteiten, de publieke en de private sector overstijgt, werkt om echte cyberveiligheid op te bouwen, omdat bij interdisciplinaire samenwerking het geheel groter is dan de som van de delen.'
Wat gebeurt er met de resultaten?
De Busser: 'Naast een aantal wetenschappelijke publicaties en white papers die aan onderdelen van het project zullen worden gewijd, zullen we de bevindingen verspreiden via een website, inclusief infographics en video's, om de resultaten onder het grote publiek te verspreiden. We zullen ook bijeenkomsten met belanghebbenden organiseren om de publieke en private sector, de academische wereld en ngo's te informeren over onze resultaten. Aangezien de Universiteit Leiden en de Haagse Hogeschool interdisciplinair onderwijs op het gebied van cyberveiligheid actief ondersteunen, zullen de inzichten die uit het project voortvloeien ten slotte worden gebruikt om de bestaande curricula te verbeteren en uit te breiden.'
Wat betekende het voor je persoonlijk toen je hoorde dat de subsidie binnen was?
De Busser: 'Ik zag dit persoonlijk als een erkenning van een nieuwe manier van denken over cybersecurity en softwareontwikkeling. De experts die het voorstel valideerden, waren het met ons eens dat verschillende wetenschappelijke disciplines hun krachten moeten bundelen om het ingewikkelde probleem dat cybersecurity is, met succes aan te pakken. Het hele team is enthousiast om aan de slag te gaan en te zien hoe we al onze expertise kunnen integreren in het creëren van een methodologie die door softwareontwikkelaars gebruikt kan worden bij het bouwen van spannende en veilige technologieën.'